Although it's been 15 years and he now works in Silicon Valley, Rahul Razdan '05, information systems, Hilltop Society Member, can still hear UMBC database management instructor Richard Sponaugle's lessons echoing in his current work. 
"I still talk about normalizing a table," he says. "A lot of what I learned at UMBC applies to what I do today." 
Razdan lives in San Jose and works as a senior business process architect for Intuitive, a global company that produces minimally invasive surgery technology, most notably the da Vinci Surgical System. The system translates the surgeon's hand motions inside the patient's body using a miniaturized surgical camera and wristed instruments (i.e., scissors, scalpels, and forceps). Because the doctors are seated while they use the systems, they can perform longer, more complicated procedures. 
Entering new markets in new countries, each of which has its own regulations, is where Razdan comes in. "I work with the legal and regulatory teams to interpret the standards into business requirements," he says. The fundamentals of his work, according to Razdan, are rooted in his time at UMBC, where he studied information systems on the Shady Grove campus. 
"It's the foundation of my career today," says Razdan, "The systems analysis and design focus in my undergrad taught me to deconstruct problems into smaller parts and apply root cause analysis. I had such an amazing experience."
Making a home at Shady Grove
Karen Archambault, a former program coordinator at UMBC, isn't surprised by Razdan's accomplishments. "He didn't just focus on credits and classes," she says. "He took advantage of the full experience at UMBC." 
As a transfer student from Montgomery College, Razdan knew about UMBC's reputation from its number one ranking in chess. "I thought, 'That's pretty awesome. They brag about chess.' But you know what? Nerds get paid in the end," says Razdan, with a chuckle. 
On the Shady Grove campus, Razdan distinguished himself outside of the classroom. As president of the Universities of Shady Grove Student Association, he organized a job fair and started a dining discount program with nearby restaurants. 
"This wasn't just a place to take classes [for Razdan]," says Sponaugle, senior lecturer and associate undergraduate program director of UMBC at Shady Grove. "Any college experience is going to be what you make of it. He stood out, and really applied himself to his studies too."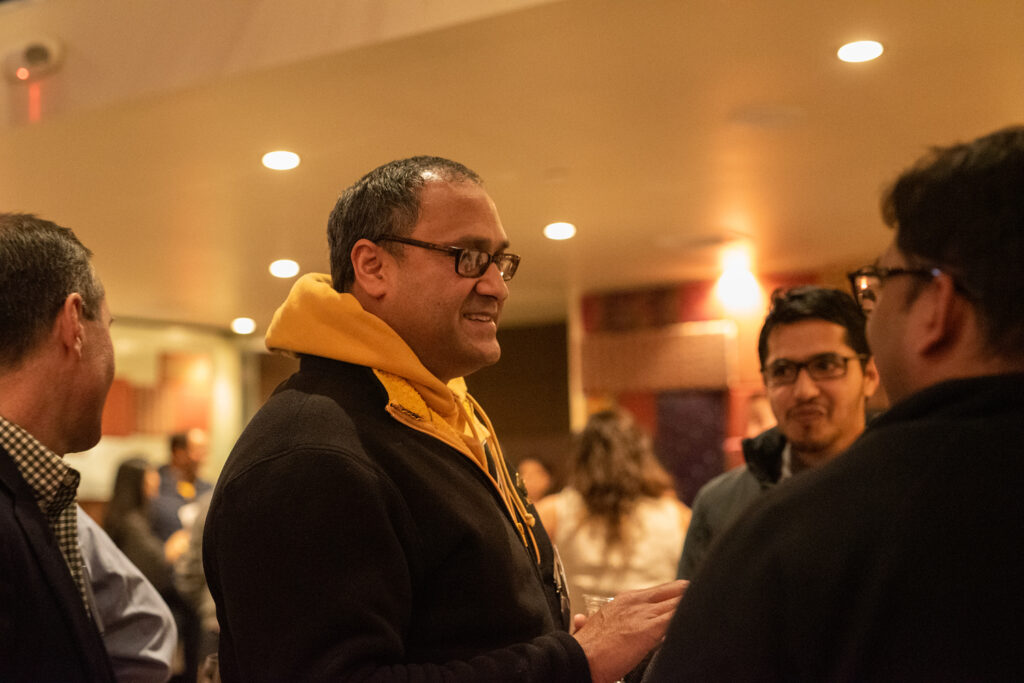 Razdan says he was struck by the genuineness of his classmates and professors. "They were really humble and genuinely inviting," he says, adding that he always felt welcome on the main campus in Catonsville. 
"I never felt like a stepchild. I never felt apart," says Razdan. "I could go to Catonsville and watch a basketball game or catch a lacrosse match." 
Staying connected from the West Coast
Before Razdan graduated, he'd already completed an internship at the Washington Post and had a job waiting for him at a software company when he graduated. 
After earning a master's degree from the George Washington University in information systems technology, in 2014, Razdan moved to California with his wife. He's stayed connected to UMBC from afar in a variety of ways.
Razdan's gifts to the university have earned him a membership in the Hilltop Society. One program he donates to is the Center for Women in Technology. "It's a great way to give back to my school that gave me so much," says Razdan, "and while doing so, support women entering the science and technology space. We need a more diverse group of people at the table talking about problems affecting us today, and I find this is one way to address that problem."  
Razdan still follows the news from his undergraduate alma mater, and particularly enjoyed bragging from the West Coast about UMBC's NCAA Division I Men's Basketball Tournament upset in 2018. Even more fun, he said, was getting together with fellow Retrievers earlier this year at a UMBC alumni event in California. "It was great," Razdan says. "I'd love to get together once a year and build on this network." 
— Laura Cech
*****
Header image: Razdan with the DaVinciX system. Photo courtesy of Razdan.