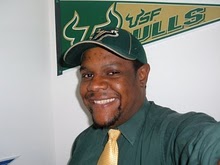 Curtis Tarver '03, psychology and music, has made music for UMBC as a former member of the "Down and Dirty Dawgs" pep band. And he keeps up with his alma mater and other matters musical and sporting via his blog: "80 Minutes of Regulation."
A native of Wilmington, DE, Tarver banged the drums for UMBC's pep band for four years. These days, he works as an associate director of student programs at the University of North Carolina at Greensboro, but part of his heart will always remain in Catonsville.
"I talk the most about the things that mean the most to me, and the things I follow most closely," Tarver said. "Since I love UMBC and follow their programs, I tend to talk about them quite a bit."
Tarver updates the blog once or twice a week. In the late spring, he posted an entry about his bout of sad nostalgia over the new look of UMBC's athletics logo.
"I will not obsess over UMBC's new logo," Tarver wrote four times, tongue firmly in cheek. He also added a picture of the old logo, wishing it "Farewell and Godspeed, old friend."
Tarver says that one of his post-graduation highlights was a chance to cheer on his alma mater in person when the Retrievers met Georgetown University in Raleigh, NC, in the 2008 NCAA men's basketball tournament. He also made a trip to Chapel Hill to catch UMBC's lacrosse team play the University of North Carolina in a 2009 NCAA tournament game.
"UMBC is where I met my wife, and, obviously, where I started my college career. It means the world to me," Tarver says.