There are some people who you meet, and it's obvious: They're natural leaders—seemingly born to the role. Derek Anderson '03, interdisciplinary studies, is one of those people.
He went right from UMBC to the front of the classroom as a teacher in the highly regarded Howard County Public School System, earning a master's degree in school administration and supervision from Johns Hopkins University at the same time.
But in talking with Anderson, it becomes apparent that he wasn't born a leader—he became one. And he says UMBC was a big reason why he did.
After nearly a decade of classroom leadership, Anderson became an assistant principal, then principal at Longfellow Elementary School in Columbia, Maryland, winning recognition as Howard County's 2023 Principal of the Year.
And now he's been tapped by Maryland's state superintendent of schools to be the state's new executive director of community schools, overseeing more than 450 schools with the goal of better connecting schools with the families they serve.
From imposter syndrome to educator
As improbable as it sounds, this rising star in education leadership remembers that as a first-year student, he wasn't sure at first that he even belonged in college.
"I struggled mightily in my first semester," he remembers—in large part because his secondary school hadn't fully prepared him for college-level academics. "There was a point where I said to myself, 'Am I cut out for this? This is a lot.'"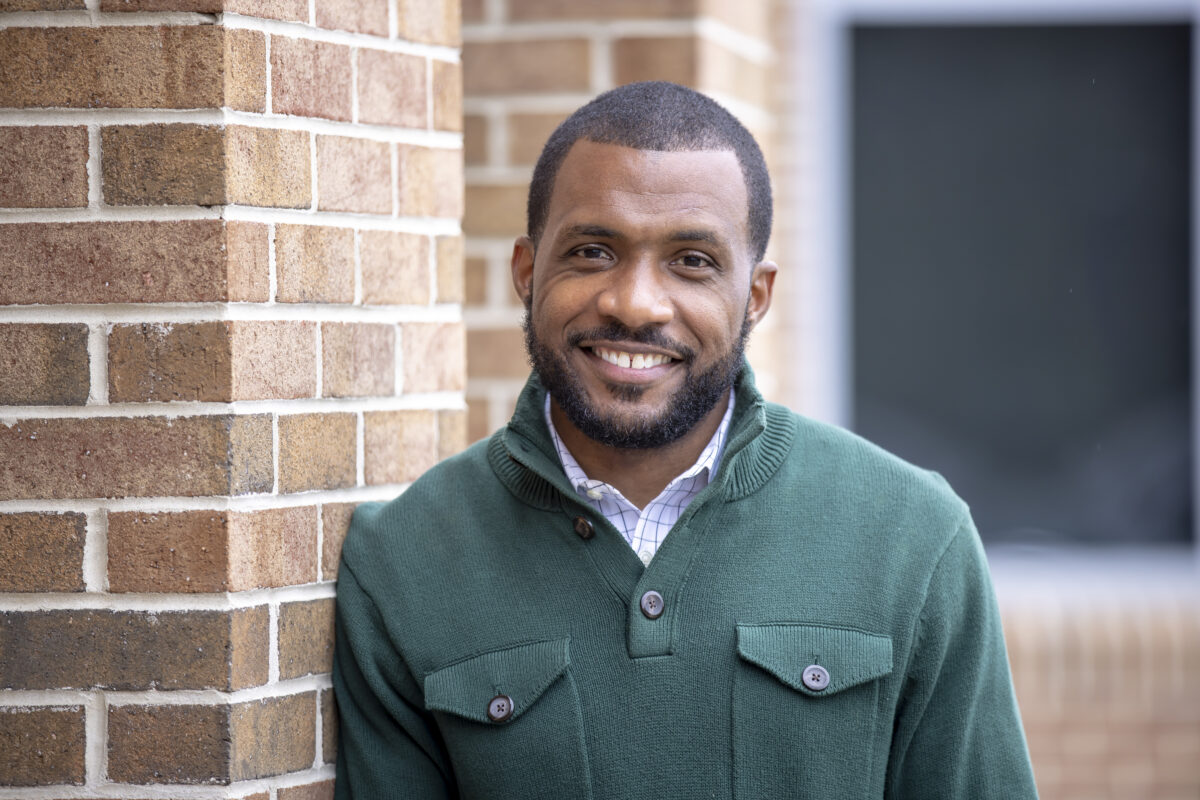 Anderson says UMBC's academic advising and his own inner determination to persevere helped, but what set him firmly on the path to his future was The Shriver Center, an organization at UMBC that connects students with applied learning, civic engagement, and community-based service opportunities. He began volunteering weekly at a local elementary school not too far from campus.
"I really realized how excited the kids were when we came to visit," Anderson says. "And it was mutual—I would start looking forward to that particular day of the week. That was the first time I really started to consider a career in education."
Building a major to match his passion
That realization, he says, galvanized him: It not only gave him a career goal to help shape his studies, it motivated him to work toward the day when he could help students prepare better than he had been for postsecondary academics.
"I thought about my own experience, and I questioned: Could I have been better prepared?" Anderson says. "What would have better prepared me so that I did not struggle the way I did in college? So that really reinforced the idea of, 'I want to go into education so that I can help and support [students] so that they don't have some of those experiences.'"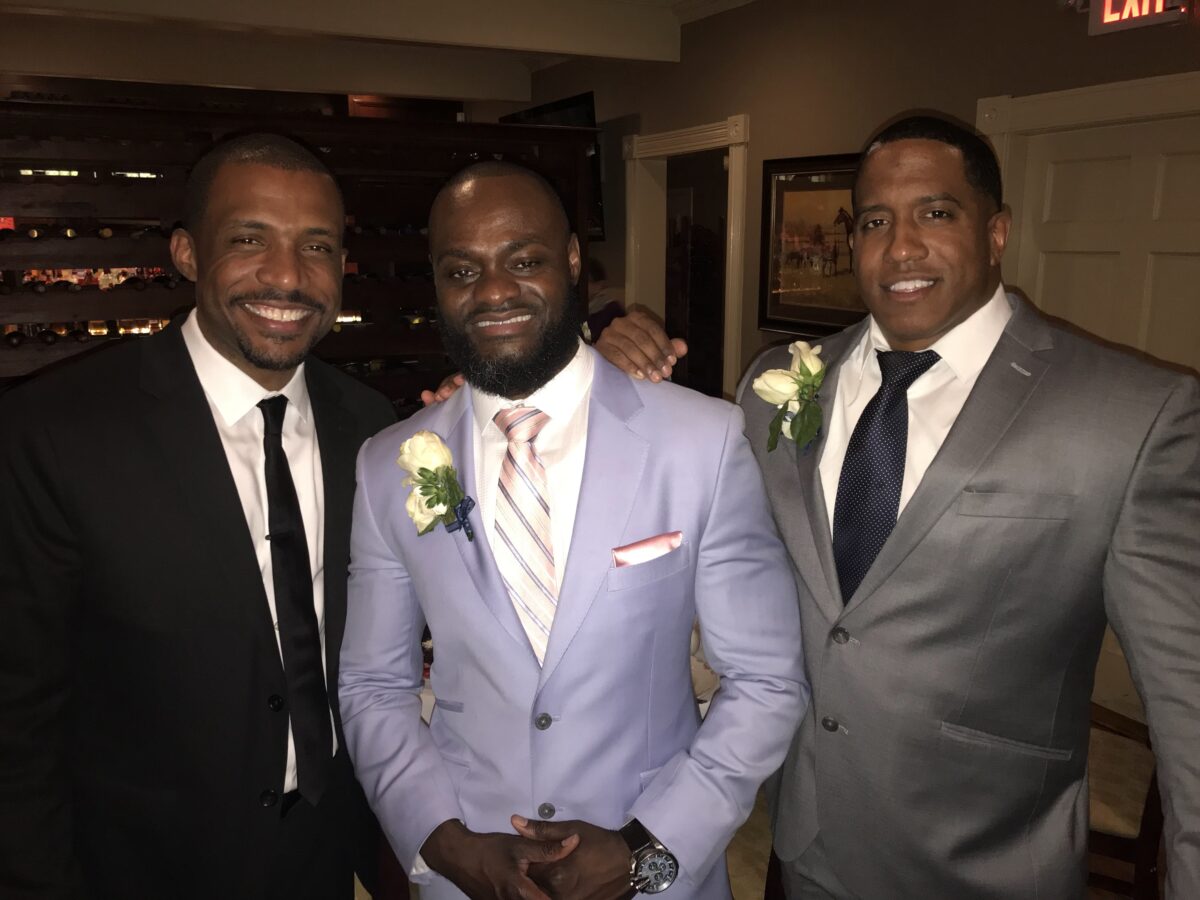 UMBC didn't offer an education major at the time, but Anderson followed his inspiration, juggling a steady load of challenging coursework with his athletic obligations as captain of the track and field team, responsibilities as a dorm resident advisor, and eventually student teaching in Baltimore City schools as he pursued his teaching certificate.
Along with his teacher-certification track, Anderson's interdisciplinary studies focused on psychology and Africana studies, and one of his professors in the latter field gave him first-hand insight into the power of effective teaching.
He remembers vividly the classes he took with Christel N. Temple, then an assistant professor of Africana studies at UMBC.
"She's an African American woman, and I believe at the time she was relatively new to the position, but she was very good—not just in disseminating the content, but in the passion she showed for it. That was a big motivator for me," Anderson says.
Because of that passion for teaching, he remembers: "I really enjoyed her class. I wanted to learn. I wanted to grow. I wanted to enhance my knowledge for no other reason than to become brighter and better."
Temple, now a full professor of Africana studies at the University of Pittsburgh, isn't surprised that her former student's leadership qualities have attracted attention.
"I am so proud of his career," she says. "His success is a reminder of the contribution that Africana studies makes—not just our field's orientation to subjects such as culture, communication and sociology, but also to education studies."
Understanding the personal dimensions of education
Anderson landed a job in Howard County Public Schools soon after graduation by way of his teaching certification and graduation from UMBC. He taught at an elementary school for seven years, then served as an elementary school instructional team leader before becoming an assistant principal. He served in that role for four years before becoming principal at Longfellow Elementary School in 2017.
Kathy Nuemann '06, American studies, remembers meeting Anderson the year before he became principal. Neumann, a math specialist at Longfellow, was excited to meet another Retriever at her school and struck by his genuine personality. For the next six years, as they worked together, she says, "Derek was always available. Whether I was seeking advice, sharing an idea, or just needed someone to lend an ear. His sincerity extended to students as well."
She recounts a recent story where her students wrote a proposal to Anderson as part of a social studies project. After identifying a problem (trash on the recess field), the students brainstormed a solution by requesting a recycling bin out on the playground. Neumann invited Anderson to visit her class and the students read the proposal to him. "Not only did Derek listen to the proposal, but he fulfilled the request within a week. My students were thrilled!"
All told, Anderson served nearly 20 years in Howard County's elementary schools—long enough to see two of his three his own children pass through Longfellow Elementary while he was principal there. (He met his wife of 16 years, Jonae Anderson '02, psychology, M.P.P. '05, at UMBC.)
Indeed, Anderson says, parenthood helped underline the personal dimension of education, and not just for the obvious reasons.
"It makes me that much more passionate about the work" of education, he says. "Parents send us their kids—they send us the best they have, Monday through Friday, with the expectation that they're going to come back safely, happy and enjoying that [school] experience. That is a responsibility I carry with me every day."
Bringing energy to the executive position
In fact, it turned out that that sense of greater responsibility made him the perfect candidate for his new role as executive director of Maryland's growing portfolio of community schools.
The expansion is part of the state's 2019 Blueprint for Maryland's Future legislation, which dedicates almost $4 billion per year in state and local funding over the next decade to a set of reforms aimed at improving public schools in the state.
The intent of community schools is to better connect schools with the families they serve. Particulars of that connection can include addressing daycare deficiencies in schools that educate a disproportionate proportion of teenage mothers, or creating a weekend food pantry with fresh groceries at a school situated in a food desert.
"Leadership has always been something that I've aspired to," Anderson says. "For a long time, I never thought past the principalship," and he admits that there's a special energy to being in a school building that he may well miss in his new job as executive director.
But when he weighed the one school he was leaving against the difference he could make in overseeing more than 450 schools, he says he found himself thinking about his own educational journey.
"I went from, 'I'm not confident about being a student in college' to 'This is something I want to pursue,' because along the way people were providing opportunities, providing guidance, providing insight, and it's led to a very fulfilling career for me," Anderson says.
And with his new role's wider scope, he has the opportunity to be just such a helping hand in the lives and education of many more students.
"I still get up excited about coming to work [in education] because I know it's meaningful work," Anderson says. "What better way to serve kids?"
Tags: Africana Studies, American studies, CAHSS, INDS, the shriver center