Artillery booms in the distance as men hurriedly button up their scratchy wool uniforms and grab their muskets. The smell of campfires and horses intertwine with shouts, neighs, and gunfire.
"It was a sensory overload," remembers Jim Bailey '03, M.A. '07, history, of the recreated battles and camps he saw during 125th anniversary Civil War events. "At the age of eight, it wasn't that I was reading books and studying history. It was something I could see. Smell. Hear. Feel."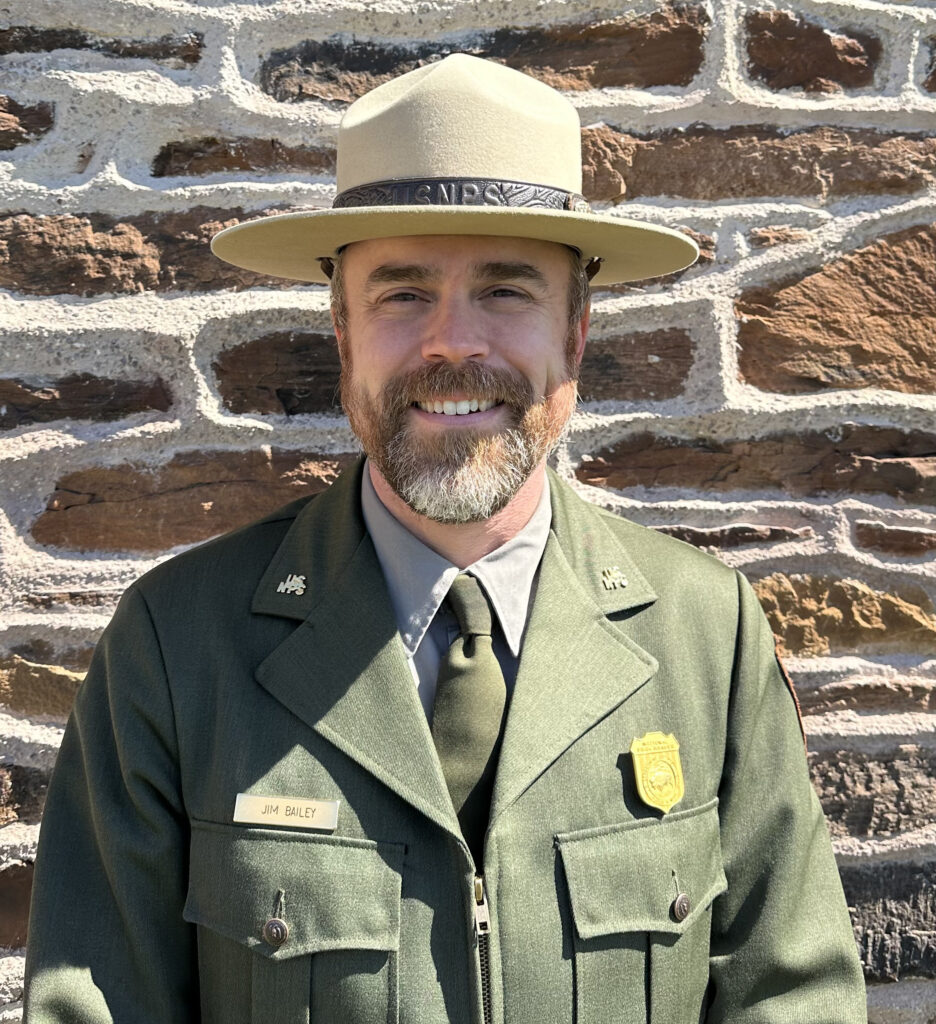 Exactly what Bailey would do with his early love for immersive history, however, wasn't clear until a class during his first year at UMBC, when a park ranger from nearby Fort McHenry National Monument & Historic Shrine in Baltimore City gave a guest talk on volunteering for the National Park Service. By December of 1998, 18-year-old Bailey—a Humanities Scholar—was signed up as a Volunteer-in-Parks, the first step in a long career that has led him to his current position as superintendent of both Appomattox Court House National Historical Park and Booker T. Washington National Monument. 
Balancing natural and cultural resources
The United States National Park System (NPS) is 424 units strong, and always expanding. If this number seems large—aren't there 63 national parks?—it's because NPS includes everything from national battlefields and lakeshores to historical parks and monuments, as well as marquee parks like Yellowstone.
Bailey explains that the two parks now under his jurisdiction—although 65 miles apart—tell similar narratives about the end of one story and the beginning of another. Appomattox Courthouse was the site of the April 9, 1865, surrender of the Army of Northern Virginia, marking the beginning of the end of the Civil War and the start of a new era of freedom fraught with uncertainty for newly freed people.
The Booker T. Washington monument tells the story of a nine-year-old boy who had to carry school books for the children of his enslavers, but was not himself allowed to learn to read and write. Washington eventually made the 500-mile trek to Hampton University, becoming an influential early African American leader. (Another influential Black leader would follow in his footsteps to Hampton, President Emeritus Freeman Hrabowski, who received his undergraduate degree there.) 
The national parks are hugely important because they show us that as a people, we continue to define freedom, civil rights, and civil liberty. We can't take that for granted.

Jim Bailey '03, M.A. '07, history
"As a nation, we for years have been having an open discussion on Civil War memory and monumentation in public places. Who gets remembered? And that is something that as an agency, we've always done," says Bailey.
"We've always been expanding the cultural sites that we maintain and the stories that we tell. We recognize that all of these stories make up the tapestry that is our nation. It's not just for George Washington or Francis Scott Key. It's also people like Booker T. Washington and Hannah Reynolds." (Reynolds, an enslaved woman, was mortally wounded during the Battle of Appomattox Court House—and is the only known civilian casualty of the battle—but was free for the three days between the Confederate surrender and her tragic death.)
As superintendent, Bailey leads a team that works on preserving historic structures, keeping up with the latest research on the stories told in those structures, and maintaining natural resources, including water quality, wildlife surveys, wildlife management, and controlled burns.
Conflicts can arise, however, when working to balance both natural and cultural resources.
"How do you do that when you also have to provide access to the public today and you have to do that in a way that doesn't impact the ability of their children or grandchildren or great grandchildren to come to this park and see all the same things?" asks Bailey. "But that's the mission of the National Park Service: To preserve and protect these parks for both this generation and future generations."
Cultural landscapes as classrooms
Unsurprisingly, perhaps, Bailey makes a point of getting out of the office to walk through the parks, greeting staff and talking to visitors. He says that his leadership style is heavily influenced by an early mentor: Hrabowski.
"As an undergraduate, I was shocked to see Dr. Hrabowski out there, talking with students. And you saw it all the time," explains Bailey. "He said that he can wander through campus and easily be looking down and be thinking about the next meeting or issue, but had to remind himself not to do that. As a young man, hearing that from someone like Dr. Hrabowski was very powerful. And I've always tried to emulate that."
Sometimes, Bailey will seek solitude and hike a trail, maintaining a regular connection to the park—walking where Booker T. Washington spent his childhood, or experiencing the Appomattox River where the Monacan people settled— separate from his administrative role. He describes this as "the power of place." You can experience history outside of books and classrooms because, "You're there and you can see it."
"We call it the cultural landscape," adds Bailey. "The national parks are hugely important because they show us that as a people, we continue to define freedom, civil rights, and civil liberty. We can't take that for granted. It's something that each generation has to define and defend and decide—What do these things mean?"
For current Retrievers, Bailey recommends being willing to step outside of your comfort zone.
"Listen and open a dialogue with people who think differently. Engage with other disciplines than your own. Consider different perspectives. UMBC provides that space, both literally and figuratively."
Bailey says his favorite national park is "the next one" he visits. But just in case you need another reason to visit one of the 424 National Parks Service sites: "The value of these national parks is that they are open classrooms where all Americans are welcome to think and to contemplate." 
Want to see where a

degree in history

might take you? Explore UMBC's history program today.
Tags: CAHSS, History, Humanities Scholars