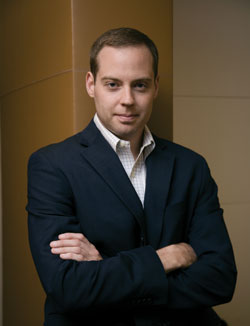 Kevin Cepelak '05, political science, has a job that comes with a pass that gets him into any Major League Baseball (MLB) park. And when he gets to his office near New York City's Grand Central Station each day, he rubs elbows with former greats of the game and a chance to work with former Federal Bureau of Investigation (FBI) agents and former New York City Police Department investigators. And he spends his days compiling reports that help MLB officials tackle problem issues in professional sports ranging from steroids to gambling.
Cepelak's work as an analyst for MLB's Department of Investigations – professional baseball's internal watchdog on a variety of issues involving the sport's integrity – is heady and somewhat surprising stuff for a recent UMBC graduate. After all, the sport that Cepelak played as a Retriever from 2002 through 2005 involved sticks, not bats.
"I never thought in a million years that I'd go from lacrosse to working in baseball," says Cepelak over lunch at an Italian restaurant near MLB's Park Avenue headquarters.
Read the full story in the Summer 2011 issue of UMBC Magazine.