Graduating seniors Anthony Cano, Renato Zanelli, and Maya Scheirer came to UMBC with pride and hunger instilled by their immigrant parents' work ethic. They brought rich cultures, languages, and hearts full of dreams and aspirations with the goal of forging futures of their own.
At UMBC they found faculty and staff who nurtured their curiosity, and a campus committed to learning from and working with local and international communities. Most importantly, they were embraced by a community who welcomed and celebrated them wholeheartedly for who they are and who they wanted to be.
Cano, Zanelli, and Scheirer lean on their friendships and faculty mentors as they end their time at UMBC, under an unprecedented global pandemic, via a virtual commencement ceremony. Together they face a changing world, knowing that their transformative years at UMBC have given them a solid foundation to hope, dream, and achieve.
Global citizen
Anthony Cano fondly recalls walking with his mom to school in the mornings. "We would part ways at the bus stop as she headed to work as a janitor," a job she had to take after the market crash of 2008. "I would continue walking to my school," shares Cano.
He watched his family lose everything and then rebuild their lives by working seven days a week. "They learned everything and anything to make ends meet," explains Cano. "That work ethic—that unbreakable faith—is my moral structure. I connect it to everything I do."
Cano wants to make sure everyone knows the real story behind his success. "My story does not begin with what I have achieved or my research," he shares. "When I tell my story I want it to start and end by honoring my struggle as a student and as an immigrant. It is what made and continues to make my success happen."
Mapping an interdisciplinary future
As a first-generation college student, Cano did not take his opportunities for granted. Instead, he invested time in and out of class to explore his wide interests in journalism, photography, and business. He also found ways to help his community, which he defines as global. "I think everything is connected," shares Cano. "I identify as a global citizen more than any other identity."
Eager to learn, Cano transferred to UMBC immediately after earning an associate's degree in broadcast and media production from Montgomery Community College. He planned to add a bachelor's in computer science to facilitate his pathway to entrepreneurship. Cano began his general computer science courses while also enrolling in political science and human geography classes.
After learning about global political systems and internally displaced people (IDP), Cano immediately felt a sense of responsibility. He wanted to bring awareness to the political and social forces that displace people from their homes into dangerous and precarious living conditions.
"In some ways, my life was like a bubble," explains Cano. These classes introduced him to the complexities of migration. "I have people in my social network that have experienced similar situations, but not to the extent that I learned about," he shares. He decided to follow his interests and declared a double major in media and communications studies and political science.
Afro-Colombian stories
Felipe Filomeno, associate professor of political science, became his mentor and advisor. With his support, Cano developed strong skills in mixed research methods. He used social science, humanities, and visual research methods to continue to understand IDP.
"Tony is a unique and truly interdisciplinary student," says Filomeno. "I advised his research on internally displaced people and urban development in Cartagena, Colombia. It combined oral history and visual research methods."
Cano received a 2019-2020 Undergraduate Research Award to conduct field research in South America. His project focused on the relationship between internally displaced people as a result of violence and urban development in Cartagena.
Cano drew on his background in journalism and his fluent Spanish language skills to better understand the experiences of Afro-Colombians in a neighborhood named after Nelson Mandela. It's located only a few minutes from a walled-in, tourism-focused urban center.
"Tony wanted his project to result not only in an academic paper. He also wanted to create a short virtual reality film to document the living conditions in Nelson Mandela," shares Filomeno. Cano was careful and curious while analyzing data. Filomeno advised him on how to verify different sources of data and how to ensure his work reflected the community respectfully.
In March, Cano presented his project, Informal Resettlement of Internally Displaced People (IDPs) in Cartagena, Colombia: A Visual Exploration and Oral History, at UMBC's 24th annual Undergraduate Research and Creative Achievement Day (URCAD).
Theory to practice
Cano also served as a fellow in the Partnerships for Listening and Action by Communities (PLACE) program, an affiliate of UMBC's Center for Democracy and Civic Life. There he received additional training in humanities methods and community organizing to support residents of Baltimore City's Brooklyn neighborhood in building greater community cohesion and providing enriching opportunities for young people.
In January, Cano will begin working at Morgan Stanley as an operations analyst. The multinational investment bank and financial services company found his humanities background invaluable to creating a strong finance team.
"I am a learner. My family always said there is nothing wrong with constantly wanting to learn," shares Cano. "They taught me to set goals, and that through a lot of hard work, sacrifice, deep faith, and positivity, you can achieve your goals and break barriers."
A home away from home
Renato Zanelli remembers how hard his mother worked and how much she sacrificed when she moved to the United States from Peru. "There are times I feel like giving up because some people assume that if you are Hispanic, you cannot do something," shares Zanelli. "I want to prove that Hispanics can do anything. I want to make sure everything my mom sacrificed was not in vain."
Like Cano, family and culture are also the founding blocks of Zanelli's undergraduate life. He came to the United States from Peru when he was ten. He was raised in Anne Arundel County by his mom and grandparents. While he did well in school, it was at times isolating because of the lack of diversity. After a year in Anne Arundel Community College, he realized that what he was seeking the most was a community that embraced his language, culture, and interests.
Life-long friendships
Zanelli transferred to UMBC and was delighted to find a welcoming community. "One day, I saw a flyer for the Hispanic Latino Student Union. I went," he remembers. Even though most of the people were not from Peru, he felt at home. "I was finally meeting people with similar immigration journeys and who spoke Spanish. It was amazing," explains Zanelli. The HLSU members became his best friends.
Although most of the students he met in HSLU were years ahead of him, they guided him in understanding college life and included him in campus events. He had been worried about missing out on these experiences as a commuter, but their generous spirit made him feel like he belonged. "Instead of going straight home, I participated more in student activities," shares Zanelli.
The HLSU also provided comfort and support when his cousin, who is like a brother, passed away and he could not travel to Peru. Later, Renato became part of the HLSU executive board, supporting the next generation of HLSU members.
Building confianza (trust)
Zanelli also found joy and support from UMBC's faculty. His schedule included STEM and humanities classes, including a Spanish class for heritage Spanish speakers. The class helped him be more comfortable in a predominantly English environment and learn more about his first language. He met Ana Maria Schwartz Caballero, associate professor in modern languages, linguistics, and intercultural communication (MLLI), who teaches the course. Similar to his experience with HSLU, meeting professor Schwartz Caballero became one of the most important moments at UMBC.
"She advocated for me and encouraged me," says Zanelli. Schwartz Caballero inspired him to take higher-level Spanish courses. They opened up an entirely new way to engage with his language, literature, and culture. He also began working as a Spanish language translator in the local hospitals, revealing a professional opportunity made possible with an MLLI major.
Professor Schwartz Caballero became his advisor and mentor. Regularly meeting with her created the structure and focus he needed. She also provided support on a personal level, checking how he was doing and asking about his mom and grandparents. "I have a huge amount of respect and love for her. We have a lot of confianza (trust)," explains Zanelli. "She understands who I am."
Soccer love
Grounded in who he was and what he wanted out of his undergraduate experience, Zanelli had confidence to pursue an outside interest. He is a soccer aficionado both on the field and in the world of soccer gaming where he is better known as Renatogz05. In 2019, Zanelli became D.C. United's first-ever official professional eEports athlete to play Electronic Arts SPORTS FIFA and compete in the 2019 Electronic MLS League Series. He came in second place in the last chance qualifier bracket at the Eastern Conference finals.
Zanelli's experience at UMBC has been life-changing. "This isn't just about me," he explains. "As a first-generation college student, I can now be a role model for my younger cousins. I can help and inspire them. They will not have to do it alone."
"100% me"
"I grew up in Kensington, Maryland, surrounded by people from all over the world," says Maya Isabella Peiris Scheirer. "As a first-generation Sri Lankan American and a second-generation German American, I am proud of my immigrant roots."
Her parents encouraged her to be curious about everything, she says. "They taught me to ask questions and find creative solutions when challenges arose."
Scheirer first saw UMBC when her cousin Hashani Hettiarachchi '14, biological sciences, invited her to campus events. When it came time to pick a college, she found UMBC an obvious fit thanks to its diversity, proximity to home, and biology program. She immediately moved onto campus and jumped into her science classes. Like Cano and Zanelli, Scheirer also chose to explore courses outside of her major.
A global state of mind
Scheirer found her global studies classes to be particularly fascinating, but fitting them into her biology-heavy course schedule proved challenging. She decided to explore new possibilities, including majors where she could use her French, Sinhala, and German language skills.
"I researched interdisciplinary majors. I attended the Career Center workshops and filled out career interest questionnaires," remembers Scheirer. While searching for a different academic path, she gained insight into the skills and interests she had been developing most of her life. She was an avid reader, making her a strong writer, and she loved multilingual and multicultural communities.
"When I found global studies, it seemed 100% me," shares Scheirer. "The study abroad requirement as well as the writing component and interdisciplinary research were what I had been looking for."
Opening doors
In the spring of 2020, Scheirer traveled to Germany to study German at Leuphana University of Lüneburg. The language study program also gave her a deeper understanding of her father's German culture. Unfortunately, like many students studying abroad this spring, Scheirer had to fly back home early due to COVID-19. She hopes to return soon.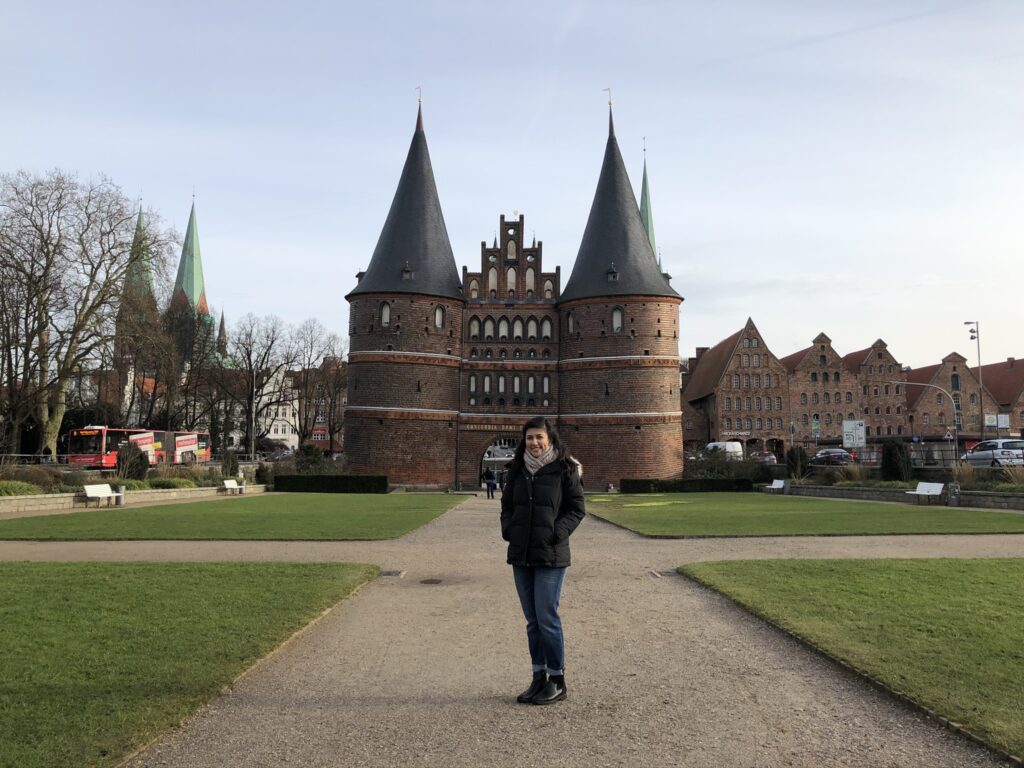 Scheirer also chose to minor in gender, women's, and sexuality studies after taking courses that expanded her perspective. "I was a feminist, but I had not viewed feminism through these theories," she explains. "It opened a door for me." Scheirer analyzed different feminists' points of view through her writing while learning about how people occupy spaces differently.
Beyond her coursework, Scheirer put her writing skills to work covering arts and culture for The Retriever. She also found a community of close friends from different backgrounds through UMBC's Equestrian Club, serving two terms as president. "Being president of the Equestrian Club taught me a lot about responsibility, collaboration, and motivating people," she says, and it "gave me a sense of community."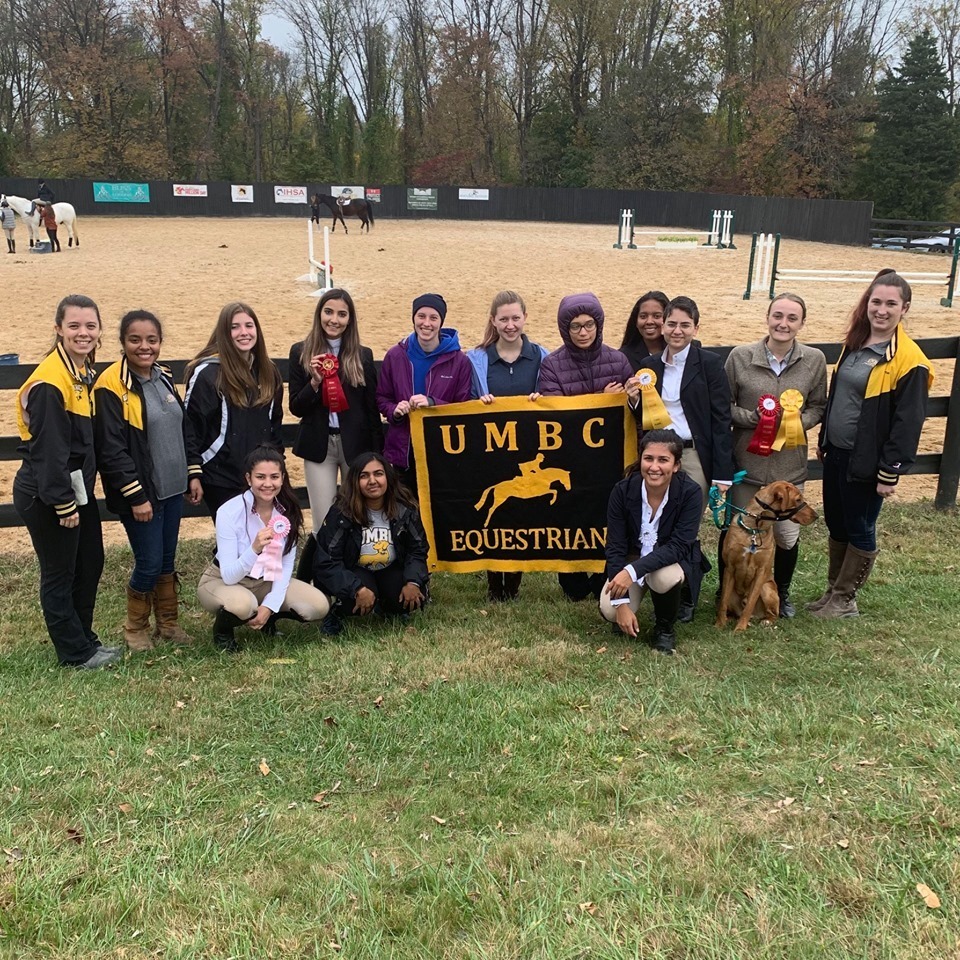 Be Your Best Self
Scheirer is waiting to find out what her next global adventure will be. She hopes to be an English teaching assistant in Andorra through the Fulbright U.S. Student Program. If accepted, Scheirer will move to Andorra, where her French skills will come in handy, in the fall of 2021.
As she looks back on her last four years, she is grateful for making UMBC the place where she has not just earned her degree, but also learned more about herself. Scheirer remembers receiving a UMBC t-shirt with the phrase, "Be Your Best Self." "I know it's on a t-shirt, but it's true," she laughs. She says her peers were all working hard to become their best selves regardless of the field they were studying.
"UMBC allowed me to stop worrying about what I 'should' be doing," says Scheirer. "Being a Retriever gave me the confidence to know that what I 'should' be doing is being myself."
Banner image: Maya Scheirer visiting Barcelona, Spain while studying abroad in Lüneburg, Germany.
Tags: Alumni, CAHSS, CareerCenter, Civic, ClassOf2020, diversityandinclusion, GlobalStudies, GWST, interdisciplinary, International Stories, MCS, MLLI