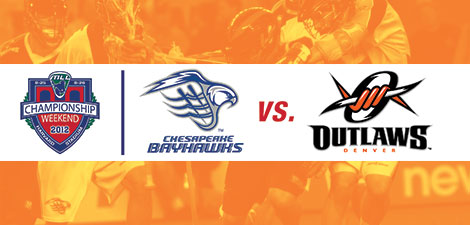 When the number-one seed Denver Outlaws met the second-seed Chesapeake Bayhawks at Harvard University in the Major League Lacrosse championship game in August 2012, there was a Retriever reunion of sorts between the lines.
Denver Outlaws player and league MVP Brendan Mundorf '07, sociology, is perhaps the best-known UMBC men's lacrosse player today, but two of his Outlaws teammates – Peet Poillon '10, interdisciplinary studies, and Terry Kimener '09, American studies – also played their lacrosse at UMBC. And lining up against that Retriever trio for the Chesapeake Bayhawks? Former UMBC standout Drew Westervelt '09, economics. (Westervelt also plays professional lacrosse with Mundorf in the indoor National Lacrosse League.)
Westervelt's team came out on top that day with a 16-6 victory that gave the Bayhawks the title, but all four former Retrievers have been winners in the outdoor lacrosse league over the past few seasons. For instance, all four UMBC alumni who played in the championship game finished in the top 20 in league scoring in 2012 – with Mundorf (second) and Poillon (ninth) in the top ten.
All four players also earned various levels of All-America honors during their UMBC days, and longtime UMBC coach Don Zimmerman is proud of their continuing success as professional players. Zimmerman says that his emphasis on fundamentals and his belief that players should be exposed to varied systems of play in lacrosse has helped these four alumni adjust to playing the sport at a higher level.
"Our guys learn the game, not systems," says Zimmerman. "We get good kids. We teach them how to play the game of lacrosse. If you have that type of background then you can go to any program and play. But if you learn a [particular] system and you're removed from that system and put in a different system, it may not work."
For the moment, however, it is Westervelt who has the bragging rights among UMBC's distinguished lacrosse alumni. Ironically, he came to the Bayhawks in a trade last season from the Denver Outlaws.
"[Westervelt] has got great skills," says Chesapeake Bayhawks coach Dave Cottle. "He's really smart on the field, can play attack or midfield, and we were really lucky to get him," Cottle says. "When the opportunity to pick him up came, we thought it was another piece to the puzzle that would help us win a championship."
— Jeff Seidel '85