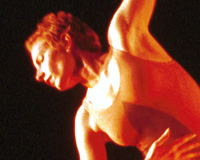 "Making Meaning Move"
In UMBC's dance department, students engage in research by developing their own choreographic work—with the studio as their laboratory—both on campus and at dance festivals across the country.
Dance major Jenafer Herling is one of approximately 50 undergraduates who will present research at the Sixth Annual Undergraduate Research and Creative Achievement Day on April 17 (Graduate Research Day is April 19). She will discuss the creation of Picking Up the Pieces, which she choreographed after participating in the Bates Dance Festival last summer. At the festival, she had the opportunity to work with noted choreographers Liz Lerman and Nancy Stark Smith.                          
Doug Hamby, associate professor of dance, says, "I strongly suggest that dance majors study at internationally recognized summer workshops such as the Bates and American Dance Festivals. In this way, students can see what a full-time dance life is like, compare their abilities with other college students and network."
Herling says the festival experience was very important to the development of her dance. "My research objectives were accomplished through the intensive study of both contact improvisation technique—a form of partnering—and a full investigation into the different ways to generate movement. For example, Liz Lerman taught an exercise where one person interviews another, and takes note of the gestures used by the interviewee. Naturally the interview is about the subject matter that the dance is exploring. This allows the chorographer to reveal meaning about a particular issue without being overly literal or theatrical. Exercises like this allow one to use dance to speak about concepts and social issues.
"My extensive studies of partnering at Bates Dance Festival, as well as my previous training at UMBC, gave me the skills to safely use risky partnering in Picking Up the Pieces," she adds.
Respected dance professionals at The American College Dance Festival (ACDF) recently adjudicated Picking Up the Pieces. Herling says ACDF was a great opportunity to disseminate her research findings to a large audience, and to gain insight into the success of her research. Picking Up the Pieces was said to be "intriguing, effective and enigmatic."