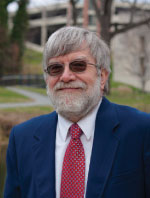 "There are not that many of me left," George Vitak, '73, biological sciences, says jovially as we walk together from the Library Pond back to his office in the University Center on a blustery late November day.
The "me" in this case is a select group of faculty and staff who have witnessed UMBC's rise to national prominence almost in its entirety. And at least as far as the University System of Maryland payroll is concerned, today is the day that another "me" bids UMBC farewell.
On December 1, Vitak retired from his position as director of campus card and mail services. He entered UMBC as a fresh-faced undergraduate from Archbishop Curley High School in 1968. Fate – and President Richard M. Nixon – kept him at the university for another 38 years, during which he helped supervise the campus' physical growth and then shifted gears to become a key mover in UMBC's early digital telecommunication services.
Read the full story in the Winter 2012 issue of UMBC Magazine.
Tags: george vitak