It's never easy to start a new job, but athletic director Brian Barrio had more to contend with than which parking lot to use. He joined #RetrieverNation in January of 2020 and after only two months (during which time, he even lived in a campus apartment), UMBC closed its physical campus due to COVID-19. With 17 Division I sports and over 350 student-athletes, this would have been a massive undertaking in the best of circumstances. We talked to Brian about what that transition was like, what he's learned from the experience, and what's up next. And he almost managed to make it through the entire interview without one sports reference.
Q: I feel like it would be a gross understatement to say that a lot has changed since you first came to UMBC as our athletic director in January 2020. What has that journey been like for you?
A: Obviously, my first year or so didn't look quite the way I thought it would. But that's how it goes in athletics and in life and I'm really proud of the way we adjusted and managed to get through it. 
I think we felt our way through it as well as anyone in college athletics and I'm really proud of how our student-athletes and our coaches handled it. I'm really excited about where we are at this point and how we got here is less important than the fact that we're here.
I've told people a hundred times, 'I'd rather be at UMBC during a pandemic than anywhere else during normal times.' That's how much I like it here. 

Brian Barrio

Athletic Director
Q: What have been some of your biggest challenges?
A: I think the hardest thing for me was trying to build culture and establish the connective tissue that you need in the department when you couldn't really fully be together. It really only feels like the last six months or so have been truly "in person" and that robust interpersonal piece of what we do has been able to come together. I had to spend the most time with that, trying to figure out how to be creative and different and build relationships during a difficult time. Because of that, we learned new ways to interact, new ways to recruit, and new ways to team build. 
Q: In terms of your leadership style, I'm sure you came into this community thinking you were going to do things a certain way. And then everything kind of got turned on its head. How did this change your approach?
A: I talk a lot about servant leadership and there are times in leadership when you have to be top down with one single authority figure. But 95% of the time when we're not in crisis mode, I really like to have a collaborative environment. I try to lead with some degree of emotional intelligence, so as opposed to that being a change, I think that's just something that has served our department really well – being a place where we take a lot of care with the whole person and the quality of life in the office. That's more important right now in athletics than maybe ever because of how much pressure, burnout, and administrative hardship has taken place over the last two years. More important than anything has been creating a quality of life in the office that makes people feel valued and like they can continue on. 
Q: Working in athletics, there's no such thing as a 9-to-5. You're working nights, you're working weekends. Last spring, all the winter and fall sports from 2020 were moved to 2021 to play alongside spring sports. The rate of burnout must be so much higher and then when you throw in all these other issues, I'm sure you have to be really cognizant as a leader about how you're taking care of your people.
A: People in athletics do it because they have a passion for it– for higher education and for athletics. Particularly the spring of 2021 was a tremendous challenge because we had 15 sports going at once, which has never happened before. From the perspective of the athletes, it's great they all got to compete, but from the point of view from our support staff…we were going 24/7 for four months. People gave a lot, they truly gave everything they had, and I'm thankful and cognizant of that and I've tried to make allowances for that as we've recovered from that schedule.
Q: Let's be clear: It hasn't all been dire since you got here! During your tenure, you've seen swimming and diving, softball, volleyball, and others take home America East titles, among numerous other academic, athletic, and personal achievements by our student-athletics and athletic department. Is there one that really stands out to you the most?
A: In the grand scheme of things, we set an all-time record for student-athlete grade point averages last fall, which is something I think we're all especially proud of amid all the turmoil and challenges. It's a credit to our student-athletes, to our coaches who take it very seriously and recruit the right kind of students for UMBC, and to our academic support staff who do a great job. 
As far as the championships, it's like picking your favorite child. One memory that really stands out is in the spring of 2021 when we were coming out of a period of tremendous uncertainty and things were still very restrictive. The volleyball championship was the first we'd won since we'd been back and it was a really special moment for the student-athletes and for us. It really sent the message that we're back in business and I won't ever forget that.
Q: Depending on the day, it can sometimes feel like you've been working here for five minutes or five years. Was there a moment you can really pinpoint that made you feel like you were officially part of the Retriever community, or was it there from day one?
A: It's a credit to everyone on this campus, particularly campus leadership and Greg Simmons and President (Emeritus) Freeman Hrabowski, but I was made to feel like part of the family before I even started. I was all in with both feet from day one and nothing has happened in the interim to make that waver at all. 
Q: Speaking of becoming one of us, how have you enjoyed the transition from Connecticut to Baltimore over the last few years?
A: I've really loved going to Camden Yards and enjoying crabs in the summer, so I really couldn't be more stereotypical about what I like about Baltimore. It feels like winter comes a month late and leaves a month early and being from New England, I also enjoy that.
Q: In March, you were elected to the NCAA Division I Council and just recently it was announced that you'll represent the America East as part of the NCAA DI-AAA Executive Committee. What will the work look like for you and what does it mean for you to have earned these positions?
A: It means a ton to me that the America East trusts me to be our lone representative on the NCAA Council which is the most important decision-making body at the NCAA. It's an honor and a big responsibility and I think the work we're doing is really beneficial for UMBC. The work is for the conference, first and foremost, but it's important to have representation from schools like UMBC. Non-football playing Division I schools really need a voice. I take that responsibility very seriously to speak up. 
Q: Looking ahead to the upcoming year, are there any goals you have for yourself and for UMBC Athletics?
A: I really think this can be the most exciting year we've ever had at UMBC in athletics. We have so many great teams that can compete across the board for championships and I think we've got a really great sense of morale in the department.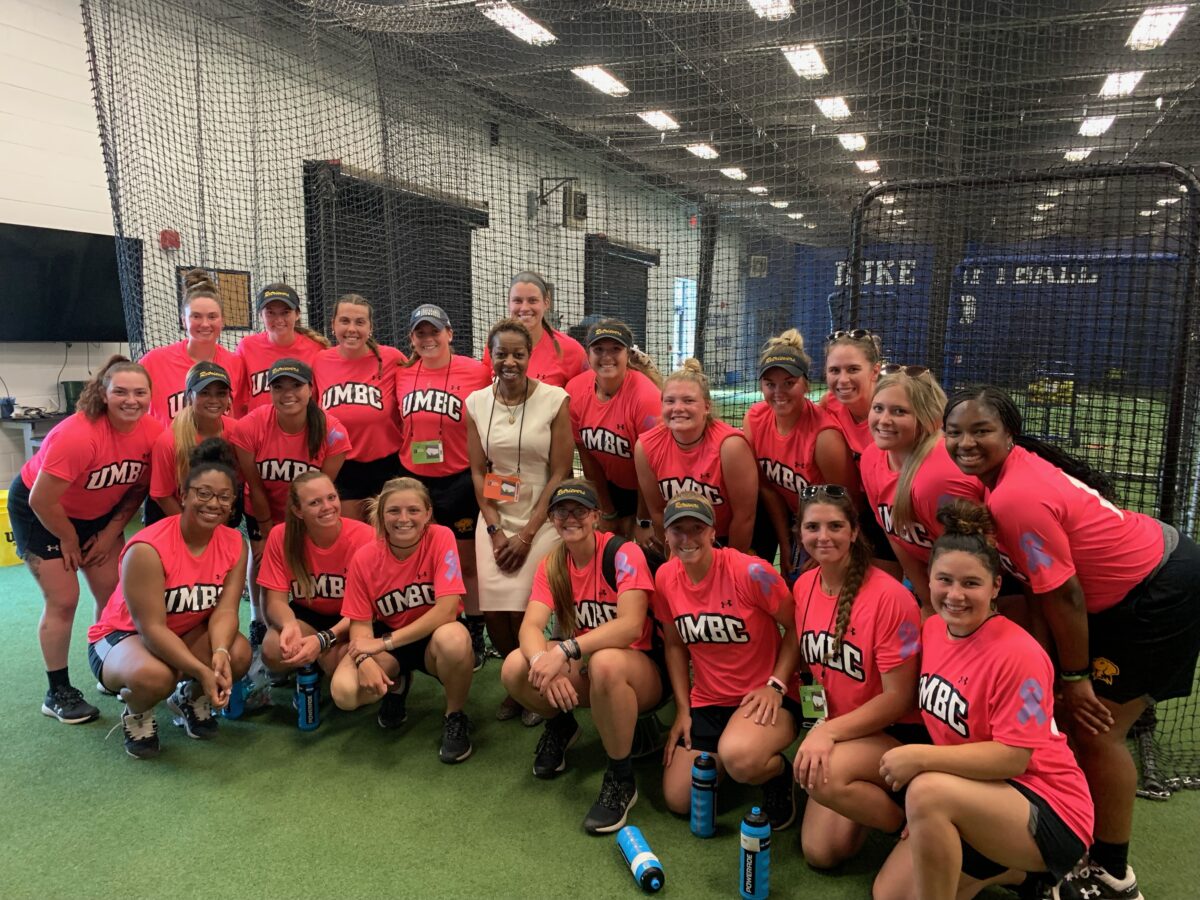 Q: We just welcomed our new president [Dr. Valerie Sheares Ashby] to UMBC. As someone who was new to #RetrieverNation not too long ago, what advice would you give her?
A: I got a chance to spend a little bit of time with Dr. Sheares Ashby at Duke for the NCAA softball game and I would say she doesn't need any advice from me. Just like I benefited from Dr. Hrabowski's leadership and mentorship, I look forward to benefiting from hers. She brings a level of commitment to students and I'm going to be leaning on her, not the other way around. 
Q: How would you sum up #RetrieverNation in one word?
A: I tried but I just can't narrow it down to one. Excellence, resilience, togetherness–it would be hard to pick one but it's all of those things. To me, we always punch above our weight class. It's that sense that we're bigger than the sum of our parts and I think it's what makes it exciting to be here. 

Visit UMBC Athletics and mark your calendars to come support #RetrieverNation at a sporting event this year!
Tags: Athletics