If you've ever watched a movie with anything higher than a PG rating, chances are you've seen two actors perform an on-screen kiss. Perhaps at the time, you didn't think much about what went into staging that kiss. But in reality, staging intimacy—which includes everything from holding hands to simulated sex—can be one of the most challenging parts of producing a play. 
"There seems to be a lot of opportunity for miscommunication, misunderstanding, and, in the very worst cases, abuses of power," Chelsea Pace, assistant professor of theatre, explains. Pace is one of the founding members of Theatrical Intimacy Education, a consulting group that helps theatre and film companies develop their best practices for staging intimacy. TIE usually does this not by staging the intimacy themselves, but by conducting workshops and trainings to teach those who are already a part of the company how to direct intimacy.
"If we can make the people who are already in the room better at being in the room," Pace says, "then we're actually working towards a cultural change in our industry."
Pace originally took an interest in how intimacy was directed when she noticed that directors shied away from staging intimate scenes, leaving it up to the actors to figure out for themselves. It seemed, to her, to be the only part of the creative process that didn't have a designated designer or director. 
That lack of direction impacts the performance, says Pace. "Directors would just ask two actors, 'okay, do the kiss, do the make-out,'" Pace says. "And if the actors didn't know how to do that, or they did something weird, you were stuck with it." 
Pace has studied theatrical intimacy for over 10 years and has been helping the UMBC Theatre Department develop their own best practices for staging intimacy since she began working here in 2017. Not only has she conducted trainings and workshops with theatre students and faculty, but she also worked with the department to develop their new Theatrical Intimacy and Instructional Touch Policy. 
Formed from the input of students, faculty, and staff in the department, the policy aims to set standards for touch in the classroom, including obtaining consent and making it clear that there are alternative practices for students who don't want to be touched. "That's a really large part of a lot of pedagogical systems for teaching theatre. There's a lot of contact," Pace says, explaining the need for such standards. "We have a lot of needs in this department because of what we do that you may not necessarily discover in a physics department."
One of the four UMBC shows Pace worked on last year, She Like Girls, featured a young woman discovering her sexuality. The show handled both moments of intimacy as well as instances of sexual violence; in one scene, a character named Andre, played by Lloyd Ekpe '20, acting, attempts to coerce his friend into having sex. 
According to Ekpe, Pace's methods made staging such a dark moment infinitely easier. "The initial meeting with Chelsea at rehearsal is going through the best practices for touching and initiating contact, and with that comes the language of contact—the distance, the levels of touch, the lines and shapes," he explains. When it came time to stage the assault, "one thing [Pace] kept hammering into my head was: It's just choreography. It's just choreography. You're just closing the distance, you're just lifting her up here, you're just putting her down there."
Divorcing the motions of the scene from the feelings of the actor are an important part of Pace's practices for staging intimacy. "In stage combat, it's very clear that I'm not punching my scene partner in the face. When you're staging a kiss? Your faces actually go on each others faces,"  Pace says. "And that creates a lot of muddiness between what is real and what's just real in the scene." 
Purposefully, carefully choreographed intimacy helps to clear up that muddiness by creating what she calls a "container of technique" that separates the movements of the scene from real-life emotions.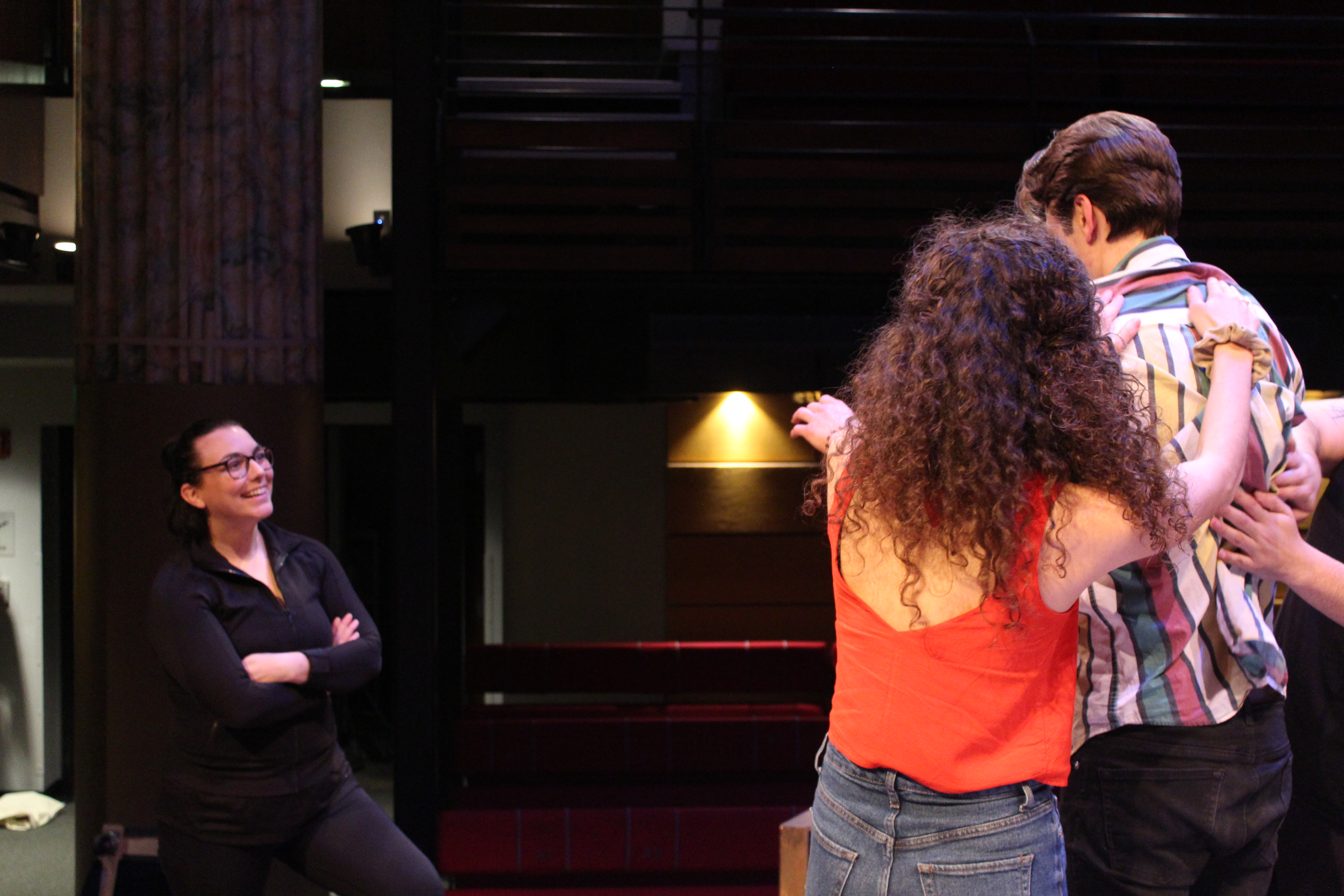 All of the best practices Pace has developed with TIE and as part of her own research will soon be catalogued for other educators, students, and professionals in her upcoming book, Staging Sex, which is forthcoming from Routledge Publishing. Like TIE's workshops or the theatre department's new Theatrical Intimacy and Instructional Touch Policy, Staging Sex is yet just another step in changing the theatre industry to be a more ethical and consent-driven space. 
"We can do a lot [of] good if every undergraduate coming out of a BFA program across the country comes out knowing how to establish their boundaries with a scene partner…and every student director coming out of these programs starts asking actors questions about their boundaries," Pace says. "That's going to create a cultural change a lot faster than just insisting every production needs an intimacy choreographer."
*****
Header image: UMBC Alumnae Sanjana Taskar '19, acting and sociology, and Hannah Kelly '17, acting, pose for the cover of Staging Sex. Photo courtesy of Shealyn Jae.
Tags: CAHSS, Discovery, Fall 2019, professorsnottomiss, Theatre