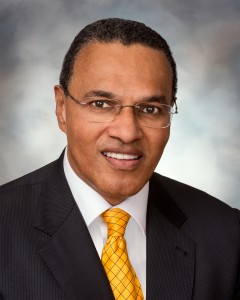 SmartCEO has published a feature-length profile on UMBC President Dr. Freeman Hrabowski. In addition to an overview of the President's career in academia and his approach to education, the article dedicates much of its length to Dr. Hrabowski's role in the bwtech research park and his encouragement of alumni entrepreneurship.
Several UMBC alumni now either work for companies based in the research park or run them, and the ones interviewed for this article point to their UMBC experience and connection with Dr. Hrabowski as positives in their entrepreneurial journey. According to the article, companies "[draw on] help from UMBC faculty and doctoral students to help in solving complex problems," and many alumni who have gone on to start their own firms cite Dr. Hrabowski as a mentor.
"I literally don't make any major life decision without checking in with him first," says Delali Dzirasa '04, computer engineering, CEO of the software company Fearless Solutions.
SmartCEO also had some UMBC alumni working behind the scenes on the article. Mitro Hood '89, visual and performing arts (photography), photographed the President for the feature, and Erica Wood '00, visual and performing arts, art directed the piece.
In a separate article for SmartCEO, Dr. Hrabowski contributed his own thoughts on Baltimore's present and future to the #CEOsLoveBaltimore initiative, which began in the wake of civil unrest over the death of Freddie Gray:
What gives me hope is the honest look we are all taking at our city's most pressing problems — from academic achievement gaps to health disparities — and our willingness to embrace these struggles. We understand that business development and community development are inextricably linked, and we know we have the brainpower and the passion to build a better future for all Baltimore residents. We are all Baltimore.