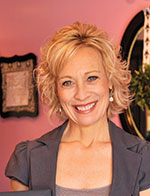 With Michelle Kupiec '89, interdisciplinary studies, Owner of Kupcakes & Co.
by Meredith Purvis
America's craze for cupcakes is still going strong – and why not? The best bakers have pushed the boundaries of the cupcake to concoct dozens of colorful confections with new twists (bouffant icings and inventive garnishes) that can dazzle the eyes and delight the taste buds.
It's not as easy as it looks to make a truly amazing cupcake, however, and even for the most polished pastry chefs wrestle with perfecting this single serving of scrumptiousness. So we headed into the kitchen with Michelle Kupiec '89, interdisciplinary studies, owner of the Elkridge boutique bakery Kupcakes & Co. – whose cupcake offerings includes such gems as French Toast and Mint Oreo –  to find out the secret to making a great cupcake.
Tools of the Trade
An organized kitchen
The basic baking arsenal, including  spatulas, mixing bowls, and measuring cups and spoons
A sweet tooth and some creativity to help you dream up great new flavors
STEP 1: Scour the grocery store
A great cupcake needs the right ingredients to make it truly special. Seems like a no brainer, right? But Kupiec says it pays to give even the most basic ingredients extra attention. Kupcakes & Co. uses specialty garnishes such as gourmet lemon curd and homemade brownies, and even orders gourmet cocoa from Belgium. Those things may be out of reach for the average baker, but Kupiec says that even basic upgrades can make a huge difference. "The most crucial thing you need are the freshest eggs you can get," she observes. Substituting sea salt for regular salt can also boost flavor, as will opting for fresh fruit and spices instead of dried alternatives. (Those who want to kick it up even higher can look for Madagascar vanilla and gourmet chocolate chips at upscale grocery stores.) Kupiec adds that you should set aside your calorie counter apps: Using whole milk and real butter is rewarded with a better tasting cupcake.
STEP 2:  Practice, practice, practice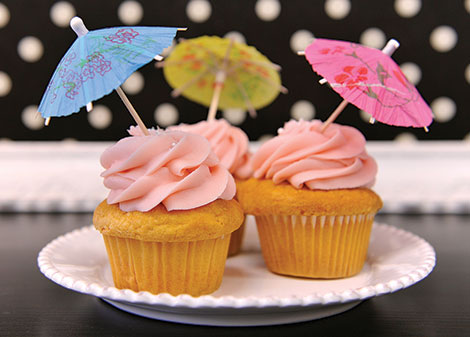 Don't expect your first cupcakes to be your best cupcakes, Kupiec warns. She and her team of bakers are experts, but that's because they've spent decades (collectively) learning these skills. "You have to have patience with baking; it's so important that you don't rush it," says Kupiec. The best way to do that, she says, is to build an environment that will allow you to succeed: Get your kitchen cleaned before you begin, and organize all your ingredients before you even begin to bake. And, of course, look for an excuse to bake! Whether it's a bake sale at school or someone's birthday party, you will get a chance to perfect your skills, with the added bonus of sweet treats for you and your friends to enjoy.
STEP 3: Unleash your mad scientist
One of the best ways to make your cupcakes stand out is to develop a unique taste or look. For many bakers, the thought of deviating from a recipe is slightly terrifying: what if something goes wrong? Will my cupcakes self-destruct? Baking is a science, says Kupiec, and there are plenty of ways to experiment. "Think about what you can do to enhance the cupcake without really changing the recipe," she advises. The best place to start? The icing: "You can easily add in some zest or dried fruit to boost a cupcake's flavor," says Kupiec. A key part of her cupcake creation process is coming up with the signature topping for a cupcake, which doesn't change the recipe at all, but really gives the cupcake some added panache. "Consider adding elements that add texture, like crushed cookies or tiny marshmallows," she suggests. Even simple touches can make a cupcake seem extra special.
STEP 4: Share the (baked) goodness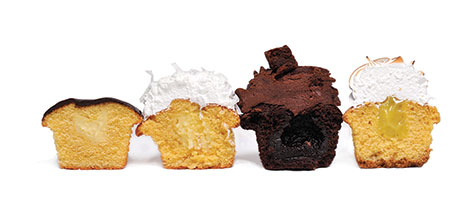 Few things in life are quite so wonderful as enjoying good food in good company. So when you do come up with a fancy new cupcake, make sure you share it. "To me, baking is love, and I like to share that with my friends and co-workers as a gift," says Kupiec. "I take care with the presentation, and personalize it so that people will know I did this just for them." That way, she adds, every step that you've taken – from the using best ingredients and choosing the most unique toppings to finding the perfect packaging – adds up to a wonderful gift.
Sidebar: Cupcakes By the Numbers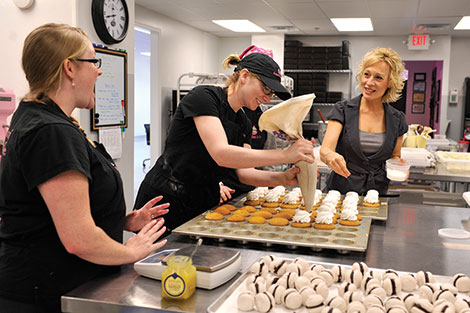 It's no surprise that the folks at Kupcakes & Co. make tons of cupcakes. But just how many? On average, they work about 84 hours per week to make about 10,000 cupcakes, and that takes:
400 pounds of flour
700 pounds of powdered sugar
1,620 eggs
400 pounds of chocolate chips
16 full- and part-time staff members
350 different kinds of sprinkles
95 cupcake pans
2,400 square feet of kitchen and storefront space
Read more about Michelle and Kupcakes & Co. on the UMBC Alumni Blog at umbcalumni.wordpress.com
Tags: cupcakes, Summer 2013