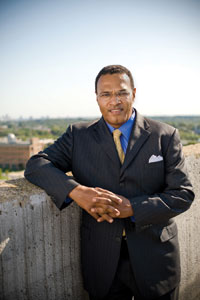 UMBC President Freeman A. Hrabowski, III, takes your questions.
Q:  I want to thank you for making me proud to have a degree from UMBC. The legacy you are building not only enriches students' experiences, but adds value to their postgraduate lives. How will you continue the momentum you've built – and specifically where will additional capital be directed in the coming years?
– John Becker '01, information systems
A:  Wherever I go in the country, people talk about UMBC as a university that is setting a standard for inclusive excellence. So how do we keep the momentum?
First, I think of academic innovation. We need to think about how we use technology and how we prepare students to solve problems in groups. Interdisciplinarity is also a focus for us in increasingly important ways.
We are involved in a number of experiments at UMBC to pursue those questions. We are working with the Howard Hughes Medical Institute on how we prepare students for medical school. We're exploring the digital humanities and how we teach writing at UMBC. We are working with the Gates Foundation on how we connect to community colleges, and also with the National Science Foundation to determine which strategies help students succeed.
As a result, we have created a culture that focuses on trying different approaches. We use analytics to assess the effectiveness of different strategies, and then set our direction based on that analysis. We're going to continue those efforts as we also continue to find resources to attract the best faculty across disciplines to UMBC.
There have also been significant investments in the physical infrastructure of the university. People who have not been to campus in the past few years are always amazed at how much the place has been transformed. We recently opened the first phase of the Performing Arts and Humanities Building. It is the most expensive building in the history of UMBC.
And over the next several years the university will be transformed even more. We hope to have a new Events Center that will not only be supportive of academically-sound athletics, but will also give the entire campus a greater opportunity to be physically fit. And we are also delighted that our governor, Martin O'Malley, has moved a new Interdisciplinary Life Sciences Building forward in the queue for state funding.
It is the investments we are making in academic innovation and in people – coupled with our investments in the physical infrastructure on campus – that will shape UMBC in the future.
Q:  Given the injustices you've had to overcome to reach your level of success, what are a few guiding principles you've used to maintain a positive and productive attitude?
— John Garnet '06, financial economics
A:  I continue to recommend David Brooks' book The Social Animal. We think that we determine our actions and attitudes based on logic and a rational approach, yet research shows us that much of what we decide to do can be attributed to things that happened to us as children – many of them which we have forgotten.
For me, growing up in such a loving family, with very hard-working and positive parents who emphasized the importance of love and respect for each other, made all the difference in the world. I saw them in different ways being insulted and challenged by a rigid and prejudiced society – but they never became bitter or cynical. And they always believed that every human being had the potential to be a good person. And when they witnessed people being mean-spirited they believed that they were the product of their childhood experiences; that these people clearly hadn't had the benefit of love.
I didn't believe them at first. But as I have gotten older, I appreciate their approach much more. They told me that the people who tend to be happiest have to be realistic – on the one hand – but also to have as much optimism as possible. To find the good in whatever the situation is. Even in tragedy, to ask the question: What can I learn from this?
Tags: Summer 2013