Riding high on a string of recent wins, UMBC's men's and women's basketball teams will greet the spring semester with hotly anticipated games against major rivals at the Retrievers' home court, the UMBC Event Center. The first is this Wednesday, as the men take on second-place Stony Brook at their annual "Blackout Night." On Saturday, February 9, the women will take the court against Maine.
Both teams drew victories against the University of New Hampshire over the weekend, and the men are enjoying a four-game conference streak, putting them in third place overall. With this kind of momentum – building since last year's historic NCAA run – it's a great time to be a Retriever fan, says Academic All-American graduate student Joe Sherburne, a forward on the men's team.
"Students and fans in the crowd can be direct participants in the game," said Sherburne, who has started more games than any other player in school history. "Their presence can shift momentum and help us play better."
The Event Center opened on February 3 of last year, with 4,700 fans streaming into the arena to celebrate the big day. The sea of supporters, wearing black and gold, and waving signs and pom poms, joined together to sing the alma mater with unbridled joy.
Fast forward one year and that same enthusiasm is bubbling once again.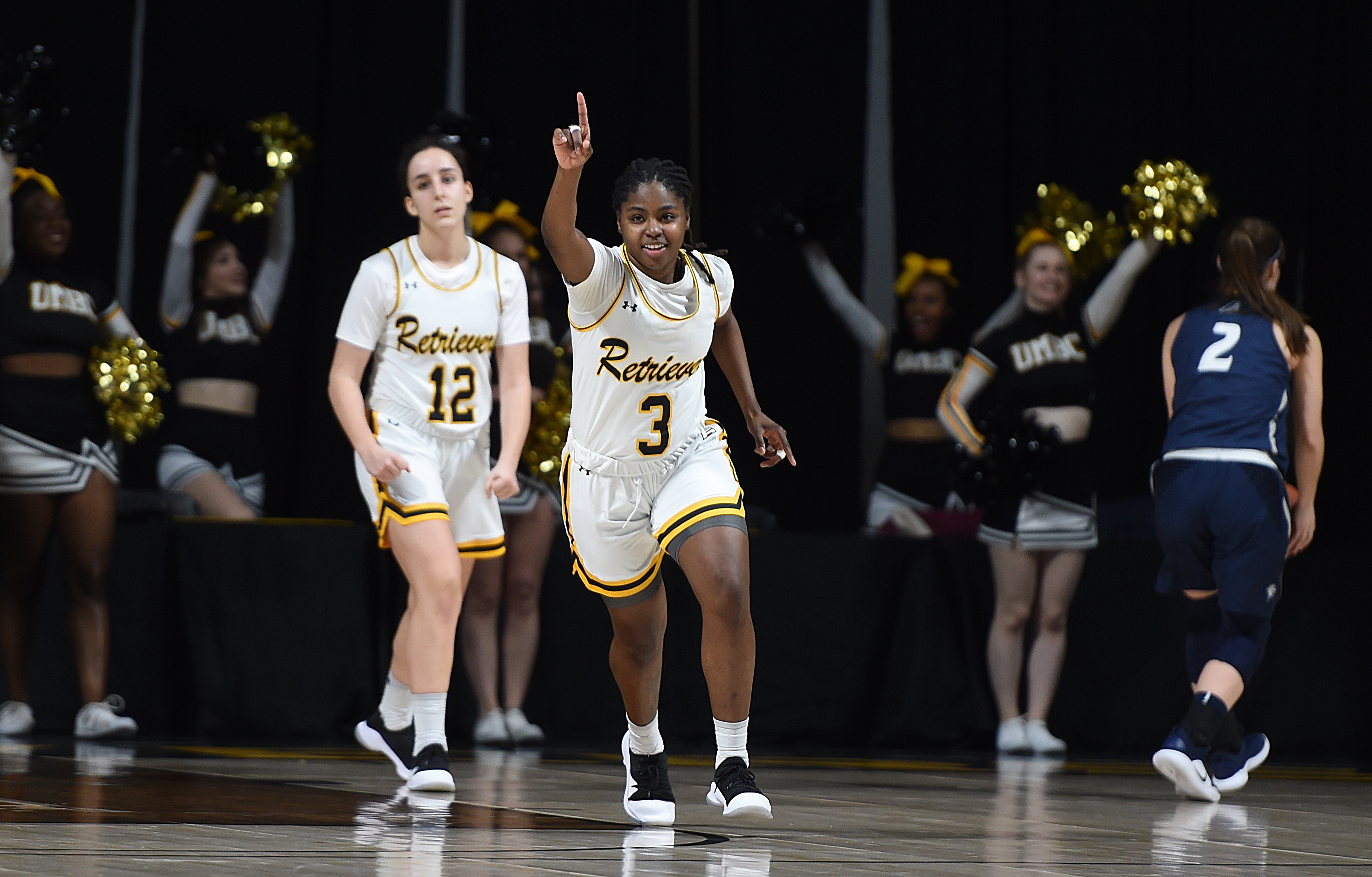 During Alumni Day on their home court this past Saturday, the women's basketball team won a thrilling 64-62 decision over visiting New Hampshire. Junior guard Te'yJah Oliver, business management, hit the game-winning layup with 4.5 seconds left after the Wildcats rallied to tie the score in the final minute. Teammate junior Tyler Moore, psychology, netted a career high 27 points, including 16 in the first ten minutes of play.
"For me, it is extremely exciting to have a large crowd at our games," Moore said. "Basketball is something that I love doing and it is so much more fun being able to showcase what we work so hard on in front of our fellow students. I would love to see more people at our games because the energy a solid home crowd brings can make a difference in winning and losing a close game."
The men visited New Hampshire that same afternoon and also emerged victorious. Just three days after defeating league favorite and unbeaten Vermont, 74-61, in Burlington, the Retrievers shook off fatigue and injuries to defeat UNH, 59-51. Junior guard K.J. Jackson scored 21 points and Sherburne, data science, tallied 14 points and added nine rebounds to pace the Dawgs.
UMBC recorded its fourth consecutive win and took over third place in the conference with a 5-2 record.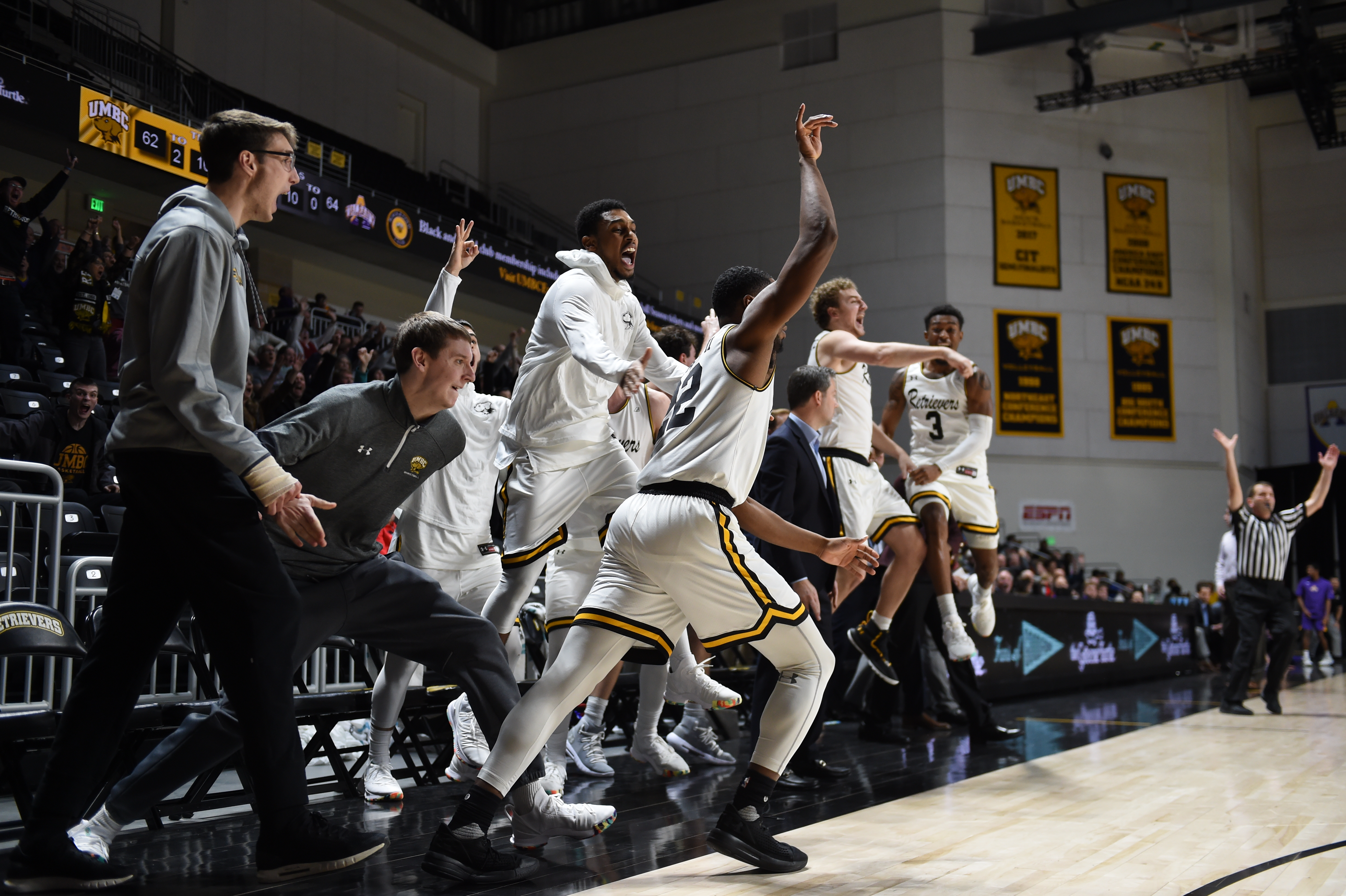 The men host second-place Stony Brook at the UEC on Wednesday evening at 7 p.m. It's the annual "Blackout Night", so all of #RetrieverNation is encouraged to wear black. The first 300 students in attendance will receive a black "Sharpie" t-shirt, referencing a now infamous comment made by college hoops reporter Seth Davis heading into the men's historic 16 over 1 win against top-ranked University of Virginia during NCAA play last March.
One week later, on Wednesday, February 6, the men will look to avenge a two-point overtime loss when Hartford visits UMBC. The women compete in their first home game of the spring semester on Saturday, February 9 when defending champion Maine ventures south for a 1 p.m. contest.
Tickets for all games are available at tickets.umbc.edu.
* * * * *
Header image by Josh Sinn '13.