The occasional clang of a shovel rings through the chilly spring air amid the chatter of a small group of cheerful students at the UMBC Community Garden. The students and Ariel Barbosa, program coordinator for Retriever Essentials at UMBC and a master's student in community leadership, are working hard to ready seven garden plots for crop production the growing season. Already, cold-hardy greens are on their way in one bed, and cucumbers and eggplant are growing indoors awaiting transplant.
The gardening effort is a new initiative of Retriever Essentials, a faculty, staff, and student partnership to tackle food insecurity within the UMBC community. "We were hearing from the UMBC community that canned food does not provide the nutrition we need. What we need are fresh fruits and vegetables in the Essential Space." Barbosa says, referring to the main food distribution site on campus, located in the Retriever Activities Center. The Essential Space distributes hundreds of pounds of donated food per week.
Growing to give back
They're able to meet the needs of community members—and respond to new requests, like fresh produce—through robust and fruitful connections with UMBC staff members who want to help. Emily Paul '21, global studies, service learning and community engagement program specialist at UMBC's Shriver Center, co-instructs PRAC 096, a service-learning course that allows volunteers to earn course credit for their work in the garden. In addition to offering hands-on garden advice, Paul also helps recruit volunteers for the weekly free farmers markets and to maintain the garden over the summer.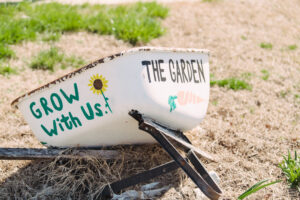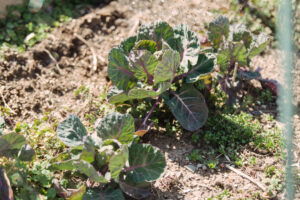 Scenes from the spring clean-up day for the Retriever Essentials garden plots. (Marlayna Demond '11/UMBC)
As a student, Paul was struck by the growing impact Retriever Essentials was making on the campus community, and as a staff member, she wanted to give back. "I am hoping that students learn about the strength of community and their own ability to take action through joining the garden project," says Paul. "It's empowering to grow food and nourish your community."
Beyond farmers markets
Barbosa's first step toward providing fresh produce for UMBC community members in need was to partner with So What Else, a non-profit that sets up "free farmers markets" in the Baltimore-Washington region. The resulting markets on campus have been quite successful, but "if there's a way for us to produce it ourselves, we would like to do that," Barbosa says. "So we started dreaming up this idea of having our own garden."
Eli Gooding '24, biological sciences, and vice president of The Garden at UMBC, worked with Barbosa to offer seven plots in UMBC's Community Garden. The Garden is a student organization that maintains the beds near the UMBC Police Station and works to address problems such as food waste and food insecurity through service opportunities.
"I am hoping that students learn about the strength of community and their own ability to take action through joining the garden project. It's empowering to grow food and nourish your community."

Emily Paul '21
Barbosa is highly invested in the project given her role with Retriever Essentials, but other staff members have also pitched in to offer support. In fact, UMBC track and field coach David Bobb "is going above and beyond to support this project," Barbosa says, by providing gardening expertise, seeds, and encouraging his athletes to volunteer.
"Last spring he brought bags of spinach to donate—which he grew from his own garden," Barbosa says. "That was the first time I thought, we can accept produce! Now it's time to grow our own."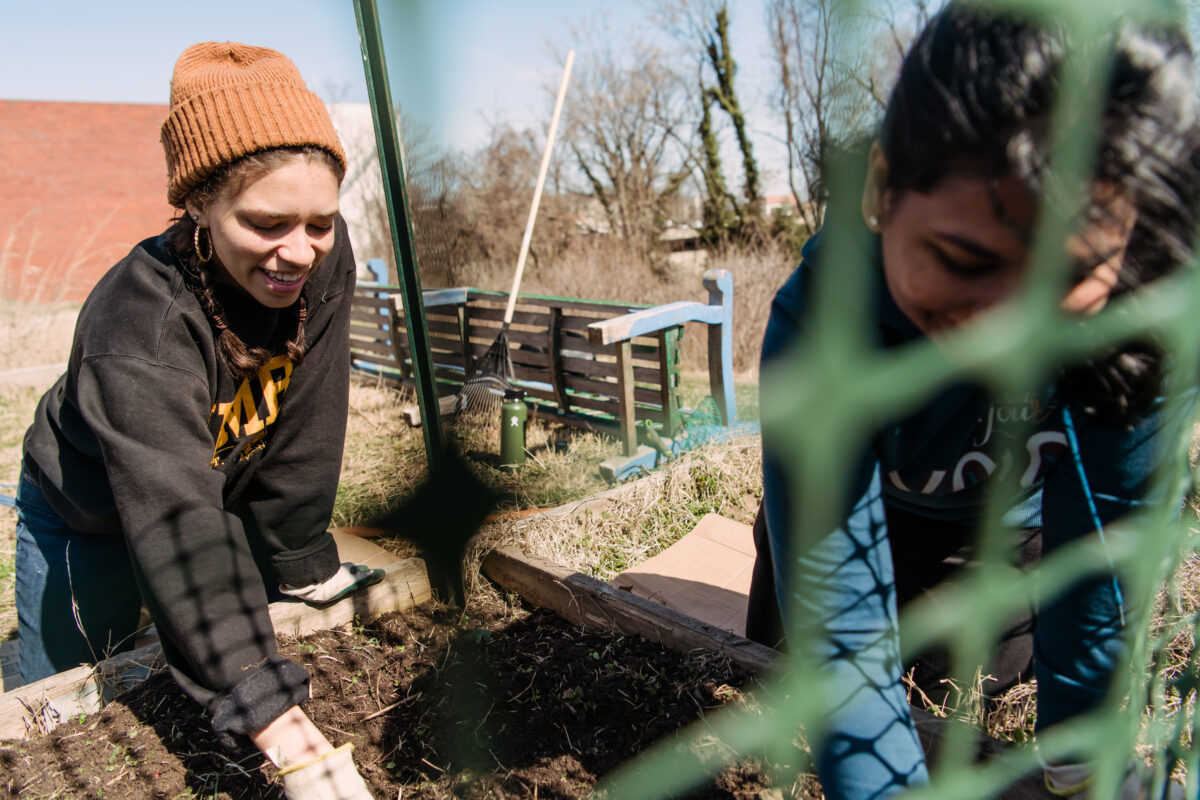 Ryan Kmetz, director of sustainability, and Claire Runquist, environmental sustainability coordinator, have also "been very present and always willing to pitch in and explore new ideas," Barbosa says.
For the gardening effort to be successful as the growing season gets into full swing, it will be important for volunteers to tend the plots consistently. "We're trying to prove that we have a sustainable steady thing going on," Barbosa says, adding that the garden and the Essential Space "are meeting a real need." The dedicated team is not just growing crops, after all—they're growing connections across the UMBC community and a broader commitment to fighting food insecurity.
Learn more about Retriever Essentials and how to get involved or email the team.
Tags: community leadership, global studies, Retriever Essentials, Spring 2023