Persistent. Innovative. Determined. These are the words UMBC's commencement speakers returned to again and again to describe the Class of 2021. And despite a year of challenges—missing family and friends, technological frustrations, life lived through the computer screen—one of the resounding themes of this year's Commencement ceremonies was gratitude.
Addressing this year's graduates, President Freeman Hrabowski reflected on his life and shared some wisdom learned throughout the years.
"The longer I live, the more I realize there's nothing more important than our family and our friends. We have to take the time to say 'thank you' because we never make it to any point of achievement alone," he says. "There are always people helping us out."
#umbcgrad#USGsuccess@UatShadyGrove @UMBC
1st stop 1991 – BA Poli Sci – no gray hair
2nd stop 2021 – MPS in Data Science – lots of gray hair

Retriever for life pic.twitter.com/iy7LT3yUVF

— Michael Schlitzer (@campagfan) May 11, 2021
Virtual ceremony, tangible spirit
This spring's ceremonies were held online in deference to the health and safety of the campus community. While the festivities were virtual, the spirit was very tangible. Students had the opportunity to come to campus for professional on-site graduation photos. Some even ran into local celebrity, Officer Chip, the campus comfort dog.
Graduate Student Association president Samantha Fries '18, psychology, and M.A. '21, applied sociology, shared in her commencement remarks that despite the challenges of the past year, there have been remarkable acts of kindness.
"This magnificent outpouring of love and empathy has been demonstrated all across all the world but I'm most proud to say that I've seen it shown exceptionally and persistently by the students, staff, and faculty here at UMBC," said Fries. "Faculty restructured their courses to provide maximum flexibility. Staff worked long hours developing new ways to serve students and help them succeed online. Students created virtual networks to stay connected with one other and to provide much-needed support during a time where we all felt more isolated than ever before."
Inspired by each other
Students relied on video chats, Discord channels, and the tried and true telephone to stay connected this past year. Even if they couldn't see each other in person, Retrievers are still grateful for the friendships that persevered and the memories they made.
"A lot of people helped me feel comfortable and enjoy my moments at UMBC," says Billy Harold Kayim Tchuem '21, biochemistry. "The list is very long, but I just want to tell them 'thank you' for making this a very exciting journey and I hope we can all look back at these years and be able to appreciate how amazing they were."
As part of her valedictorian speech, Katie Poteet '21, global studies and political science, described how UMBC's inclusive nature and diverse culture shape the environment and help students build relationships.
"UMBC is unique, creative, and diverse. There's something in each of us that others can learn from and be inspired by," says Poteet, who is a first-generation college graduate.
Coming to UMBC as part of a fifth-generation farming family from rural Maryland, Poteet embraced the international opportunities afforded to her, such as a trip to Ghana as part of UMBC's Global Brigades program. After graduation, she will attend the University of Cambridge, in England, to pursue a master of philosophy focusing on educational equity for women and girls in the Arab world.
"Because we are all so diverse, this graduation means something different to each of us," she shared, "but it also marks the collective success and excellence of our community."
Building the world they want to see
Addressing his fellow graduates as co-valedictorian, Jordan Troutman '21, M29, computer science and mathematics, emphasized the power of students recognizing themselves as agents of change.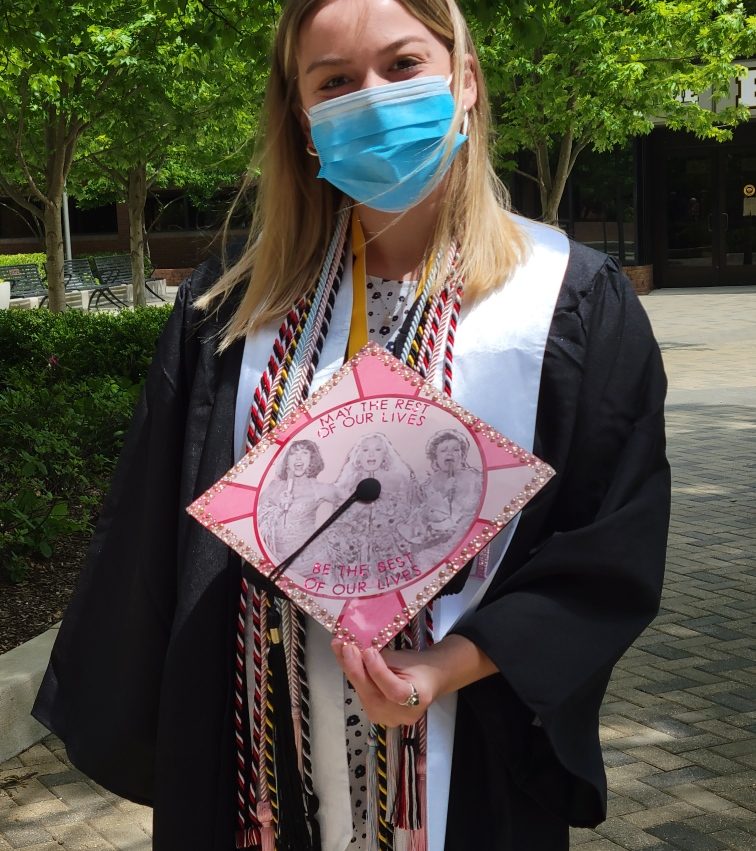 "I believe in a world where the leaders in communities and organizations fully represent the populations they serve. We must see things for what they are, but even more, for what they can be," says Troutman. "We have the ability to mobilize, find solutions, and challenge expectations. It doesn't always take a massive crowd of people to do so, sometimes it only takes one person. Sometimes that person will be you."
Troutman also received a prestigious Knight-Hennesy Scholarship, the first in UMBC's history. He'll begin a computer science Ph.D. at Stanford University in the fall, continuing his algorithmic fairness research.
One of this year's honorary degree recipients, Sarah Rosen Wartell, president of the Urban Institute, also spoke of taking action to make a better world. She emboldened the Class of 2021 to lead the charge, no matter how uncomfortable the journey might be.
"So, maybe a bit more discomfort is what the world needs from you because we're relying on you to show us the path forward," said Wartell.
Cogratulations to STEM BUILD graduate Demi Trimino (Biological Sciences'21, Philosophy '21)
We are so proud of you!#UMBCgrad pic.twitter.com/cHf1X5tDgw

— STEM BUILD at UMBC (@STEMBUILDUMBC) May 21, 2021
Looking ahead
Commencement is a transition point—the end of one journey and the start of another. Victoria D'Souza, Ph.D. '02, biochemistry, knows it may not always be easy, but this class is uniquely qualified to face the challenges that come before them.
As the graduate honorary degree recipient, D'Souza expressed her confidence in these students, asserting that "if there's anything this class of 2021 can teach us, it's that you're resilient. And if you put your mind to it, no challenge is insurmountable."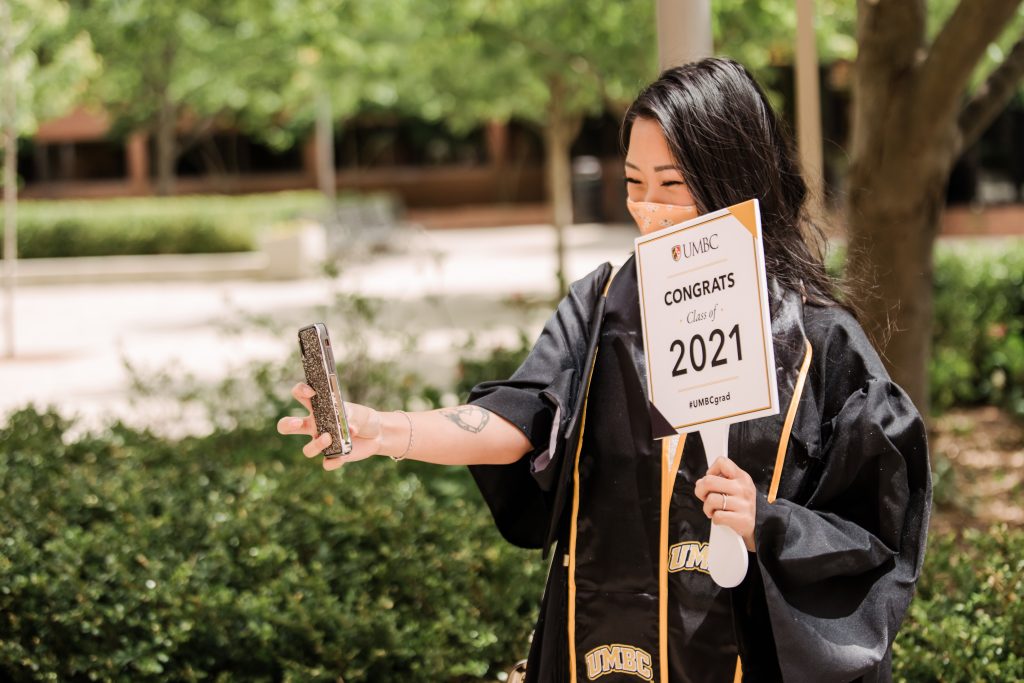 Christopher P. Austin, CEO-Partner at Flagship Pioneering, undergraduate ceremony honorary degree recipient, echoed these sentiments.
"The world needs you not only to seek change, but to drive it," said Austin. "Life is not a dress rehearsal, as one of my musical colleagues once put it. Live by these truths."
But no matter how far Retrievers may go on their journeys, UMBC will always be home, says Fries. She shared, "Let us not think of this as the ending of a chapter, but rather the beginning of the next book in the series of our lives."
Read more stories about the Class of 2021 on UMBC News. Full recordings of this year's virtual ceremonies can be found on the Commencement site, along with social shareables, a virtual True Grit, and a photo booth. Help us celebrate our graduates by using #UMBCgrad on social media.
Banner image: Two of this year's graduates stop for a selfie during on-campus photos. Photos by Marlayna Demond '11 unless otherwise noted.
Tags: CAHSS, Chemistry, ClassOf2021, CNMS, COEIT, CSEE, GlobalStudies, MathStat, page1, PoliticalScience, Psychology, SAPH