It's not often that college students have the opportunity to present policy recommendations directly to senior level government officials, but students throughout Maryland recently shared research papers on significant issues impacting the state as part of The Shriver Center's Governor's Summer Internship Program (GSIP). The 2016 program ended with a celebration at the Maryland State House in Annapolis last month.
The Governor's Summer Internship Program introduces Maryland college students to the unique challenges and rewards of working within state government. Interns work for ten weeks during the summer in state government agencies doing substantive tasks ranging from drafting speeches and correspondence to researching policy options and assisting with constituent case work. The program is led by the Shriver Center in partnership with the Office of the Governor.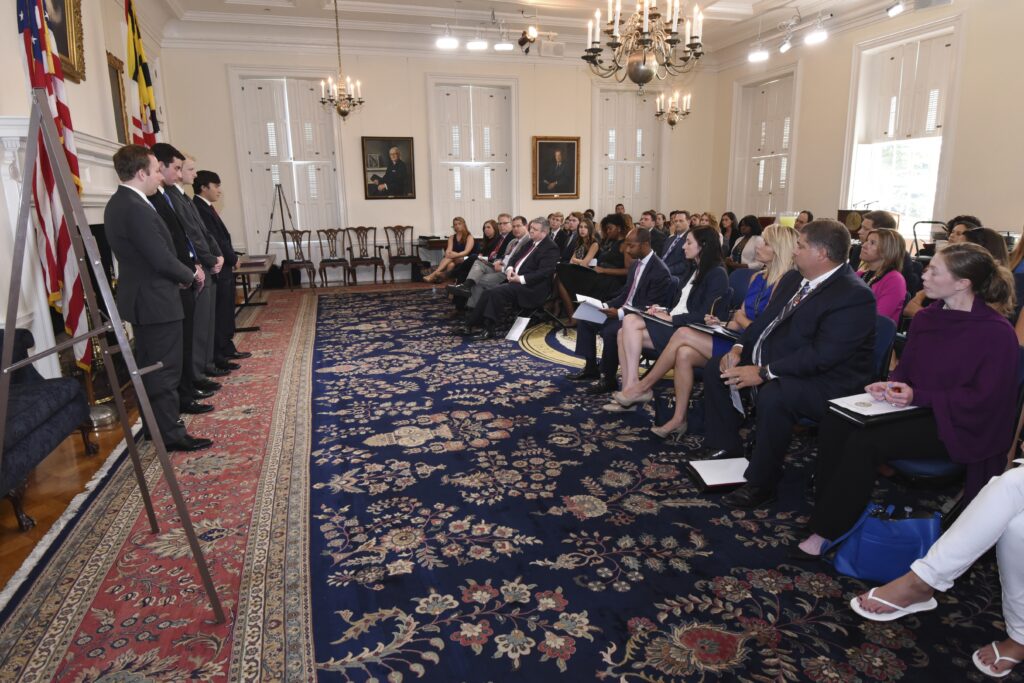 During this year's program, students studied topics such as addressing the achievement gap for English language learners, reducing recidivism, preventing opioid abuse, and affordable housing. Several UMBC students participated in the 2016 GSIP, including: Vanessa Barksdale '17, social work; Nathan O'Toole '17, economics; Aidan Delisle '17, political science and philosophy; Patrick DuBoyce '17, political science and history; and Manisha Vepa '18, economics, global studies, and music.
At the closing ceremony, the GSIP interns presented their policy papers and fielded follow-up questions from senior cabinet officials in Maryland state government. The students offered thoughtful policy solutions including further development of transitional housing and continuing education for ex-offenders re-entering society, developing and passing a housing anti-discrimination law, and further development of local programs and magnet schools to address the achievement gap for non-English students.
UMBC Political Science Associate Professor Laura Hussey worked closely with the students throughout the summer to develop their policy papers, and Lieutenant Governor Boyd Rutherford opened the closing event by congratulating the students and thanking them for their service.
Other Shriver Center Public Service Scholars Programs came to a close at the beginning of August, including the Walter Sondheim Jr. Maryland Nonprofit Leadership Program, which offers summer internship opportunities in the nonprofit sector to college juniors, seniors and graduate students attending Maryland institutions, and the Maryland Department of Transportation Fellows Program. Read more about The Shriver Center's Public Service Scholars Programs.
Images: The 2016 Governor's Summer Internship Program closing ceremony at the Maryland State House, August 11, 2016. Photos courtesy Maryland Governor's Office Photos.