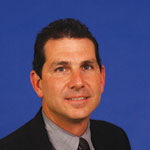 After a stellar basketball career at UMBC, Rick Moreland '83, interdisciplinary studies was drafted in the ninth round of the National Basketball Association's annual draft by the Washington Bullets.
And though he never made a basket or grabbed a rebound for the Bullets (renamed the "Wizards" in 1995), Moreland eventually made the team in a different way – and he's lasted 25 years with them.
"I have had a longer career than most of the NBA players," says Moreland, who is the team's senior vice president for corporate marketing and executive seating. Moreland's job with the team is to make sure that the corporations and other big customers of the team have an ideal experience when they come to see the Wizards play at the Verizon Center in downtown Washington, D.C.
His mantra? "Find something you really enjoy doing and find a way to make money at it," says Moreland, sitting behind his desk at the Verizon Center. He observes that some of the Wizards' younger employees, after taking in his 6' 7" frame, ask him if he ever played hoops. Moreland enjoys telling them that he was good enough to be drafted by the team back in the day.
Moreland played at Surrattsville High School in Prince George's County before arriving at UMBC, which was still a Division II school at that time. He left the university as the leading scorer and rebounder in school history – tallying 1,728 points and grabbing 931 rebounds at UMBC.
Chris Farrell '84, health science and policy, entered UMBC with Moreland in 1979 and played point guard for the Retrievers. "He was an excellent player and an excellent teammate," says Farrell, who now works for a software company near Philadelphia. "He worked as hard as anyone on the team. I focused on assists and he made it so easy for me."
Another teammate on the Retrievers teams of that era was Bill Larash '82, economics, who works as a certified public accountant in Annapolis. Moreland "was offensively the best player I have ever seen," he says. "He was unselfish on the court. I joke with him now that he could go out and play for the Wizards."
Page Elliott '82, health science and policy, was a co-captain with Moreland on the 1981-82 UMBC team. The two had previously played against each other in the Maryland state semifinals – when Elliott was a senior at Thomas Johnson High in Frederick – before becoming teammates. "It was a close-knit group," says Elliott, who now lives in New Jersey. "[Current men's basketball coach] Randy Monroe is doing a great job of keeping our team involved with the program." says Elliott.
Moreland attended the Bullets' training camp after being drafted in the spring of 1983, but did not make the team. So he switched gears and started looking at other career options in the business of sports.
Moreland had already honed his administrative skills at UMBC, working in the athletic department as a sports information director, an assistant athletic director, an assistant basketball coach, and as an acting athletic director. He started working for the Bullets in 1988 in the team's public relations department, capitalizing on his experience as an intern at WJZ-TV in Baltimore during his college days.
"I wanted to stay in sports," he says. Moreland also took charge of handling the game-day operations of the games that the Bullets played at the Baltimore Arena when the team was based in Largo.
Moreland assumed his current position in 1995. One of the highlights of his tenure with the franchise was a chance to work with NBA superstar Michael Jordan, who won six NBA championships with the Chicago Bulls before ending his retirement and joining the Wizards as a player and team executive for two seasons in 2001. "Michael Jordan, who after you get past the celebrity, is a great guy," notes Moreland.
Moreland and his wife, Susan, have three grown children and live in Davidsonville. Their daughter, Ali, was a senior guard this past season for the women's basketball team at McDaniel College.
— David Driver
Tags: Education, Fall 2010, National Basketball Association, Rick Moreland, Sports, Washington Wizards