Most students come to college armed with the essential adult knowledge—make a dentist appointment every six months, don't lose your social security card, and never wash a red sock with your whites. But Tim Dunn, UMBC's executive chef, and Adam Sachs, UMBC's dietitian, think we can do a little bit better. Enter: UMBC's new Teaching Kitchen. 
"Most students don't have great cooking skills, so we want to help them out and teach them about how to construct a meal," says Dunn. 
As part of a required Chartwells higher education initiative, UMBC spent the summer of 2019 making updates to True Grit's Dining Hall to incorporate a Teaching Kitchen. Equipped with cameras and screens, the new addition aims to give students the skills they need to up their culinary game. Students are able to see the chef preparing meals in front of them, utilizing the screens to concentrate on the up-close action of chopping, dicing, and slicing. The scene is set with blazing lights and individual cooking stations so each student has the ability to put their own spin on the recipe. 
"The method of using TVs to show the students the cooking process in real time was really helpful. I found it way more effective than if we were just being given verbal directions," says Johanna Alonso '20, English, of her first Teaching Kitchen experience. "We were able to look at what the chefs were doing—like how they were cutting the onion and garlic—and imitate it."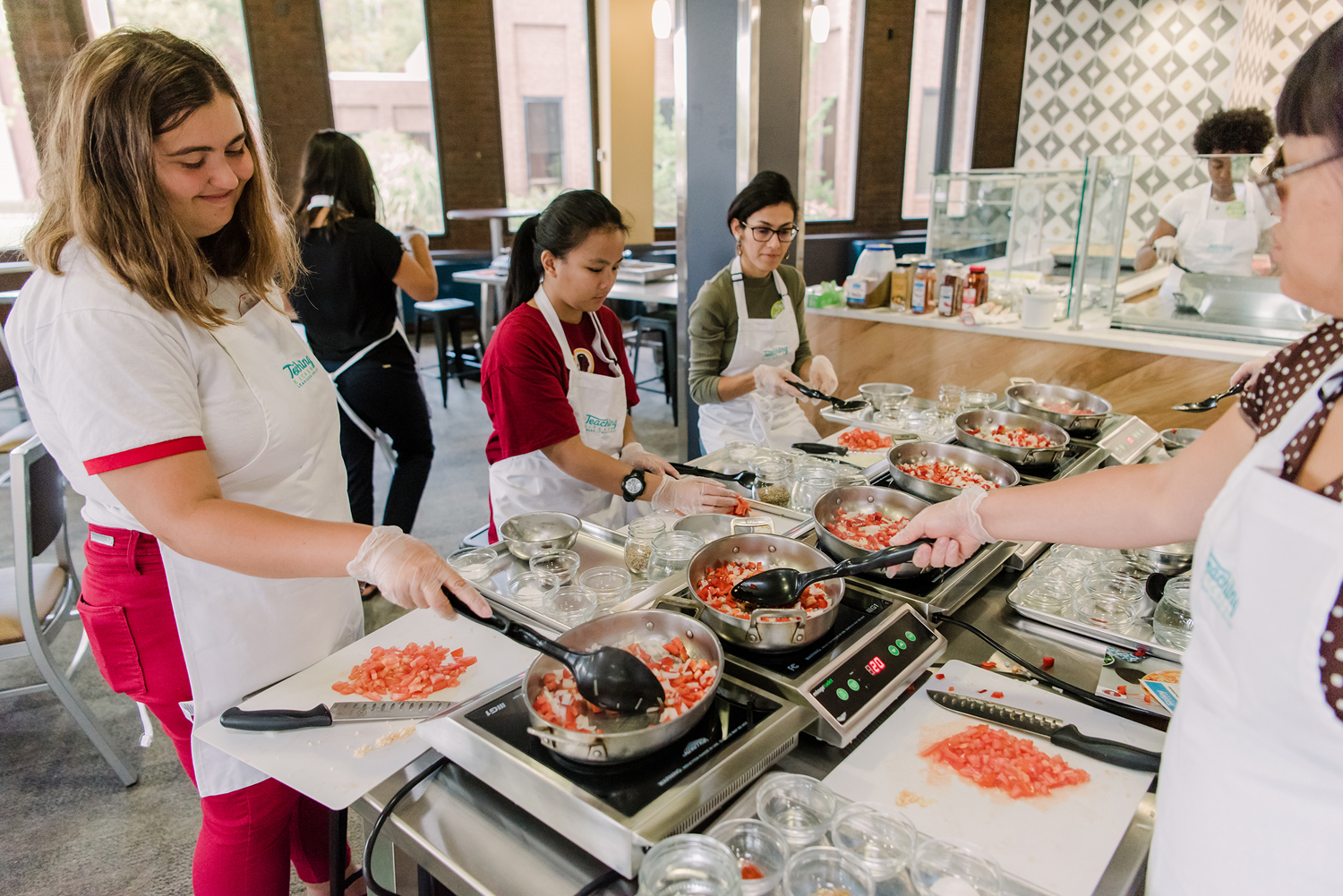 The first meal students prepared at the inaugural Teaching Kitchen in September was chicken and lentil enchiladas. While the entree was fairly simple to create, students were able to produce a meal that both looked and felt more intensive. This was an introduction to lentils for some students, and the nutritional value and cooking process was a valuable kitchen skill. 
"We want to help students create meals that are easy to cook, but also well-rounded and full of nutrients," explains Sachs. 
Easy to cook and nutritional value are definitely factors that Sachs and Dunn look at when deciding their menu for the Teaching Kitchens. But they also want to incorporate seasonal favorites and support local vendors. The October menu includes a pumpkin salsa, the designated campus superfood and a fall favorite. 
Sachs and Dunn both went to culinary school at Johnson & Wales University in Rhode Island, so perhaps their close partnership was destined for success. 
"During the Teaching Kitchen, it's a lot of going back and forth. I talk about what ingredients we're using and what the nutritional benefits are, and Tim demonstrates prep techniques and the execution," Sachs explains. "We are helping students in real time as things constantly change." 
The duo doesn't expect that students will show up ready to make their "Top Chef" appearance. To lay a proper foundation, they start with the basics—knife skills and technique. 
As the program grows, Sachs and Dunn hope to add cooking competitions, visits from professionals in the food industry, and integration with various campus organizations. Students who were part of the pioneer Teaching Kitchen walked away eager to put their newly learned skills to the test— and like any good UMBC student, they're even prepared to share. 
"I'd definitely make these enchiladas for my roommates sometime. And really, I want to try to make some of the other recipes in the cookbook they gave us. I'm already looking forward to the next one," says Alonso. 
****
Sign up for the next Teaching Kitchen workshop on November 13. 
All images by Marlayna Demond '11.