"In the Sherman STEM Teacher Scholars Program, we drive home two points. One: we teach children. Two: children are people. It sounds simple, but we tend to forget that children are younger versions of us. Sometimes in a "STEM" program, we become fixated on the math or biology, when what belongs at the center of all we do is the students." —
Rehana Shafi
, director, Sherman STEM Teacher Scholars Program
Lydia Coley '20, American studies, has started a new adventure this semester. Twice a week she wakes up by 5:30 a.m., crosses Baltimore City from north to south, and arrives at Maree G. Farring Elementary/Middle School by 7 a.m. to do what she has been preparing for over the last three years—be a student-teacher. As a scholar in the Sherman STEM program, Coley is among a group of future mathematics and science teachers who will eventually work throughout the Baltimore region and across the state, focusing on high-need schools.
She listens, observes, supports, and learns from her mentor teacher. Sometimes, this means she's in the front of the classroom or leading small groups as she begins to transition into next semester's role as a full-time lead student teacher. But what we found when UMBC Magazine followed Coley for a day, was not a student but a natural leader. 
Coley smiles at the beginning of the day and enthusiastically welcomes each of the 90 students she is there to support. "This is a collaborative effort. I am here to learn from my mentor and to support students, but really most of the learning comes from what students are willing to share with me. They are also my teachers."
It is 7 a.m. and Lydia Coley, a first-semester student teacher at Maree G. Farring Elementary/Middle School smiles at her day ahead. Her duties include supporting students while her mentor teacher leads lessons and, when possible, Coley leads parts of the lesson in small groups.
Coley runs into her mentor teacher, Theresa Frey, who has been teaching for 19 years. They take a few minutes to review the day and head in to prepare.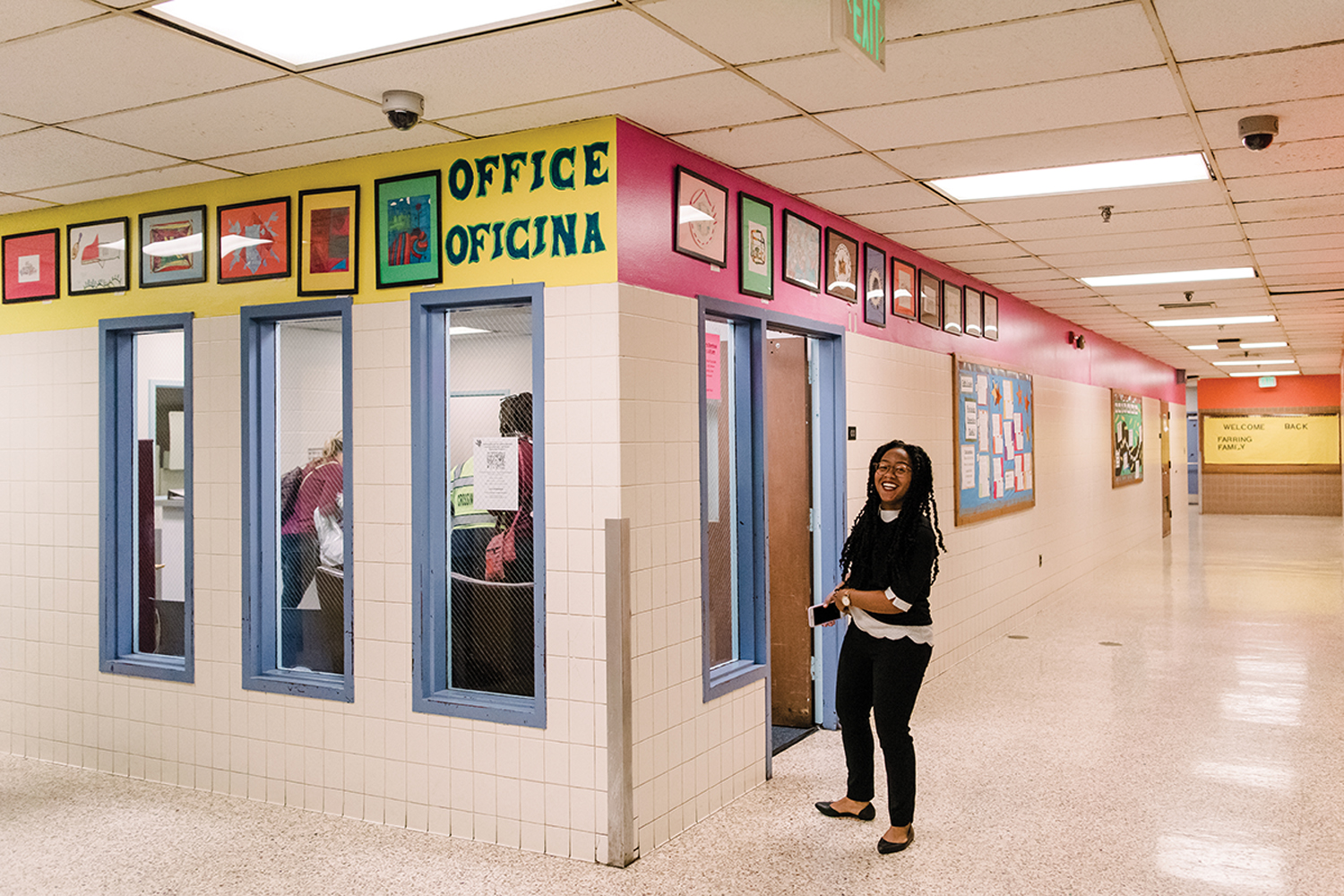 Coley signs in at the office and makes her way to her classroom. Maree G. Farring is 23% English language learners. Many students' first language is Spanish.
It's preparation time! Coley finalizes the details as she changes the date and takes note of the objective for the day. The cactus theme of the classroom encourages students with signs like "Looking Sharp" and "We Are on Point." Coley's classroom has about 30 students in each of the three blocks throughout the day. She helps the first block by putting all the chairs down for them because soon the students will come in with breakfast baskets and books in hand. 
The day starts quickly. Frey and Coley go over the materials for today's lesson—telling time counting by fives and a number line. Every minute literally counts!
Students begin to arrive but there is no time to waste. Coley goes over last night's homework with a student while she finishes her breakfast. One-on-one time is precious and Coley is happy to provide it. She is also passionate about students eating fresh food as she studies the correlation between nutrition and academic behavior. She wants them to have time to eat so they also have time to think.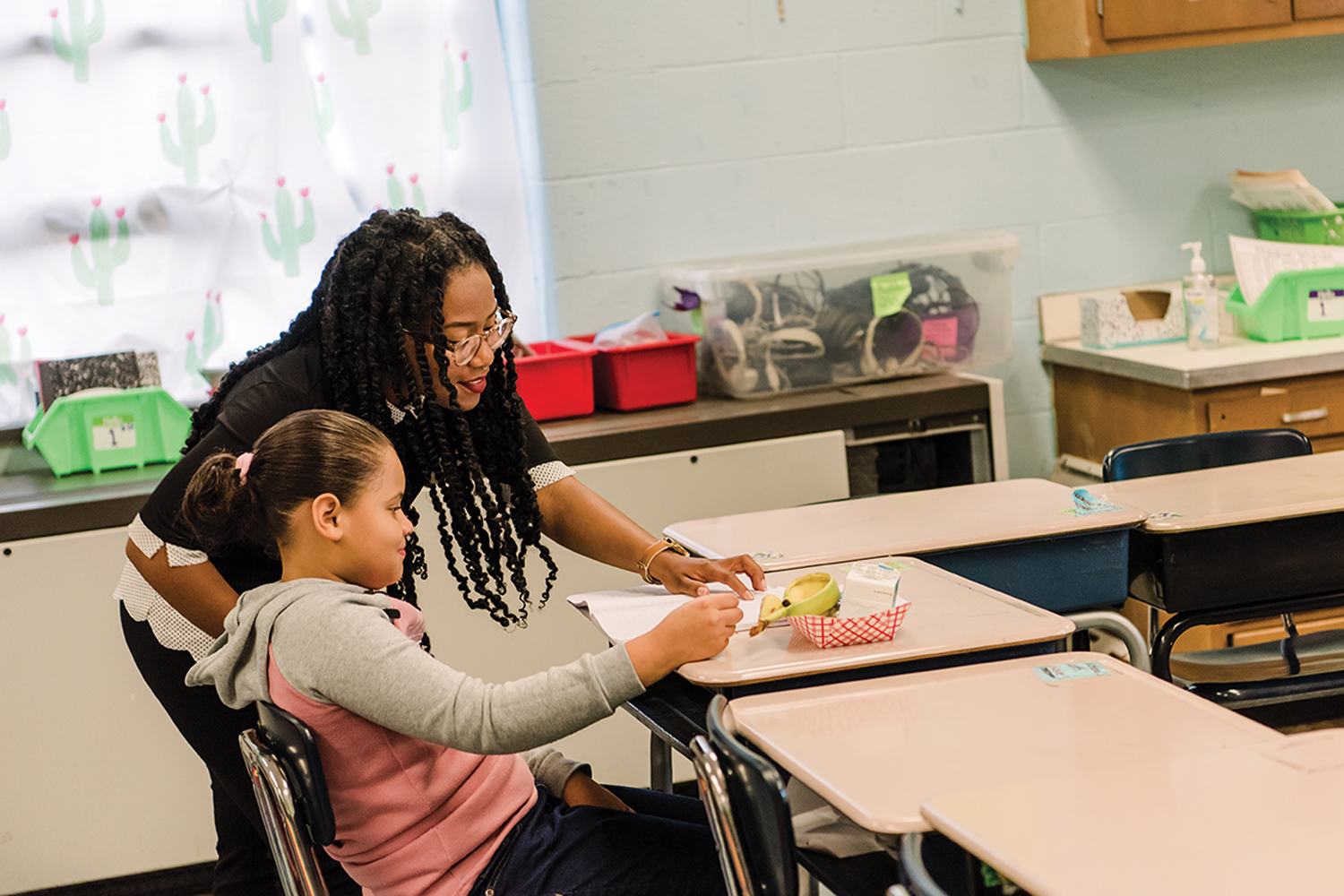 Coley leads the students through some critical thinking about how a clock ties into multiplication and number lines. Students compare answers and discuss the possible options by using their own clocks.
It's time to delve deeper. Coley engages students to identify parts of a clock and determine the correct time using a variety of strategies. When she asks what time is shown on the clock (2:30 p.m.) one student smartly calls out "dismissal time!" The rest of the students show their work on whiteboards and raise them for a quick check.
Coley becomes a student as she quietly observes her mentor teacher think out loud about the various ways to solve a word problem. "I became a teacher because I love learning. The classroom is full of ideas. It's not only a place for academics but a place to build empathy," she explains. "It is important for students to experience someone that respects, supports, and has a positive influence over them." Coley looks forward to transitioning into a lead student teacher for third-grade mathematics and sixth-grade social science in the spring.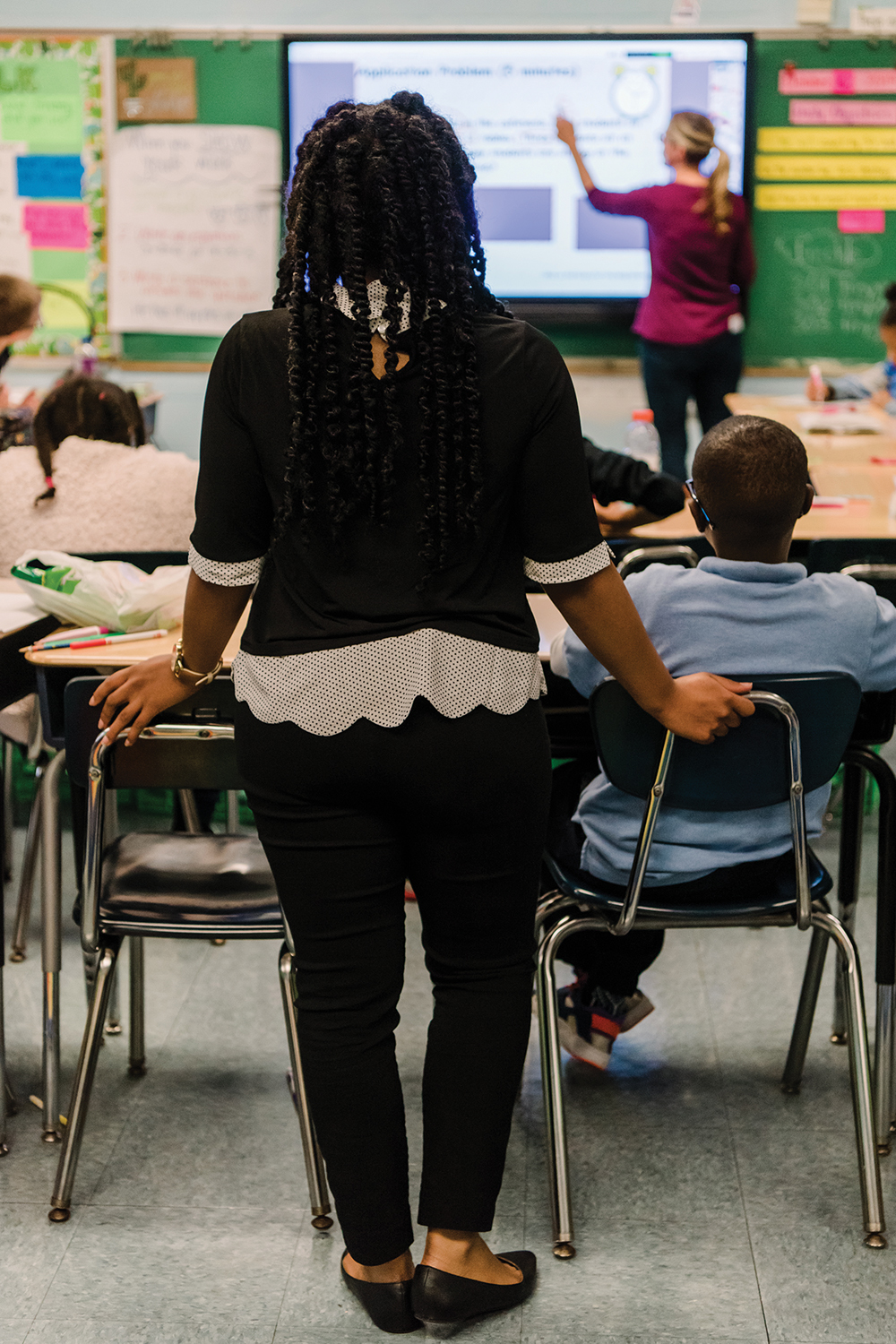 Each student requires a different type of support. Coley takes time to help a student think through the connection between her diagram and her multiplication process. "One of the greatest challenges in teaching math is that many students don't feel they are good at math," she explains. "It is my job to help them believe in themselves by showing them how these skills are connected to their lives."
The first block of math is done. Students follow Coley to computer science for more applied math. Two more 90-minute blocks of math follow with two other classes of students to support before calling it a day.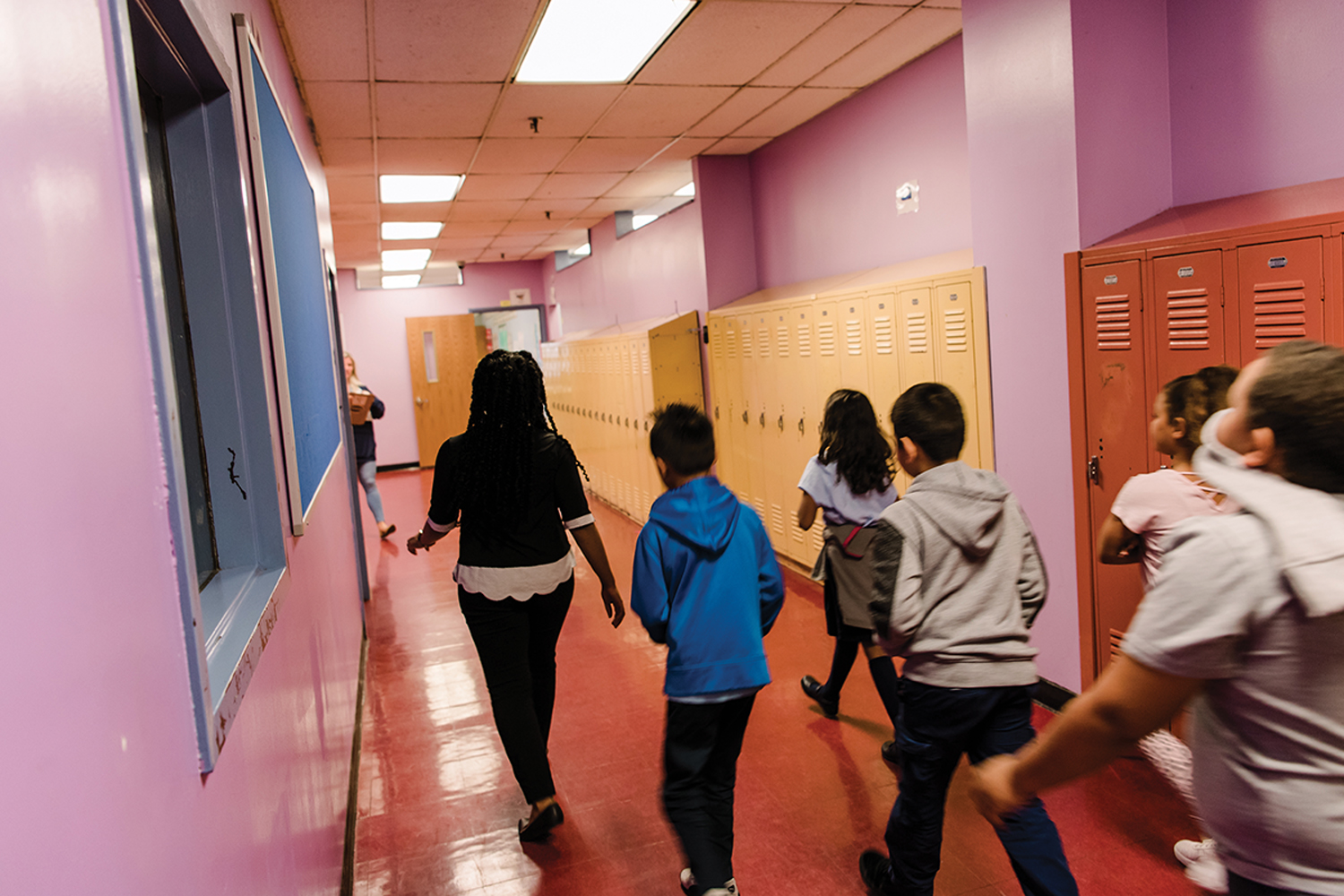 The bell rings. It's 2:30 p.m. and raining but students don't mind. It is time to head home. Coley helps a student keep their hood on as they rush out the door. Teachers and students share smiles all around.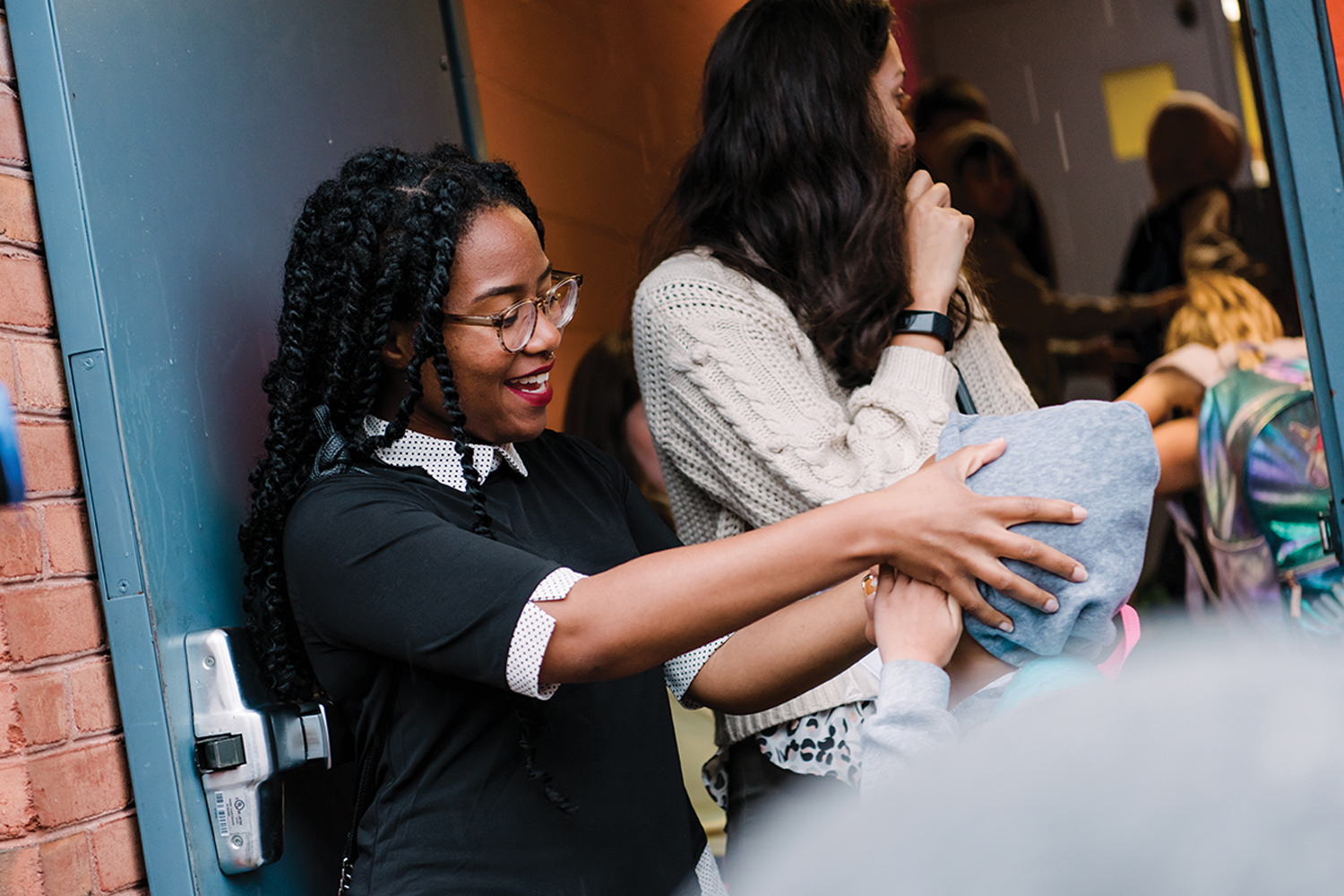 Quiet fills the classrooms and the hallways. It is the perfect time to catch up with a fellow alumna, Olivia Grimes '19, individualized study and early childhood education, a first-year teacher at MGF. They exchange stories and Grimes gives advice on how to adjust to the full-time workload when Coley comes back in the spring.
It's 3:15 p.m. and the day is done. Grimes and Coley head home with thoughts of equations, stories, and fun ways to educate their students tomorrow.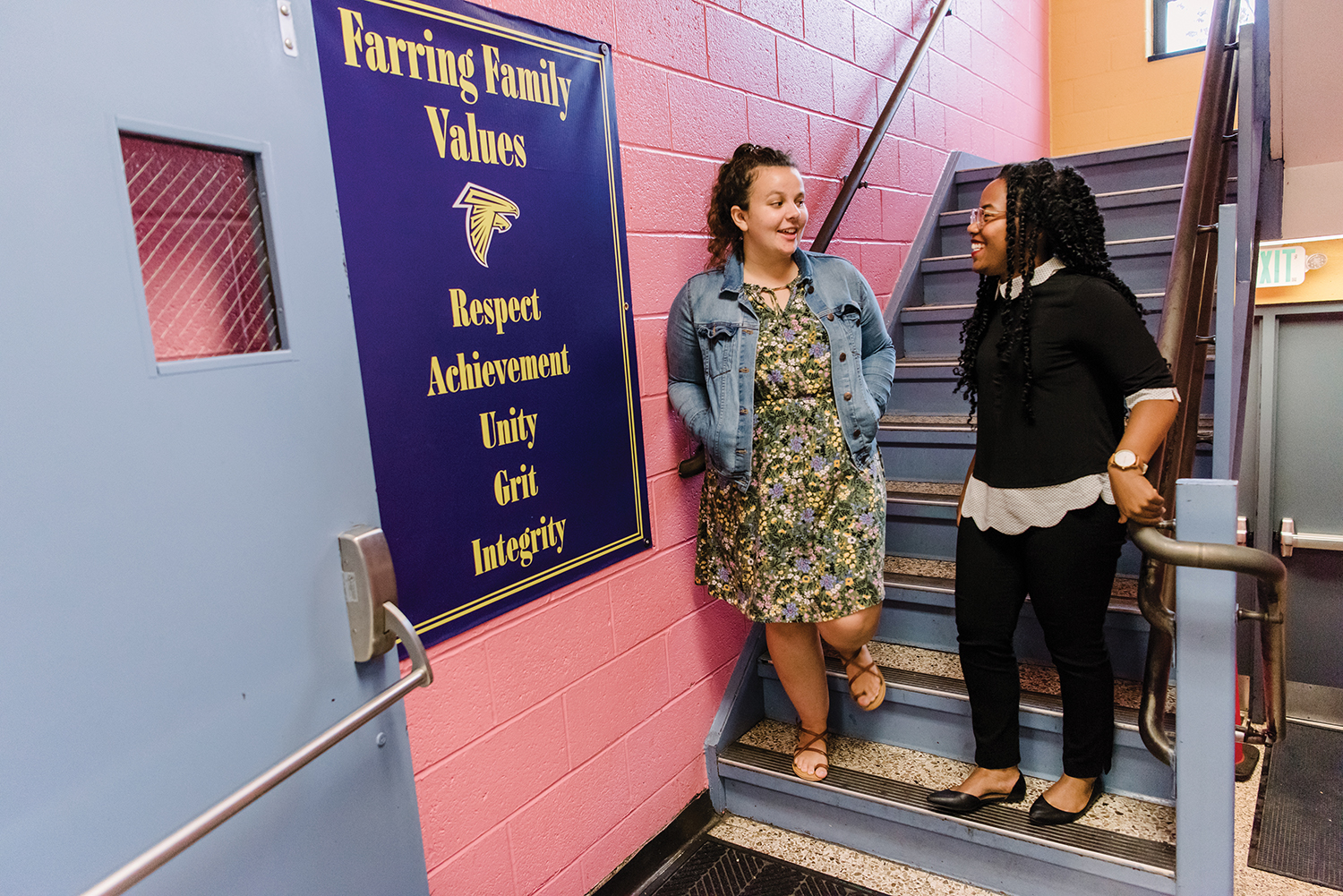 *****
Since its inception 12 years ago, the Sherman STEM Teaching Scholars Program has supported more than 150 students in becoming culturally responsive and compassionate STEM educators by collaborating with UMBC faculty and local, high-need schools. Currently, nine students and 13 alumni of the program are leading and learning in zip codes across Baltimore City. 
All photos by Marlayna Demond '11.
Tags: CAHSS, Fall 2019, Sherman STEM Teacher Scholars Program, ShermanScholars