UMBC boasts no ivy, and no classical columns. But as a university designed as a primarily-commuter campus in the turbulent 60s, it was also born free of any traditional restraints on how a campus should look.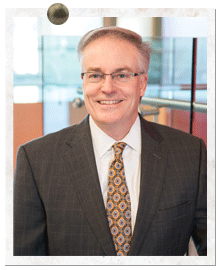 The low-slung Albin O. Kuhn Library & Gallery was the only one of the first wave of campus buildings that did not incorporate brick. Designers of the initial UMBC campus created buildings that were contemporary, accessible to all, and, as Joe Rexing, director of facilities management puts it, "forward-looking." Rexing, who came to the university in 2004, adds that "[UMBC] is not as bound or mired in tradition as some older institutions were."
Indeed, as times have changed, the needs and the look of the UMBC campus have also shifted. The university now has 4 million square feet of office and learning space on 512 acres, with 14,000 students – 4,300 of them residents.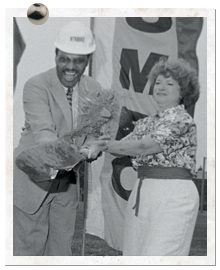 As UMBC's director of capital planning in the 90s, Nancy Quantock helped to direct a major expansion of the physical campus.
Quantock came to UMBC from the University of Maryland System, eager to work on the buildings that would define the university for a new generation of students.
"I never did it for me," she says. "I always did it for the kids."
Her role in supervising the distinctive tower addition to the Albin O. Kuhn Library & Gallery and the creation of the light-filled Commons rank among her favorite achievements, but Quantock also oversaw planning and design of two other new buildings (Physics and Information Technology/Engineering), an expansion for the Retriever Activities Center, and upgrades to the Biological Sciences and Meyerhoff Chemistry buildings.
Quantock relied on what she calls "very good talent" to design, build, or renovate each project, and enjoyed her role in ordering, furniture and equipment for the new spaces. She also worked behind the scenes with UMBC President Freeman A. Hrabowski, III, as he lobbied for funds in the Maryland General Assembly. "Working with Freeman was a joy," she recalls.
While the look of UMBC's campus changed dramatically during her tenure, Quantock always kept an eye on the original master plan for the university as she undertook two new versions of the master plan during her time at UMBC. "We tried to keep a contemporary look but added a lot of glass," she says. "You need to keep a modern campus looking modern."
The glass was part of Quantock's push for light-filled spaces, which she argues makes work more enjoyable. "We talked a lot about that," she recalls. "It's really important for the kids."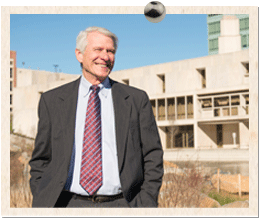 As the campus continues to grow in the 21st century, Rexing and Rusty Postlewate, assistant vice president of facilities management, are helping to chart UMBC's future expansion.
Postlewate, who spent 30 years with the U.S. Army Corps of Engineers, came to UMBC in 2010 to oversee planning, design, and construction of new capital projects, as well as renovation, operation, and maintenance of existing buildings.
Rexing, an architect who has worked as a higher education consultant on more than a dozen campuses, first got to know UMBC as a consultant on the Public Policy Building.
Rexing and Postlewate both find inspiration in the 1963 master plan for UMBC, which proposed setting the first buildings into the existing hillside site to make them easily accessible on several levels, and linking buildings with bridges and housing utilities in tunnels.
"That's pretty unusual," Postlewate observes.
UMBC's latest master plan looks ahead to 2019, forecasting the need for new academic and student services buildings, additions to residence facilities, as well as two new major buildings: a UMBC Events Center (which breaks ground in February 2016) and an Interdisciplinary Life Sciences Building to replace the Academic Services Building.
"It's unlikely that we'll quit growing," Rexing says. And UMBC's growing prominence and advances in innovative pedagogy mean new and different kinds of spaces are essential. In the classroom, team projects are replacing lectures and round tables are replacing desks.
"The success we have had must translate to meeting the needs that support that success," Rexing observes. "The way we teach is even changing. Architecture has to keep up, and planning has to keep up with those kinds of changes in pedagogy."
Planning new buildings doesn't happen in a vacuum. UMBC's commitment to shared governance means campus committees can express their own ideas as a new building is proposed. In that emphasis on shared governance, observes Rexing, "I'd say UMBC is unique."
Protecting UMBC's legacy is a critical part of Rexing and Postlewate's mission. "It's 50 years of investment and history that we're building upon," notes Rexing.
That means preserving and protecting what's already on campus: its green spaces, the old academic buildings, and its aging dorms. "Infrastructure is more a part of the future than it has been in the past," observes Postlewate.
Key elements of the legacy have new looks. The Library Pond, for instance, recently got a complete (and environmentally friendly) facelift, and all the university's dorm rooms have been refurbished. In the Fine Arts Building, 30 percent of the building's old systems and outdated spaces are undergoing a major overhaul, according to Postlewate.
The rest still needs upgrading. "I think of it as stewardship," says Rexing. "I consider [UMBC] a valuable Maryland state asset and we're charged with the care of it."
— Mary K. Tilghman '79
Tags: Winter 2016