UMBC's Department of Theatre takes center stage at The John F. Kennedy Center for the Performing Arts – and extends the university's impressive legacy in college theatre's biggest annual festival.
By Richard Byrne '86
Washington, D.C. – It's 7 a.m. and a pickup truck pulls up outside the John F. Kennedy Center for the Performing Arts as the purples and pinks of a May dawn fade into morning daylight. Inside the truck is the entire set for the UMBC Department of Theatre's production of Lynn Nottage's play Las Meninas.
It's going to be a big day for the students, faculty and staff gathered at this early hour to prepare for UMBC's appearance at the American College Theatre Festival (ACTF). But before the cast performs before a sold-out Terrace Theatre 13 hours from now, there's a truck that needs to be unloaded. And a set to build. And a show to rehearse. And all of it accomplished on an unfamiliar stage.
The first hurdle has already appeared. A broken freight elevator means that the pieces of associate professor of theatre Elena Zlotescu's dynamic set must be taken up bit by bit through the Kennedy Center's standard elevators.
Greggory Schraven '97, the department's technical director, is already rallying his bleary-eyed troops from the back of the pickup truck. "God gave you muscles as well as good looks," Schraven says to one student without a piece of the set in hand.
Director Eve Muson clucks like a mother hen over cast members feeling the crush of pollen on this warm spring day. Other students hope for a glimpse of Broadway legend Bernadette Peters, who is rehearsing for a production of Stephen Sondheim's Follies elsewhere in the building.
* * * * *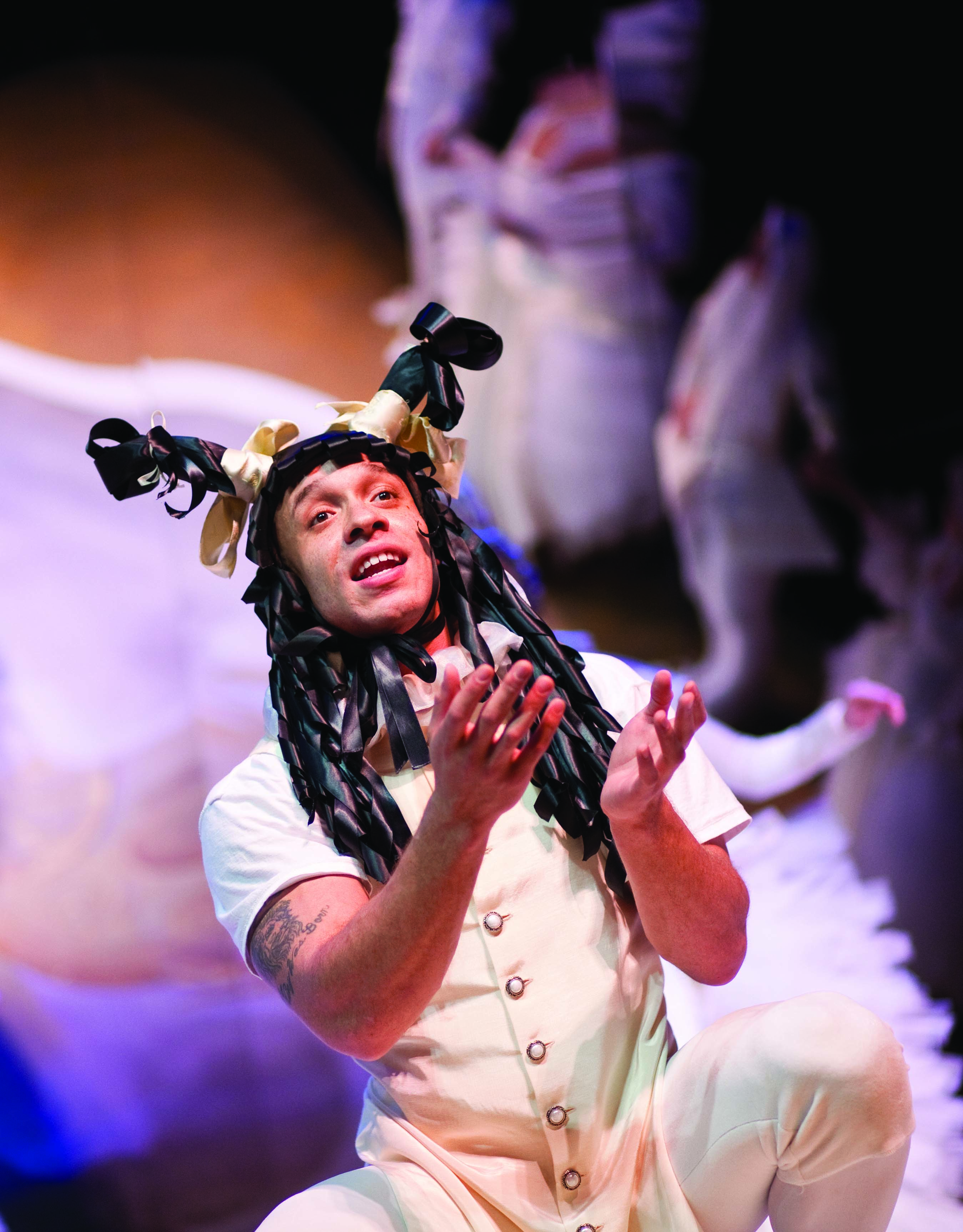 UMBC's performance of Las Meninas at the Kennedy Center tonight is the capstone to another tremendous achievement in the theatre department's rich history. The American College Theatre Festival is American college theatre's biggest event, and UMBC's selection as one of four universities to perform full-length plays here at the festival finale is the equivalent of reaching the Final Four in men's and women's college basketball.
"Participating in the ACTF affords us the opportunity to celebrate the unique contributions that university and college programs make to American theatre," says Alan Kreizenbeck, a professor of theatre who also serves as the department chair. "UMBC's long-term success in the festival demonstrates that we take this opportunity seriously and that our colleagues and audiences respond enthusiastically."
UMBC's path to the Kennedy Center wasn't easy, but it was straightforward. Las Meninas advanced through an initial round of judging on campus in November 2010, and then triumphed in a second regional round of adjudication held at Towson University in January.
The investment of time, energy and money required for success in the ACTF is immense – so the university only enters every four years or so. And this year's success with Las Meninas is only the latest chapter in UMBC's long legacy of appearances at the ACTF.
Only Boston University has appeared more times at the Kennedy Center as part of the festival than UMBC, and Las Meninas joins a string of winning productions that started in 1975 with You're a Good Man, Charlie Brown and continued in 1979 with Five by Beckett. The theater department went two years in a row in the 1980s – with a 1987 production of The Importance of Being Oscar and again in 1988 with Springs Awakening. The last two visits to the Kennedy Center were in 1996 (The Diary of a Scoundrel) and in 2004 (Buried).
"There's clearly a commitment at UMBC Theatre to never rest on laurels, or to simply warm-over an old idea," says ACTF artistic director Gregg Henry. "The program always seems to be investigating, probing, and challenging the cross-disciplinary boundaries of the performing arts, consistently collaborating to make unforgettable and vital theatre events."
The foundation of UMBC's winning production was the play itself. Las Meninas is an early work by Pulitzer Prize-winning playwright Lynn Nottage, who used a mysterious 17th century rumor of an affair between French Queen Marie-Therese of Austria and an African dwarf named Nabo as the springboard for a tragicomic meditation on race, sexual desire, politics and the clash of cultures. Las Meninas begins as a broad but brainy physical comedy and ends having explored dark corners of the human soul.
Muson recalls being attracted by the play's provocative intelligence when she first read Las Meninas in 2001 in American Theatre magazine, and says it was near the top of her list when the department decided to compete in the 2010-2011 ACTF cycle.
"But it wasn't just the director's passion for it," says Muson. "The faculty was immediately taken with it, too. The play speaks to the department's aspirations. We can bring a lot of design creativity to it. In the world of UMBC theatre, we do unusual plays in unusual ways – or plays that you know in unusual ways. So Las Meninas is in line with our aesthetic."
The students in the cast and crew shared that view. Rising senior Katherine Hileman, who played Queen Marie-Therese, says that "in reading the play last summer, I never looked at it as a period piece. It's so contemporary and so true to today…. [Muson] couldn't have picked a better script."
Las Meninas had another plus in its favor. The play's diversity of gender and race allowed a broad range of roles for student actors at a university as diverse as UMBC.
"You're always looking for something with a mixed race cast," says Muson. "When you find that play, you get really excited. You say: 'I have the kids to do this.'"
The cast of Las Meninas was not only diverse, but also talented enough to pull off a difficult and idiosyncratic play. Among the leads, rising senior Sean McComas had the sensitivity and steel to play Louis XIV as a boy king. Katherine Kopajtic '11 doubled up in roles as a Mother Superior and Queen Mother of France – two women perched on precisely opposite poles of sexual permissiveness.
Hileman was selected to tackle the broad tonal shifts from comedy to tragedy in Nottage's depiction of Queen Marie-Therese – a spoiled naïve monarch who falls in love with a tiny African jester and bears his child. But the greatest challenge was assigned to Keilyn Durrel Jones '11 who had to answer the question: How does a 6'1" actor play a dwarf?
Mostly in a swaggering crouch, it turns out. "It was very taxing," Jones says with a gentle laugh. "I was icing my knees often, and there was always the smell of Ben Gay and ibuprofen."
Muson concurs. "It was hard," she says. "The body had to be believable enough. But what I find with theatre audiences is that if you say, 'This is how we're going to do a dwarf,' the audience will be happy to go with you as long as you don't violate it."
Terrace Theatre – 11 a.m.
It's late morning, and all is quiet backstage. The costumes are hung carefully in silent dressing rooms.
But the stage buzzes with activity and high-spirited banter. Department associate staff member Terry Cobb has got the lights arranged, and now everyone else (actors included) lay down the gaudy floor of the set and wipe down the Mylar panels that evoke the multitude of mirrors at the palace of Versailles. Greggory Schraven's voice punctuates each accomplishment with a persistent and enthusiastic cry of "Rock'n'roll!"
Indeed, spirits are a little too high and unfocused for Eve Muson, who comes back into the theatre as the set nears completion and tries to get everyone refocused on the imminent performance. She asks sharp questions, assigns tasks, sets a time to break for lunch – and frets.
"It's getting a little oodgie-poodgie," observes Muson of the mood onstage. She wants less oodge and less poodge and more concentration.
* * * * *
Another factor in selecting Las Meninas as UMBC's entry in the ACTF was the possibilities offered for Elena Zlotescu to depict French King Louis XIV's sumptuous court at Versailles in her set and costume design.
But as an accomplished and award-winning designer, Zlotescu is less obsessed with the look of the play ("anyone can design a beautiful set") than with how the play's richness will shine through in her work. Las Meninas is told from the point of view of the convent-bound child of Queen Marie-Therese and Nabo, and an air of fable and fact mix uneasily in the story.
"You can't tell from the play what is real, what is memory, what is imagination," says Zlotescu. "It's a combination of different worlds." The two-way mirrors used by police in interrogation rooms were one inspiration: "You are behind the mirror, but you see everything."
Versailles and its startling mirrored halls were also an inspiration, Zlotescu adds, as much for their usefulness in the political ambitions of the French court as their grandiose beauty.
"The most impressive moment in Versailles is when you are in the lobby with a lot of mirrors," Zlotescu observes. "But why did Louis XIV choose to have mirrors on both sides? Well if you are in that hall with just five people, you will be multiplied and it seems as if you are surrounded by 100 people. It was about power."
Zlotescu's set mirrored the play's intellectual complexity, but it also possessed a remarkable simplicity in its practical design – a key to allowing the technical team to meet the festival's requirements that departments build and strike the set within a single day. "I don't like things too complicated," says Zlotescu. "You can suggest everything with simplicity."
Despite its simplicity, Zlotescu's set did challenge the technical capabilities of UMBC's department. The department's secret weapon in making things work smoothly, she says, is Greggory Schraven.
"He will never say 'no,'" says Zlotescu.
Schraven says that the planning required for the traveling versions of Las Meninas at Towson University and the Kennedy Center "is intensive, almost military." There are spreadsheets and schedules coordinated with a team led by senior stage manager Kiirstn Pagan '11.
Pagan says that "things do have to change a bit" when the show shifts to a new theatre. At Towson, she says, the crew and actors were "super enthusiastic and energetic to get the show up in the three hours that we had to do it."
The careful preparation and energy, Pagan and others say, led to the performance at Towson being one of the best of the entire Las Meninas experience. "We were all shocked at Towson at how well and how relaxed we were with the show."
Interviewed a week or so before the Kennedy Center performance, however, Schraven was already wrestling with the fact that "the Kennedy Center was not made for the modern truck."
Little did he know that the freight elevator would be busted, too. Yet Schraven made sure that everything went to plan on the big day – even with that unexpected hurdle.
Terrace Theatre – 1 p.m.
The load-in and construction are accomplished. Now it's time for the cast to sharpen their performances.
Muson's style of directing is pitched perfectly for the excellent student actors in her cast: authoritative yet never overpowering. She begins with a vocalization exercise as the actors come back from lunch – carefully pushing the cast to adjust their voices to the theatre.
"It's a great big space," says Muson, filling the room with her own voice. "But you're a great big person. You're the court of France."
As the afternoon progresses, time gets tight. Some technical delays seep in, and one can see the gears in Muson's mind racing. She continues to give acting notes to the cast, and changes some of the blocking on the fly.
Muson has a brainstorm deep in the second act: a simple shift in movement to liberate Kopajtic, who plays the Queen Mother, from a tight spot on the set and give her more range to perform. She seems bemused and irritated to discover a simple thing so late in the game.
"They should take away my M.F.A.," Muson wisecracks.
One problem in the rehearsal is a fussy latch that attaches the two separate parts of the Queen's bed which come in from opposite sides of the stage. There is a note to fix it.
Otherwise, Las Meninas is ready to go.
* * * * *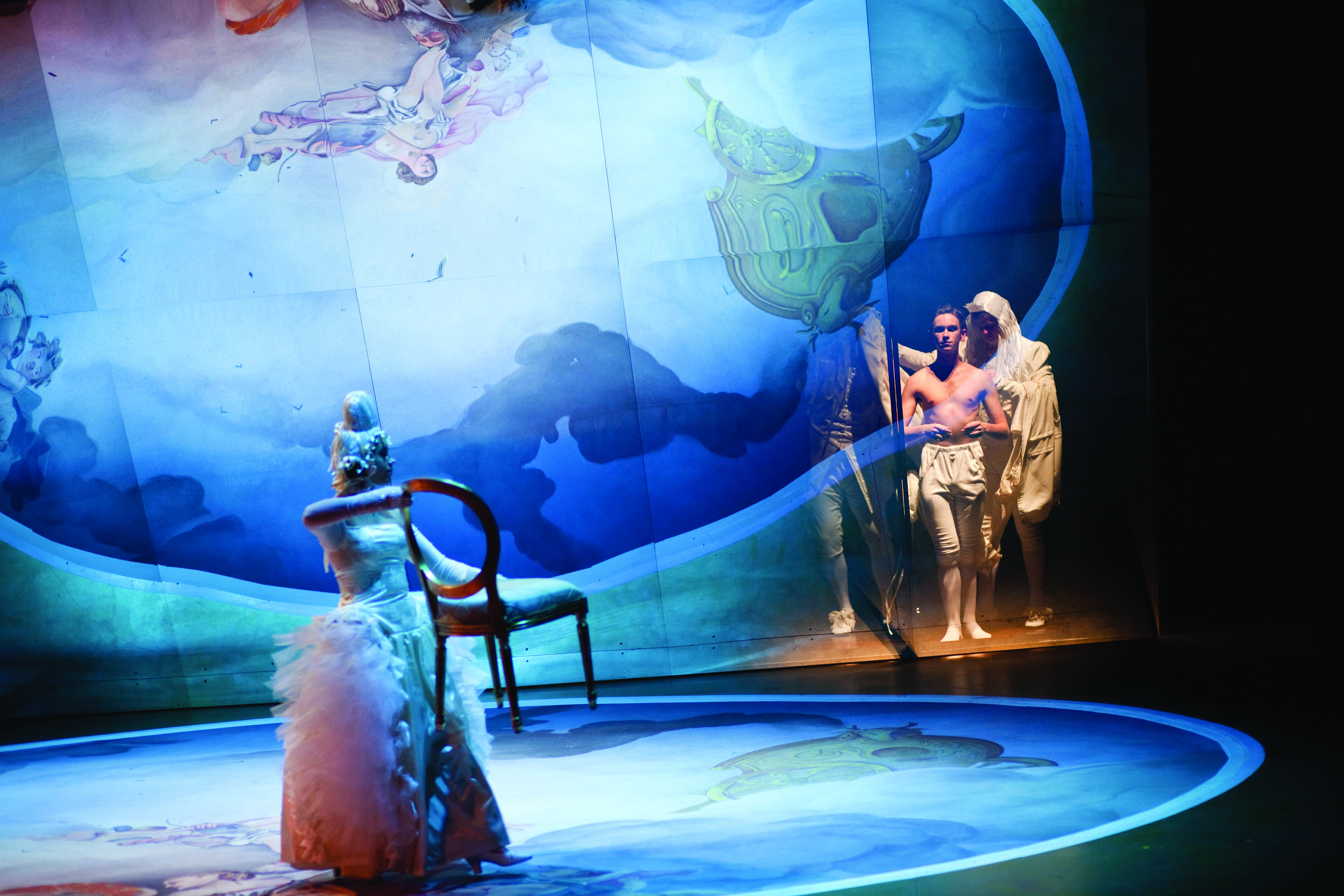 The excitement of performance is enthralling, but UMBC's Department of Theatre is also in the education business. So what are the students involved with Las Meninas learning?
Many of the students involved in the play also take it as a six-credit class – and what they study isn't just their lines, or the intricate details of stage management. A complicated historical play like Las Meninas offered a chance for all the students involved to dive into the play's nooks and crannies.
"It's a complex play, and it gives our students opportunities for research," says Muson. "Part of what I love to do is immerse them in that research into the world of the play." That world included the fashion, court politics and dance of the era.
The other invaluable experience for students involved in Las Meninas is the chance to take the show on the road with a talented faculty and staff who also work professionally in regional theatre.
Muson and the rest of the faculty and staff "all treat us with professionalism," says Jones. "They train us to be professionals and they treat us as professionals. So when we got to this festival, we were relaxed, we had a confident air and professionalism about us." McComas says the confidence imparted by Muson and the rest of the faculty led to the cast's quiet certitude that they were putting together a play that would get them to the Kennedy Center. "We never talked about it in rehearsal," he elaborates. "We didn't care. It was about doing the best work we could do right here, and if we went on, we went on."
"We treated it as any other UMBC production," says Pagan, "which shows you the level of UMBC productions."
Terrace Theatre – 8 p.m.
The show is officially sold out, and there's electricity in the air as the crowd files in and finds their seats. Soon the lights go down and the play begins. Having watched the afternoon's rehearsal, tonight's performance of Las Meninas seems supercharged.
Indeed, the only unintended drama tonight was foreshadowed in the rehearsal. The fussy latch of Queen Marie-Therese's bed came undone not once but twice – and there are some nervous moments on- and off-stage as Hileman and Jones successfully keep their balance and their focus in their scenes of tenderness and terror.
When the show ends, the audience showers the performers with applause. The crew is also called to the stage. Gregg Henry presents Muson with a plaque and lauds not only the performers, but their parents and UMBC administrators for their support.
For Muson, the Las Meninas journey is not over. Under her direction, the play will be part of the Columbia-based RepStage's 2011-2012 season, incorporating much of Zlotescu's design work.
But for this cast and crew, it's almost over. After the show, UMBC President Freeman A. Hrabowski, III, and his wife Jackie wander back to congratulate the actors. Most of them are already in dressing rooms, basking in their triumph and removing makeup, but when they hear that Hrabowski is backstage, they emerge quickly in groups of two and three – many happily disheveled – to say hello and accept their kudos from the president.
It's a moment in which elation and exhaustion exist in simultaneity – a brief window before the cast and crew must strike the set and come home from their most excellent adventure.
Photos by Chris Hartlove
* * * * *
Web Extra
Video: Las Meninas Load-In and Rehearsal
Tags: Bernadette Peters, Eve Muson, Greggory Schraven, John F. Kennedy Center for the Performing Arts, Las Meninas, Lynn Nottage, Performing arts, Pickup truck, Summer 2011