Every day, UMBC researchers work tirelessly to make and build upon discoveries in their fields. For many, these successes lead to scientific publications, opportunities for further funding, or both. For some, however, a discovery is also the first step in a long and often winding pathway to entrepreneurship.
Written by Sarah Hansen M.S. '15
Illustrated by Ruth Chan
Jumping into business can be a risk, but at UMBC, budding faculty entrepreneurs have a support system that includes the Technology Development Corporation (TEDCO) at the state level, which offers Maryland Innovation Initiative (MII) grants to support budding entrepreneurs. UMBC has a remarkable 50 percent acceptance rate for MII proposals. On campus, the Office of Technology Development and bwtech@UMBC research park provide great resources, including "Entrepreneurs in residence" who seek out research that could be a good fit for commercial development and support faculty from start to finish.
"You set the tone," says Tom Sadowski '89, political science, and current vice chancellor for economic development for the University System of Maryland, of UMBC's efforts to support its faculty entrepreneurs. "You set up the model that other institutions are now following."
From start-up funding sources to access to experienced entrepreneurs and more, the available support lowers the entry barrier to entrepreneurship and creates opportunities for faculty to impact the world in positive ways. "We focus here on innovation that matters," says Karl Steiner, UMBC vice president for research, "whether it be in the classroom, working with our communities, or creating new solutions to some of today's most pressing societal challenges."
Read on to see how professors and their collaborators are using research and new-found entrepreneurial know-how to bring their inventions to life.
3-D Printed Solutions
Jeffrey Gardner, associate professor of biological sciences and one of two Up-and-Coming UMBC Inventor awardees, had a problem. Gardner's research focuses on "how bacteria eat dead plants," which has applications from renewable fuels to removing plastics from the ocean to improved composting methods. But the technique for measuring how efficiently different bacteria could digest plant materials was lengthy and labor-intensive.
So, Gardner created a tiny solution — a plastic widget similar to a tea-strainer — that makes his research on bacteria-driven decomposition faster and lower-cost while increasing the accuracy of the results. Gardner collaborated with Tagide deCarvalho, manager of UMBC's Keith Porter Imaging Facility, to solve the problem "with a little bit of engineering and 3D printing."
Gardner received a Maryland Innovation Initiative (MII) grant through TEDCO to complete prototype development on the widget and do a market assessment. Now his newly-created company, Gardner Industries, LLC, exists on paper, and a patent is pending on the product. He's waiting to find out if he'll receive phase-three funding from MII, which would enable the company to pursue increased production of the widgets and send them to labs around the country for feedback.
Gardner suggests that academics who may be curious about entering the entrepreneurial space simply "find someone who's done it successfully and talk to them about it. If you try to do it in a vacuum or try to guess, you could end up with a lot of misconceptions or think it's going to be too hard or too easy."
For Gardner, that person was Chuck Bieberich, professor of biological sciences and the Herbert Bearman Foundation Chair in Entrepreneurship. Gardner encourages adventurous faculty to take the leap because the available support lowers the barriers to entry.
Saving the Bay — With Bacteria?
Kevin Sowers, professor of marine biotechnology, has been studying anaerobic bacteria (bacteria that don't require oxygen) for more than 20 years. In that time, he's discovered a bacterium that can break down polycyclic biphenyls (PCBs) very efficiently. PCBs were considered a "miracle chemical" when they came out in the 1930s, but since then, researchers have identified some potentially hazardous forms as neurotoxins, carcinogens, endocrine disruptors, and more.
Although banned today, because of their ubiquity in their first several decades of existence, PCBs are now common in wetland sediments around the world. Sedimentary invertebrates ingest them, and they make their way up the food chain from there. Now people are searching for ways to get rid of them safely. Current techniques include dredging and "capping" (piling a thick layer of sand on top of the sediment), but, both techniques are devastating to wetland ecosystems.
Sowers and Upal Gosh, professor of chemical, biochemical, and environmental engineering at UMBC, joined forces to come up with an alternative. Funding from an MII phase-one grant allowed them to develop a carbon pellet as a delivery mechanism for the PCB-degrading bacteria. After bonding the bacteria to the pellets, the researchers spray the pellets out over a wetland or under a pier. The pellets are one to two centimeters in diameter, and they spray 25 kg per cubic meter. The pellets sink, and the bacteria do their work in the sediment. Carbon and this bacterium are both found naturally in sediments, but the low bacterial concentration present would take many, many years to remove the unnaturally high level of PCBs.
A new UMBC Catalyst Fund grant supports the duo's efforts to develop a method to measure the effectiveness of the treatment by comparing the predicted amount of time it would take for the PCBs to degrade naturally versus with treatment.
Sowers and Gosh have patented the product, and in 2017 they formed a company, Rembac. While it's still somewhat of an experimental procedure, "we're hoping that we'll build up a reputation and we'll be able to show that this is working well in different environments, and it will become more of a mainstream application," says Sowers.
Bio-Batteries for Green Medicine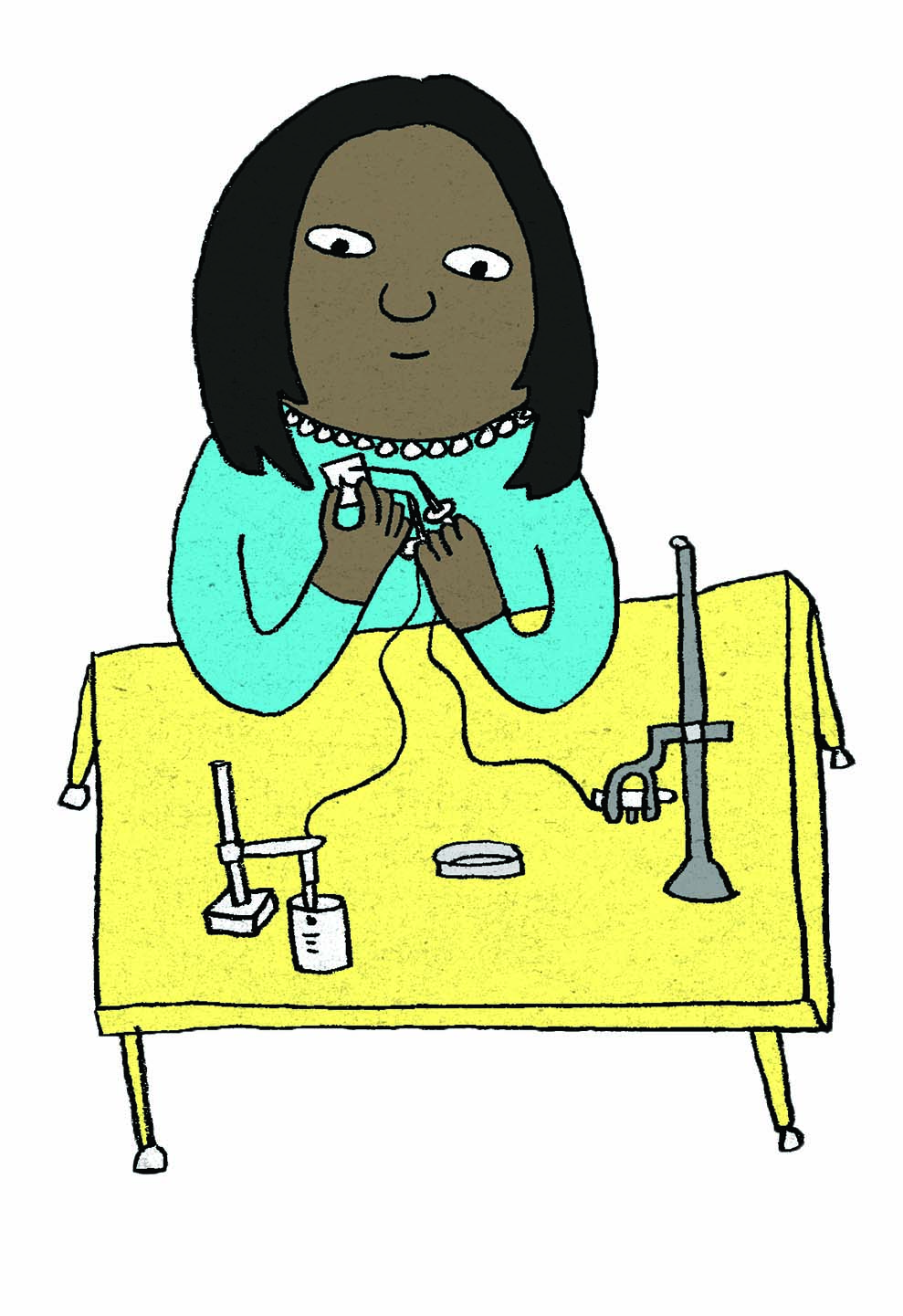 Gymama Slaughter's invention is an outgrowth of her work to develop glucose-based power sources for use in implantable devices, such as pacemakers. By using the body's own supply of sugars to power the devices, these "bio-batteries" would remove the need for repeat surgeries to replace failing traditional batteries.
"This project is important to me because of all the issues that human beings face. I give a lot of thought to that, and how we as researchers can really touch people in the community," says Slaughter, professor of chemical engineering and a UMBC Up-and- Coming Inventor.
"Our primary activities are transforming diagnostic tools, reinventing the manufacturing of these tools — and creating the next generation of scientists and engineers. We now get approached by students all over the world who are interested in what we're doing."
"This is not just about chemistry, it's about vision and bringing the right people together to solve a problem," Slaughter says. The goal is to "benefit the maximum number of people in the world, not just people in our community."
Classical Music for the Masses
Linda Dusman, professor of music and the UMBC Entrepreneur of the Year, is helping more people make positive connections with classical music via a mobile app called EnCue. The app provides customized information in real time during a performance, which could include facts about the composer, quotes from the performers or conductor, or historical context for the piece. World-class orchestras like the London Symphony are already using EnCue.
Dusman has MII phase-three funding to pursue further business development and fine-tuning of the product, such as allowing orchestras to design their own presentations rather than drawing from a library generated by Dusman and her business partner, Eric Smallwood '08, interdisciplinary studies, former assistant professor of visual arts at UMBC.
You don't need a certain kind of education to appreciate classical music, Dusman says. "What kills me is when I see newcomers in the audience and they're embarrassed about not knowing when to clap, or they leave feeling stupid — that is a tragedy, a tragedy. And EnCue helps make me feel like I'm doing my best so that doesn't happen. People leave concerts using EnCue excited about what they learned."
Asked if she would recommend taking the plunge into the business world, she says, "If you believe in what you're doing, then yes. In a way, I had to do it, if I really believed in this idea of real-time education." But the process has not been without its challenges and frustrations.
"Anything worth doing, if you had known what it was going to take to get it to work before you did it, you'd probably never do it," she says. "But if you believe in something, you do what it takes to make it happen. The value is worth the effort."
Better Sleep With Engineering
Ever wake up feeling groggy and wonder why, because you're sure you slept through the night? Nilanjan Banerjee, associate professor, and Ryan Robucci '02, computer engineering, assistant professor of computer science and electrical engineering, have invented a device that may help you answer that question. In collaboration with researchers at Johns Hopkins University, Banerjee and Robucci have developed an anklet users wear at night to monitor "sleep texture" by measuring leg movements in a way that wrist monitors currently can't.
The device is currently in the FDA approval process as a diagnostic tool for sleep-related disorders such as restless leg syndrome, attention deficit disorder, or iron deficiency. "People usually do this in a sleep lab, with EEG electrodes, and it's very expensive," says Banerjee. "We've been trying to see if we can move it to the home."
The research team has received MII phases one through three funding, and is currently seeking larger grants from NIH — but none of this might have happened without the support of entrepreneurs in residence (also known as "site miners") at bwtech@UMBC. Banerjee and Robucci originally sought to use their motion-sensing technology in assistive devices for people with limited mobility, but Dave Fink, one of UMBC's site miners, knew a counterpart from Hopkins who had a researcher in need of motion-sensing for sleep monitoring. "They took the steps to help us form the company by understanding what our technology was and pairing it with exactly what the medical need was," says Robucci.
Enterpreneur in Residence Spotlight: Dave Fink
In conversations with entrepreneurs at UMBC, one name keeps popping up: Dave Fink. He's an entrepreneur in residence (also known as a "site miner") at UMBC's bwtech@UMBC Research and Technology Park. His task? Identify UMBC faculty research projects that have commercialization potential, and then steward the researchers through the entrepreneurship process, from brainstorming initial ideas to applying for start-up funding to seeking patents. Fink and other entrepreneurs in residence are critical to the success of fledgling ideas, but their work goes largely unseen.
For example, it's not always easy for academic faculty to tell if an invention would be relevant to a wide range of potential customers or if it solves a problem unique to their research. Only in the former case is commercialization worth pursuing. "The site miners are really good at sussing out whether something will work or not," says Jeffrey Gardner (see "3D-printing solutions").
Like Gardner, Gymama Slaughter ("Bio-batteries") has benefited from the support system in place for inventors at UMBC and in Maryland. "I was able to establish a wonderful relationship with David Fink at UMBC and Ken Malone at BioHealth Innovation," she says. "They did such an amazing job with the logistics of the product and just helping out any way they could."
Fink also guided Kevin Sowers and Upal Gosh ("Saving the Bay — with bacteria?") in their entrepreneurship journey. "Dave was very supportive with our MII and with the Catalyst Fund grant. He advised on what to write and what the evaluators would be looking for," Sowers says. "He's been very supportive all along the way."