Food is not only a means of individual sustenance. The act of sharing a meal helps to form and sustain communities as well. UMBC is no exception. Whether it's a student and a professor discussing a term paper over a cup of coffee from Au Bon Pain or an off-campus expedition to a restaurant in Arbutus, Catonsville or Ellicott City, food and drink help cement the university community together.
And as 2010 dawns, almost anyone would agree that today's UMBC students, faculty and staff are luckier than ever in their choice of eateries. The Commons boasts sushi, pizza and barbecue. The University Center now has a Chik-Fil-A and a Starbucks. And the university's main food provider – Chartwell's – has refurbished the dining hall into a spiffy new space called "True Grit's." Off-campus, the options are also increasing, while long-time student favorites such as Sorrento of Arbutus and the Double T Diner are still going strong.
In this issue, UMBC Magazine spotlights food in our communal lives. We asked Jeffrey "Duff" Goldman '97 – star of the Food Network show Ace of Cakes – to share his thoughts on how to turn culinary passion into a thriving business. We talked with Warren Belasco – professor of American studies – about how his scholarly pursuits have made "food studies" a nexus of cross-disciplinary research. We interview another alumnus – Father Leo Patalinghug '92 – whose telegenic combination of spirituality and food has left him poised to perhaps become UMBC's next Food Network star.
We've also highlighted some of the places on and off campus where the UMBC community loves to eat, with a few of the entries provided by two UMBC students – Stefanie Mavronis '12 and Evan Ponter '12 – who write the university's new food blog: UMBCeats.
We hope this trip through UMBC's culinary highlights jogs your memory and entices you to share some of your own food memories about UMBC. Where did you eat when you studied here? Did we miss a favorite?
By Richard Byrne '86
Images by Michelle Jordan '93 and Melissa Van der Kaay
Taneytown Deli & Sandwich Shoppe
10 Mellor Avenue, Catonsville
410-747-2673
For the UMBC Magazine team, a trip to Taneytown Deli for a Fudclucker sandwich inspires poetry.
Oh, towering pile of chicken-y chunks,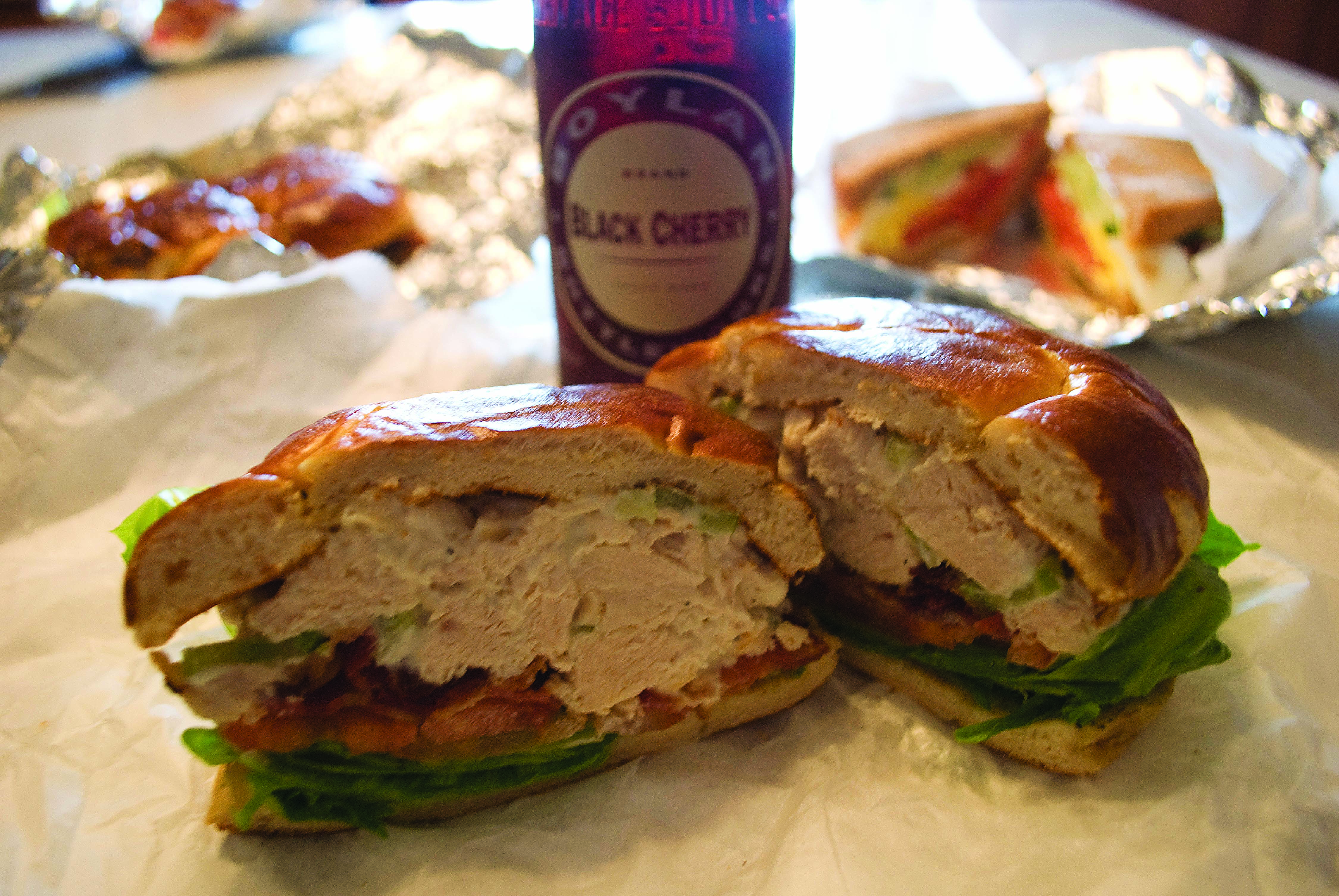 Your layers of goodness delight me so!
Whenever my day has me in a funk
I know to the Taneytown I must go.
But how to do justice this tasty treat,
when the sum of its parts equals more than
simply a "sandwich," some bread and some meat?
How do I show you I'm more than a fan?
A salad of chicken, but so much more:
Almonds and lettuce and celery, too,
and bacon – crisp bacon! – slices galore,
stacked on a pretzel sliced neatly in two.
Toss aside futile thoughts of dieting,
the battle's lost: I must eat the whole thing.
True Grit's
UMBC Campus
443-612-3663
UMBC's dining hall has been around for as long as there have been dormitories. But that space – so familiar to anyone who's lived on campus – was revamped this year into a new space called True Grit's. And what does that swipe of the campus card get you these days? Some things never change: eggs (including an omelet station) and cereal at breakfast; the student staples of salad and pizza and pasta at lunch or dinner. But True Grit's has added some new twists to campus dining: sandwich station chefs will craft a delicious cold-cut sandwich to your specification at lunch; and dinners often feature specialty foods (steak, funnel cake, cheese steak) and seasonal themes (Oktoberfest and Thanksgiving dinner). If you're on campus, check out the new school eats in an old school space.
Sorrento of Arbutus
5401 East Drive, Arbutus
410-242-6474
If there's any off-campus restaurant that is associated with UMBC, it's Sorrento of Arbutus. Founded just a year before UMBC in 1965, Sorrento has been a high-profile booster of the university (and especially its athletics program). But the restaurant's continuing popularity with students is based on its fresh and tasty hybrid menu of Italian (pizza/pasta) and American (fried chicken/steak sandwiches) foods. And, yes, that is shrimp and crab on the pizza toppings list!
Intercultural Language Exchange
Harbor Hall, UMBC Campus
Looking for global cuisine and conversation on campus? Harbor Hall's Intercultural Language Exchange (ILE) floor is the place to be. Students on this floor dish up meals from every culture around the globe in a communal kitchen, with chances to engage with native speakers and organized discussions between faculty and students on the menu as well. Alas, these meals are invitation only! One of the perks of being a UMBC student committed to living, learning and sharing in a global context.
Indian Delight
622 Frederick Road, Catonsville
410-744-4422
Lunch is the time to get Indian food. That's not to say you can't have a perfectly delicious dinner at Indian Delight, but you'd be missing out big time. Lunch means a "who-can-eat-the-most-plates?" buffet challenge. Lunch means piling spicy vindaloos on top of creamy spinach saags on top of savory chickpea masalas, letting one flow into the next until that magical moment your bite tastes vaguely of pumpkin pie – then mopping it all up with a triangle of toasty naan.
Lunch means leaving room for sweet kheer pudding, knowing you probably shouldn't, but doing it anyway – because it's there.
Paul's Restaurant
5507 Oregon Avenue, Arbutus
410-247-5620
Want a diner experience that's just a few minutes' walk from campus? Paul's Restaurant's hearty breakfasts and lunches (hint: try the crabcake) are served up by cheery waitresses with Baltimore accents thick enough to make you think you've walked into a Barry Levinson film. No fast food here; everything is cooked up fresh and worth the brief wait. Besides, Paul's has free Wi-Fi and Keno on the TV screens to pass the time.
Double T Diner
6300 Baltimore National Pike, Catonsville
410-744-4151
Going to the Double T Diner in Catonsville with a large group of friends in the middle of the night has been a rite of passage for UMBC students since the university's founding. It's very close to campus, open 24 hours a day, and has a huge menu that blends delicious specialty items into a traditional diner menu.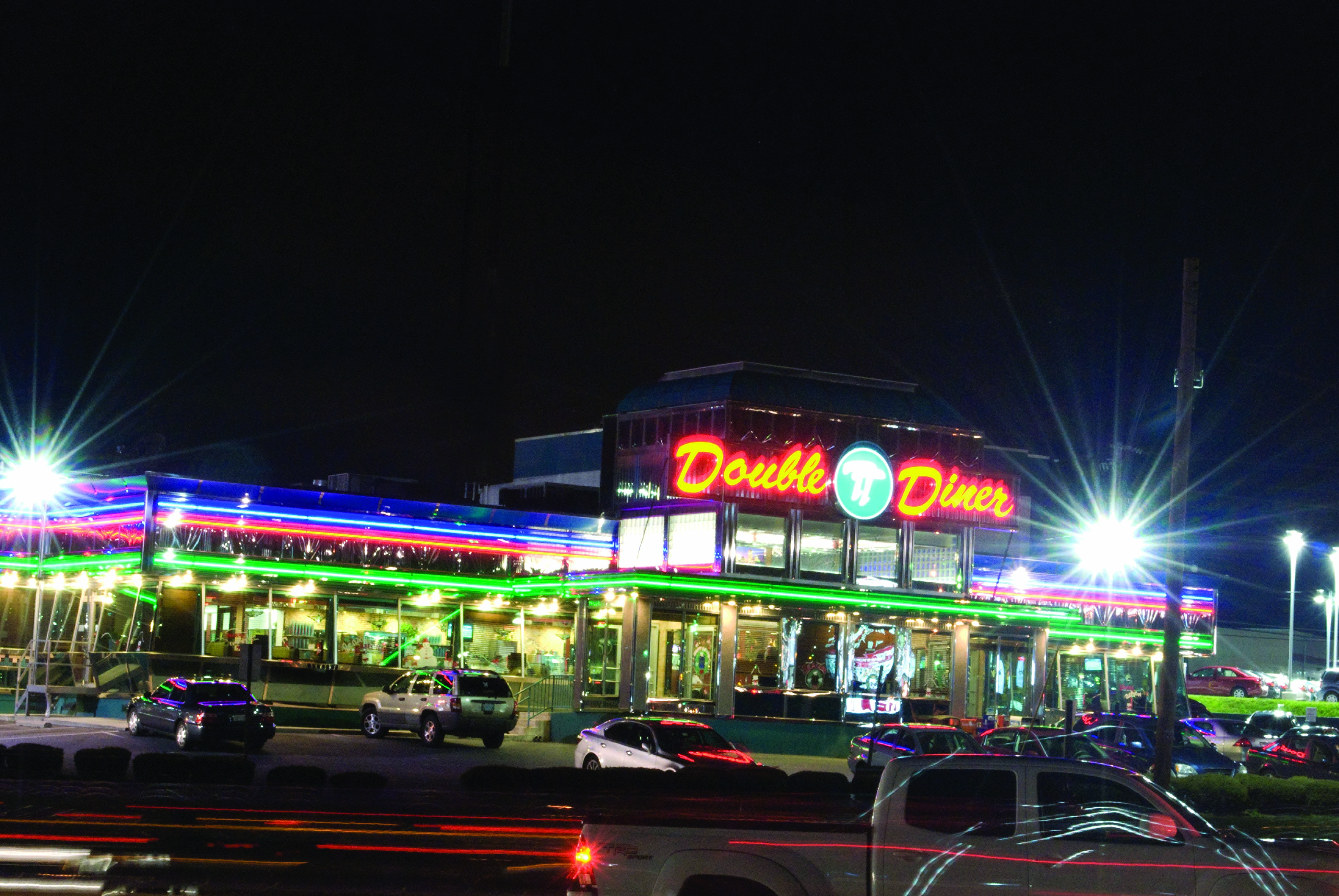 Decorated with booths and jukeboxes, the Double T is a terrific (if busy) spot for a midday conversation or late-night study break. And make sure you don't forget the dessert!
H-Mart
800 North Rolling Road, Catonsville
443-612-9020
Adventure? World travel? Near campus? The Catonsville branch of Korean supermarket chain H-Mart has beckoned UMBC students in a wide array of languages for years. Don't be daunted by aisles crammed with products in unfamiliar alphabets. Each whim of the international cuisine lover is indulged here. Seafood, spices, noodles, sweets? Check. Less than 10 minutes' drive from campus? Check. Ethnic tunes, videos and a concession stand round out an international experience that's a perfect match for UMBC's diverse community.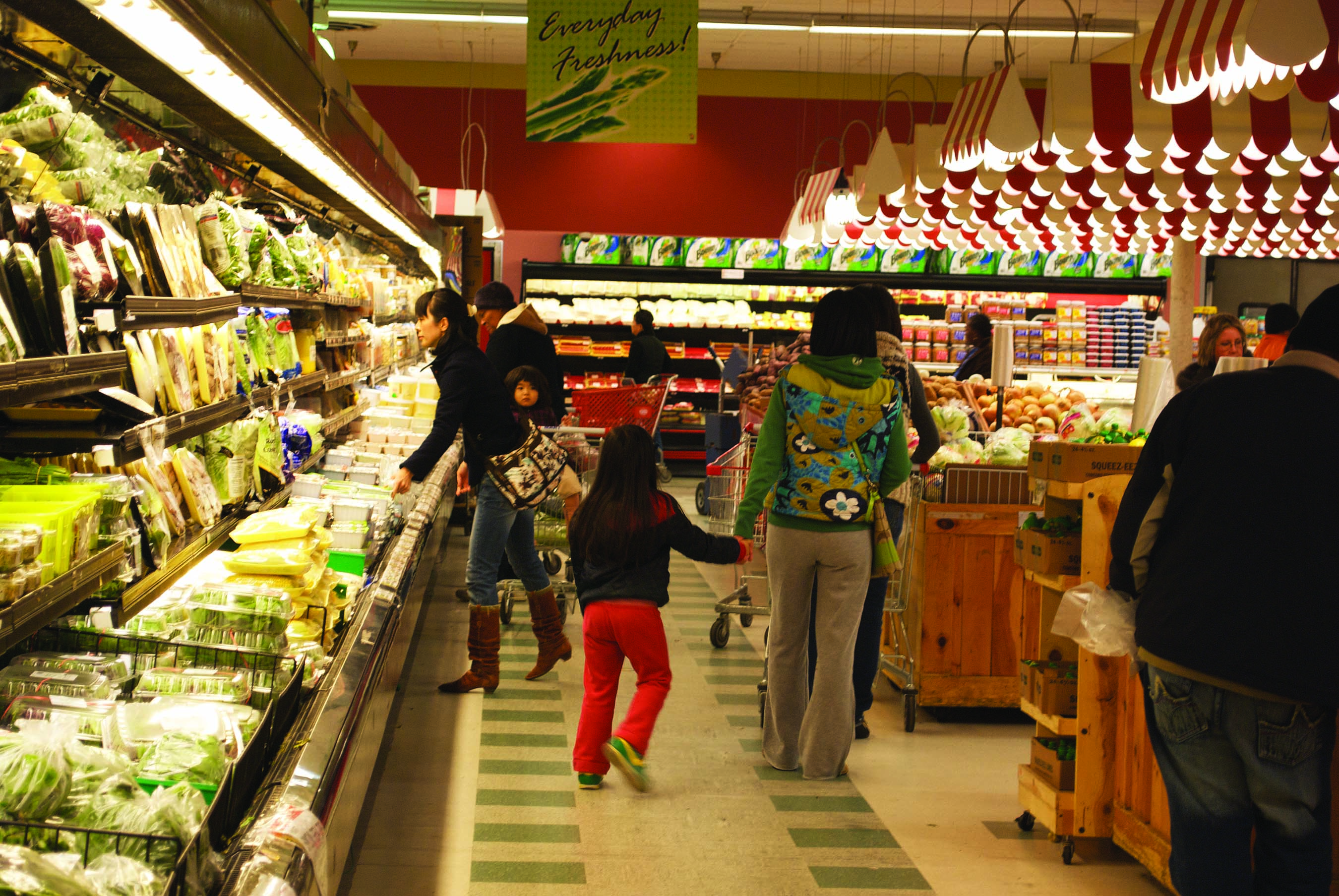 Catonsville Gourmet
829 Frederick Road, Catonsville
410-788-0005
Seafood is the specialty at Catonsville Gourmet Market and Fine Foods – a restaurant that reminds you just how close UMBC is to the Chesapeake Bay. Fresh fish is cooked to order with a wide array of sauces. Crab and shrimp are woven into appetizers, salads and main courses.
Oysters are served half-shell or cornmeal-dusted and fried. The crowds and rave reviews let you know that a fresh modern take on fine dining has arrived in Catonsville.
* * * * *