Magic Beans
Like many students before him who have studied in the Albin O. Kuhn Library, Joseph Hyman '11, mechanical engineering, found himself craving a fresh, hot cup of coffee to help the pages fly by.
Hyman pondered how to satisfy that immediate need for caffeine: Wouldn't it be great if a travel mug could brew its own coffee? So he set out on a search for this mug of his dreams.
When he discovered that that no one was manufacturing that mug of his dreams, he decided to create it himself – along with a talented team of UMBC engineering students and alumni.
Fast forward more than four years, and the combined travel mug and coffee brewer that Hyman envisioned is now the first product of the MoJoe Brewing Co., backed by more than 700 supporters of an associated Kickstarter campaign. The team sought $20,000 through crowdfunding to jump-start production and ended up with more than $85,000 in pledges.
Hyman collaborated with fellow UMBC graduates Ezekial Kolajo '11, mechanical engineering and Jingrui Wang '16, Ph.D., mechanical engineering, as well as felleo developer Alexandre Wing, to develop the personal mobile brewer.
The MoJoe technology emphasizes convenience and craft. Users can put water of any temperature into the mug, which will then heat it to the 200 degrees Fahrenheit necessary to make great coffee or tea. The mug also has a reusable filter – and is powered by a variety of adapters or a rechargeable battery. Yet it is not a glorified instant coffee machine; coffee and water stay separate until the brewing process to ensure the best taste.
The MoJoe team faced the challenge of developing and launching the company's first product while maintaining full-time jobs. "It's exciting that after years of building a product, people actually want it. And that there's a demand for it," Hyman said. "It makes the sleepless nights worth it."
Kolajo, co-founder and engineer for MoJoe, says self-belief and perseverance helped Hyman's dream become a reality. "It's been rather surreal to find ourselves in a position where an idea has come to life and is getting a lot of positive attention," he says. "I never imagined I would find myself in a position like this."
UMBC didn't just provide the engineering training to create a mug that doubles as a brewer. Hyman and Kolajo credit their experience in the Meyerhoff Scholars Program with honing their collaboration skills and tenacity to succeed. Hyman adds that the help of the university's Alex. Brown Center for Entrepreneurship gave him the confidence to create his own business.
"When it comes to entrepreneurship, it really can be you [who succeeds]. There is no special person who that can happen to. You just need to know the steps you need to take," says Hyman.
–Megan Hanks
Power and Perception
The opening ceremony of the 2008 Summer Olympics in Beijing lasted several hours, showcased thousands of performers, and featured an elaborate fireworks ceremony, wowing the many spectators who viewed it in person and on high-definition television. But what the viewers saw was not entirely real.
The song that accompanied the entrance of the Chinese national flag was lip-synched. The impressive fireworks display was pre-recorded. For one emerging cultural and media studies scholar watching on television, the ceremony helped illuminate a powerful research question. Fan Yang, an assistant professor of media and communication studies, was already exploring the complex struggle of fake versus real taking place within China's economy. The Olympic spectacle brought that tension to a broader public.
Yang's new book Faked in China: Nation Branding, Counterfeit Culture, and Globalization (Indiana University Press) closely examines China's cultural dilemma as it deals with the competing visions for the nation's economy that have battled since the country joined the World Trade Organization (WTO) in 2001 and signed the international Intellectual Property Rights Regime (IPR).
Faked in China traces the cultural interactions between Chinese government policies meant to enforce the idea that China should have a unified national culture and economy (including making its own goods to comply with the IPR) and a pervasive "counterfeit culture" of making, buying, and selling unauthorized products.
After living in several regions of the country and experiencing its vastly diverse landscape, Yang began to think critically about the idea of national culture as a unified notion. She started to push back against dominant Western perceptions of the Chinese economy as simply "fake."
"That kind of discussion of culture to me is not the most helpful," explains Yang. "Not only because it understands culture as a fixated idea that never changes, but also that it doesn't take into account the fact that many other places in the world have had this reputation of faking."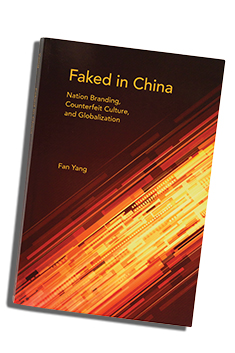 Throughout the book, Yang cites examples that contradict this contested duality: Beijing's Silk Street Market (a popular tourist destination); the cultural formation of the term "Shanzhai" (which refers to imitation and counterfeit brands and goods); and the larger concept of the Chinese Dream. Each of these phenomena illustrates the depths of the cultural dilemmas China is now experiencing as it weaves itself into the global economy.
"There is a need to think about what China really means not just for China, but for the world. China is a way for us to broaden the scope of cultural studies in the West," Yang says.
In an increasingly globalized world, Yang hopes Faked in China will invigorate discussions about how China is viewed by Western nations.
"The imagined contention between superpowers of China and America is overly simplistic and doesn't account for a lot of complexities," she says. "This kind of analysis that I performed I hope will reorient our thinking of China as more of a third world problem versus this superpower discourse."
–Max Cole
Tags: Summer 2016