Pets, playlists, and pausing for reflection—these are a few elements that go into intentionally creating online communities and classrooms. 
Fist-pumping, finger snaps, and words of encouragement abound during a recent web-based McNair Scholars' research update meeting. The "hype session," as one student puts it, is business as usual for this group of returning scholars, even as the rest of their routines have changed so drastically. Despite the transition to the online format, these student researchers still took time to pause—sharing emotions in a restorative circle—before delving into work updates.
In the age of social distancing, programs like the McNair Scholars and other cohort model organizations on campus are finding creative ways to encourage community building, relying on equal parts vulnerability and light-hearted fun as the foundational building blocks. And this fall, instructors are leaning in to trauma-informed teaching as well as available technology to create an intentionally connected classroom in lieu of on-campus relationships. 
"More engaged, happier students have a more successful college experience," says Kate Drabinski, principal lecturer in Gender, Women's, and Sexuality Studies. "And we're all really committed to doing that."
A "Deliberate and Holistic" Approach
Successful online teaching requires instructors to combine tech savvy with DIY creativity in conveying their course materials. 
For biology professor Sarah Leupen, that meant using her small house critters to make a point in her spring "Physiology of Dinosaurs" course. In what is probably the only time a professor used a hamster to discuss dinosaurs, Leupen says she was struck by her pets' coat colors and how they were perfect examples of two of the color pigments that would make up the extinct animal coat colors as well. 
After pausing to appreciate just how cute hamster brothers Fafner and Mr. Paws were, Leupen's students were amazed that despite the many millennia and the drastic size separating dinos from hamsters, these similarities could emerge.
"They're cute, but were also relevant," says Leupen. The upside of teaching from home, she continues, is that students get to see a glimpse into her everyday life. Despite the many frustrations of being distant from classmates and learning from home—as well as the ongoing health concerns related to COVID-19—a common refrain from students and instructors alike is that possibly the pandemic has allowed us to be more human to each other. 
Embracing this vulnerability may be the key to a successful period of online learning, and also pave the way for connections to be established when students and staff inevitably return to campus in the future. Maybe this looks like a professor opening her house to a student with nowhere else to live (as Leupen did for several weeks) or students opening up about their anxiety and health concerns with instructors.
With additional training and preparation, fall courses will be tailored to students' online experience. The Department of Instructional Technology (DoIT) is helping professors develop their classes in ways that still aim to foster connection and academic excellence. On-campus organizations that typically spend the summer building community within their new cohorts are also turning to technology to create a connected experience. UMBC's goal with these efforts is to offer a "deliberate and holistic" education, according to DoIT, although maybe not every professor will be using hamsters to achieve that end.  
Not Your Average Zoom Meeting
Scholars programs like the Honors College rely on cohort community building as part of their models. In order to build that connection, usually students bond over orientation, ice breakers, shared meals, and living spaces. While distant because of COVID-19, programs are going the extra mile online to make sure students still have opportunities to build relationships with staff and fellow students.
Julie Oakes, assistant director of curriculum and retention in the Honors College and adjunct associate history professor, says that the "magnitude of events" they've planned over the summer for incoming students is higher than ever. Trivia nights, movie parties on Netflix, pet show-and-tells, and other engagements allow students to have fun with each other, Oakes emphasizes. Relationships that would happen organically in person now need to be fostered through online platforms.
Hosting classes and events online "forces us to see students more holistically—not just as learners but as family members, breadwinners, caretakers, and more."

-Michael Stone, Honors College
Honors College Director Simon Stacey is used to telling students that they're "an alum from day one." But based on all the summer programming welcoming incoming students distantly, he says he's recently changed the axiom to "alum from before day one."
At an online lunch in June, first-year students chatted with current Honors College members as well as staff, showing off their fuzzy and slippery pet companions at home. While cats dominated the screen (Loki, Checkers, Hattie, Harlow, Octavia), Molly the beagle and Pug the pug along with many unnamed fish in a 30-gallon tank joined the video call. 
Incoming Honors College student and Sondheim Scholar Polina Kassir '24 says that "online meetings serve as a reminder that one day, people will be together again." Kassir joined in the pet show-and-tell lunch despite not having a pet—she showed off her 5-year-old sister instead. As a first-year student, Kassir still has questions about what classes would be best for her major (she's interested in biology and English) and how difficult the transition from high school to college level work will be, but she adds, "I haven't felt 'forgotten' by UMBC because of the many online meetings where I have been spoken to by name."
This intimate setting allows almost more human connections than some on-campus events, says Oakes. Michael Stone, assistant director of recruitment and assessment for the Honors College, adds that hosting classes and events online "forces us to see students more holistically—not just as learners but as family members, breadwinners, caretakers, and more." 
Nothing replaces in-person interactions, says Oakes, who misses the close-knit Honors College office as well as her students, but "we're doing the best we can to create human connections and sustain that fun spirit."
Humanizing the Online Experience
For Diane Stonestreet '22, mechanical engineering, volunteering for the McNair Scholar Program's online orientation in April as a peer mentor felt like the right move, knowing first-hand the benefits of the McNair support system. It's a place "I can feel heard and understood," says Stonestreet, "where all scholars are supporting each other's work towards the same goal. My McNair family is the backbone in all of my other endeavors."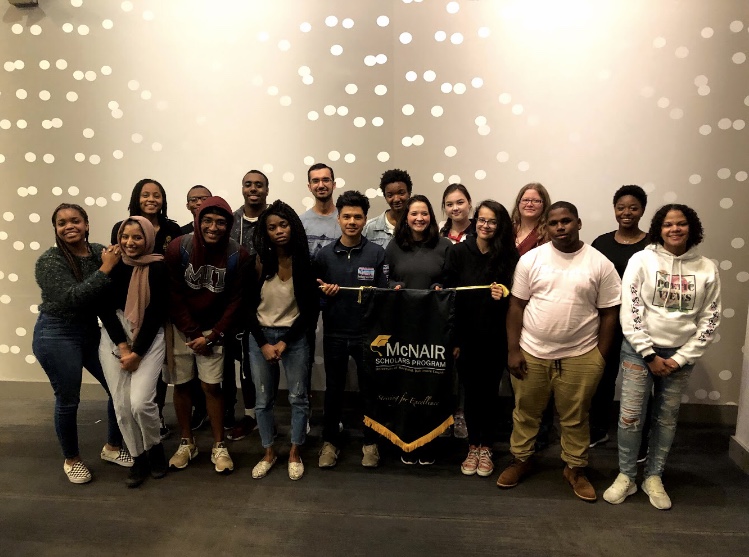 The goal of the UMBC McNair Scholars Program is to increase the attainment of research-based doctoral degrees by students from underrepresented segments of society, says Michael Hunt '06, M13, mathematics, program director and doctoral student in Language, Literacy, and Culture. The pandemic's disruption to business as normal, says Hunt, allowed him to "reevaluate engagement and re-think about how best to reach students. We had to think about connectedness intentionally."
What this looked like for the online orientation was a full three days of important workshops, interspersed with dance parties, sharing pictures of food, and introducing pets (including one student's chickens). "It let us humanize the experience," says Hunt. "It was not just about the work."
"There's no way we can adequately do this work and not look at the emotions and feelings that our students are dealing with," emphasizes Hunt. "This includes not just academically but life—family, spiritual, mental, and financial well-being….They must know that they are not alone and have a community to help them not only think through some things but also to vent to and to just be themselves."
We had to think about connectedness intentionally.

-Michael Hunt, McNair Scholars program director
Stonestreet, who served as a peer leader during the event, says that all the community building activities had one goal. "It was crucial," she says, that "leaders and staff were able to be vulnerable with their responses to set the tone for the scholars and promote deep conversation. It is difficult to foster trust, understanding, and a generally familial bond in an online format," Stonestreet says, "so we tried to create deep and thoughtful experiences where the scholars could relate to each other past the surface level." 
In Stonestreet's words, "less serious, but equally valuable bonding activities" included creating a shared playlist of favorite songs, hanging out on a joint messaging app, playing online party games on Jackbox, and chatting in smaller groups. 
"We are just waiting for the day we can come together as a community again," says Stonestreet. In the meantime, "I believe this cohort is going to continue to bond by navigating McNair Program requirements together, learning from one another's experiences, and helping to support each other in their journey to graduate school."
Pivoting Because of the Pandemic 
That work of building community extends to classrooms as well. For Gender, Women's, and Sexuality Studies instructor Drabinski, this means utilizing the technology available to reproduce as close as possible the camaraderie of her discussion-based classes. Drabinski, who's taught hybrid courses before, says she and other UMBC faculty used the summer to prepare for fully online fall courses. This includes a week or more of training from DoIT with their PIVOT program. 
Planning Instructional Variety for Online Teaching (PIVOT) aims to give instructors a fluency with online tools to "to take a more deliberate and holistic approach to preparing their courses" for remote instruction, says Sherri Braxton and Mariann Hawken of DoIT's Instructional Technology team. Faculty facing hurdles engaging their students, conducting lab-based courses, or knowing how to evaluate assignments say that PIVOT has helped their transition to the digital classroom feel purposeful instead of reactionary, like in the spring.
This deliberate approach to online teaching is not new to DoIT. For the past 12 years through their Alternative Delivery Program they've guided summer and winter programs to redesign delivery into an online or hybrid format. Drabinski has worked alongside DoIT for the past two years as one of their Blackboard Ambassadors—coordinating trainings and outreach for other faculty members to best utilize the education software. 
Common feedback Drabinski hears is that it's impossible to teach discussion-based classes online. "And that's absolutely not true," says Drabinski. "It's just about learning what tools work, and also teaching students how to best learn online." In fact, she adds, sometimes the online format works even better for her students, who might not feel comfortable raising their hand in class or just need a little more time to formulate a response. 
If I'm being real, I can't wait to be back in a classroom with students, live, in-person. It's my favorite thing to do. But this is a global pandemic, so how do we use the tools we have and the innovation UMBC is known for to make the best learning experience possible for our students?

-Kate Drabinski, Women's, Gender, and Sexuality Studies
Drabinski goes on to list other available resources. Blackboard Collaborate allows synchronous small groups to interact. The VoiceThread platform, which hosted URCAD this year, makes asynchronous interactions as seamless as possible. "It's not the same as an in-person live discussion," says Drabinski, "but that means that other kinds of discussion are made possible by the technology."
In the meantime, Drabinski muses whether online interactions mediated by a machine will somehow allow her to be more human to her students, by giving them a window into her personal world. "It's weird to think about, but maybe true," says Drabinski, as one of her cats lounges beside her and her wife prepares lunch in the background of the video call.
Echoing the sentiment of so many, Drabinski adds, "If I'm being real, I can't wait to be back in a classroom with students, live, in-person. It's my favorite thing to do. But this is a global pandemic, so how do we use the tools we have and the innovation UMBC is known for to make the best learning experience possible for our students?"
Finding a Community that Cares
Students are also eager to get into the classroom, some for the first time. Dawg Days: Jumpstart is an extended orientation for first-year and transfer students that allows them to take one or two general education classes with their incoming peers. More students than ever signed up to participate this year—135 compared to last year's 68—says program director Laila Shishineh. The online format removes the barrier of having to come to campus, even if that's what many of the students are eagerly anticipating. 
After meeting new people, respondents to a survey sent out to Dawg Days students said living on campus or taking classes in-person is what they're looking forward to most. The Retrievers Return Roadmap, released by UMBC's fall planning committee, emphasizes that the University will move forward with guidelines of decreased capacity, fewer students in dorms and only 10 percent of classes being held in-person. But classes with in-person priority include First Year Seminars to help facilitate community building among new students and let them get to know a few faculty, masked-face-to-masked-face.
Until then, the Dawg Days summer bridge program will serve as their introduction to campus. "Interestingly enough," says Shishineh, this year's online experience will not be that different from the in-person experience. "We offer all of the same opportunities in both formats: weekly skill-building opportunities, office hours, and a chance to connect with other students, plus time with our team. I'm so glad that while it looks different, the core elements are the same."
"If nothing else, I hope the students will feel a sense of connection and belonging to UMBC after participating in the program," she concludes.
"What people want is to feel like they're in a community," echoes Leupen, the biology professor with hamsters. "We want to help them find—in classes or other aspects of UMBC—connections. We want them not to feel like they're just alone in their bedroom with their laptop. Students want to know that people care about them, that UMBC still cares about them, and we do."
* * * * *
Are you one of our newest Retrievers? Introduce yourself!
We're so exciting that you're joining our community, and we're counting down the days until we welcome you to UMBC! In the meantime, we'd like to learn more about you.
Make sure you're signed into myUMBC, then go to our submission page to upload a video (up to 15 seconds) or a photo letting us know who you are, where you're from, and what you're looking forward to as a UMBC student.
When you share your story, you'll have a chance to be featured on UMBC's Instagram (@UMBClife), so get creative. 
Questions? Contact social@umbc.edu.
Header image by Marlayna Demond '11.
Tags: Honors College, McNair, Resilience, UMBCTogether