Western culture remains terrified of aging, particularly for women, but that fear doesn't stop any of us from actually aging. Kathy Marmor, associate professor of visual arts at UMBC, delves into the heart of these anxieties with a pair of innovative collaborative works, collectively titled Beyond Midlife: What's Lost, What's Gained, on view at the Center for Art, Design and Visual Culture (CADVC) on the UMBC campus through March 12.
Marmor's new work appears as part of the CADVC's Spectrum: 2022 Visual Arts Faculty exhibition, which also features works by UMBC visual arts faculty Lisa Moren and Lynn Cazabon.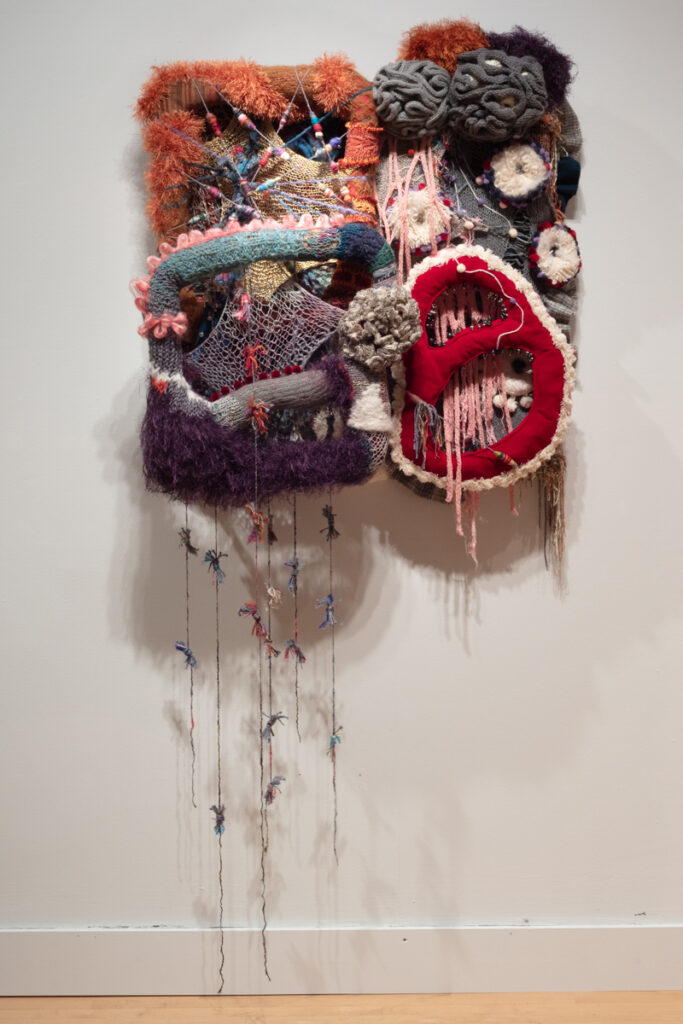 While Marmor typically works alone, in recent years she's begun a series of collaborations. "I thought it would be interesting to work with women from UMBC. [Penny Rheingans] and I had talked about working together when I first came to UMBC, but timelines didn't work out." Marmor said. "I knew Robin [Farabaugh] as a writer and I really wanted to work with a writer because I often use text in my work. The timing was good for them both."
Unspooling is a textile-based installation created with Rheingans—a former professor of computer science and director of the Center for Women in Technology at UMBC who is now on the faculty at the University of Maine.
"I've worked for a long time with technology, using computers to mediate the environment, using sensors and interaction with people's presence," said Marmor. "This new work is a pause or break from technology. We wanted people to come in and get a different sense of the body. We see that there's a decay, or a sense of unspooling, and unwrapping of daily life."
Rheingans, an accomplished knitter, added new dimensions to the work.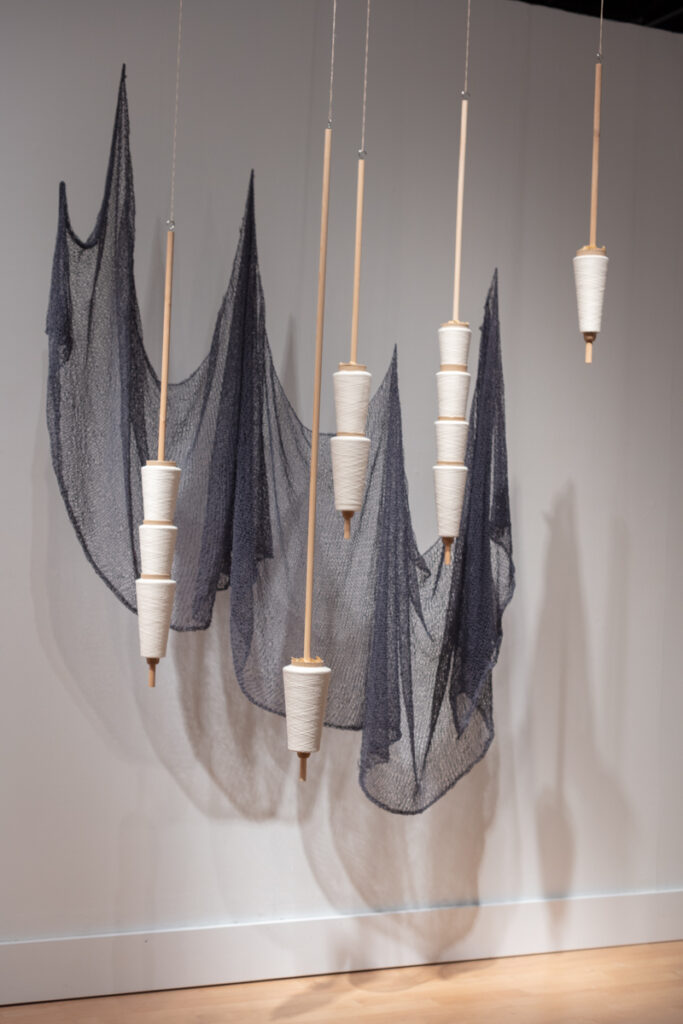 "She's a fabulous knitter, and a dedicated collector," said Marmor. "She gave me all these materials to work with. I fell in love with yarn. It's a really accessible material, fun to work with and it hinged on craft. My work has always been tactile and sculptural, but this was change for me."
Comprising four vivid mixed-media sculptures, the piece charts vulnerabilities of aging women, including cognition, reproduction, appearance, self and autonomy. Echoing Suzanne Valadon's "The Blue Room," which depicts a middle-aged woman reclining on a day bed, together the pieces form an abstract portrait of a complete body.
"The Blue Room' is one of my favorite paintings by a woman about being a woman, present and in her body," Marmor says.
The second piece, Philomela's Thread: a Commonplace book, was created with Robin Farabaugh, an essayist and former senior lecturer in UMBC's English department. Consisting of ten prints and a single channel video, the pieces draw on the classic Greek tragedy of Philomela, a princess who was violently silenced.
"I really wanted to work with a writer because I often use text in my work," said Marmor. "[Farabaugh] had never worked with a visual artist before, so it was an adventure."
Historically, commonplace books were kept by men as personal compendiums of knowledge. Notable men like John Locke and Thomas Jefferson were famous for their commonplace books as reference works and historical documents. Women, Marmor notes, also kept commonplace books, but they tended to serve a different purpose.
"Women were taught to read, but not allowed to go on with education, so one way in which women taught themselves and had a sense of themselves is by keeping commonplace books," said Marmor. "They'd put many things in them, recipes, letters, scriptures, writings and poems they would come across, these miscellanies of their lives. That's how women understood themselves."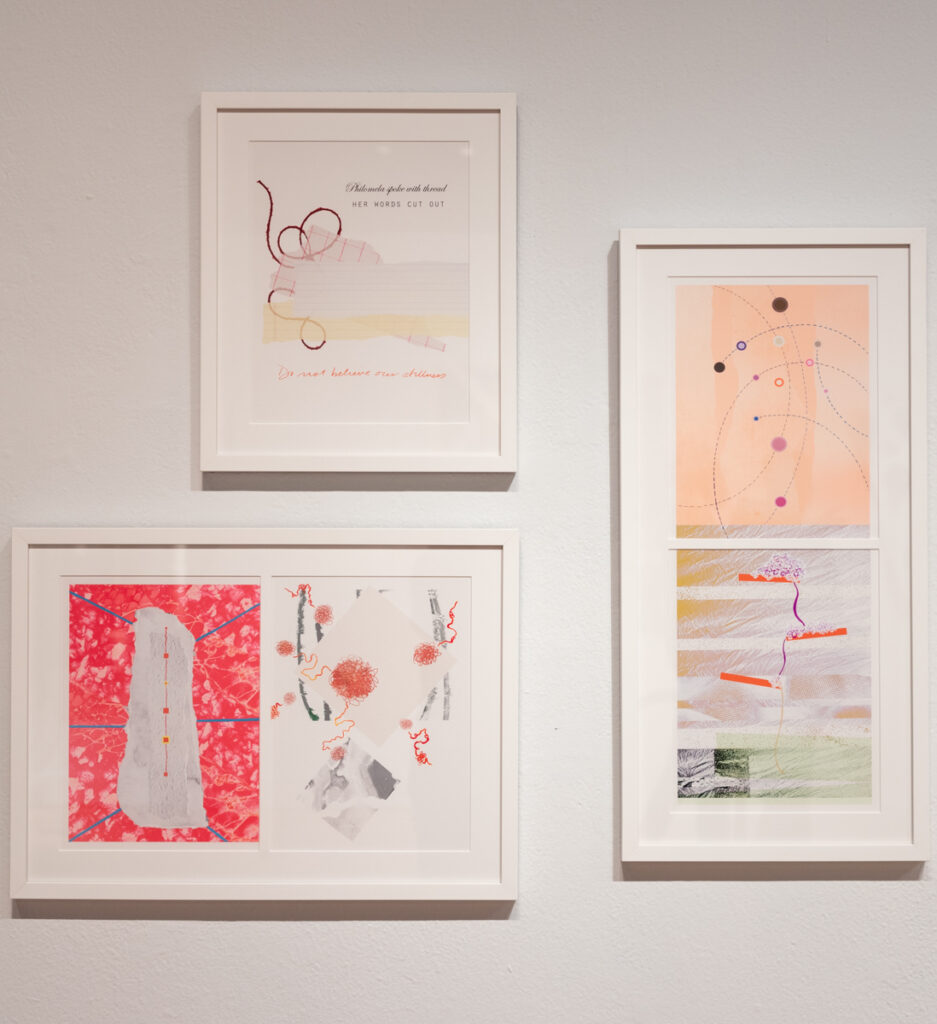 The ten prints in Philomela's Thread combine abstract images that simultaneously recall Hilma af Klint and Alexander Calder, peppered with Farabaugh's text.
"Robin wrote these beautiful words which we distilled so that each one is about paper, thread and voice through the centuries," said Marmor. "I really wanted to make it clear that the way in which women have recorded the stories of their lives has changed over time. We depicted the digital stylus to ask how will the life experiences of women be preserved now in this contemporary digital age?"
The four-minute video loop that stands as the centerpiece of Philomela's Thread takes a more linear narrative form, centering on a story of love and loss.
"It's moving through the story of a woman's desire for her sexuality, getting older, and then the loss of her family. I think it really captures our understanding of the world, like a memory, or an inner space," said Marmor.
Marmor's work remains on display through March 12, with a closing reception 5 p.m. to 7 p.m. March 10. For those who are unable to visit the gallery in person, the entire Spectrum 2022 exhibition can be viewed via the CADVC website.
Header image: Philomela's Thread: a Commonplace Book — 10 gouache and giclee prints that depict a multiplicity of threads that make up a woman's life and a single channel video that voices to her inner thoughts. Photo by Heather Braxton.
Tags: CADVC, Computer science, English, Research, visual arts