By Susan Thornton Hobby
The first question on the Jacqueline C. Hrabowski Endowment scholarship application is "How did you develop such a passion for service?"
Jackie Hrabowski answers that one easily: Her parents.
Growing up in rural Virginia, Hrabowski remembers her parents constantly serving others. For years, young Jackie accompanied her parents as they filled out forms, calculated taxes, built brick walls, or repaired houses for her parents' combined 28 siblings or for the rest of the town. As a teenager, she once pouted, "Why does it always have to be us that helps everyone?"
Her father answered simply, "Because we can."
"Those are the role models that I saw," Hrabowski said. "You grow up with that in your DNA. And that's been the thing that has moved me forward throughout my entire life."
Hrabowski is a former vice president of community involvement at T. Rowe Price, a passionate advocate for child welfare, and the wife of Freeman. She has been mentoring the recipients of her endowment's scholarship for 20 years. Because she can.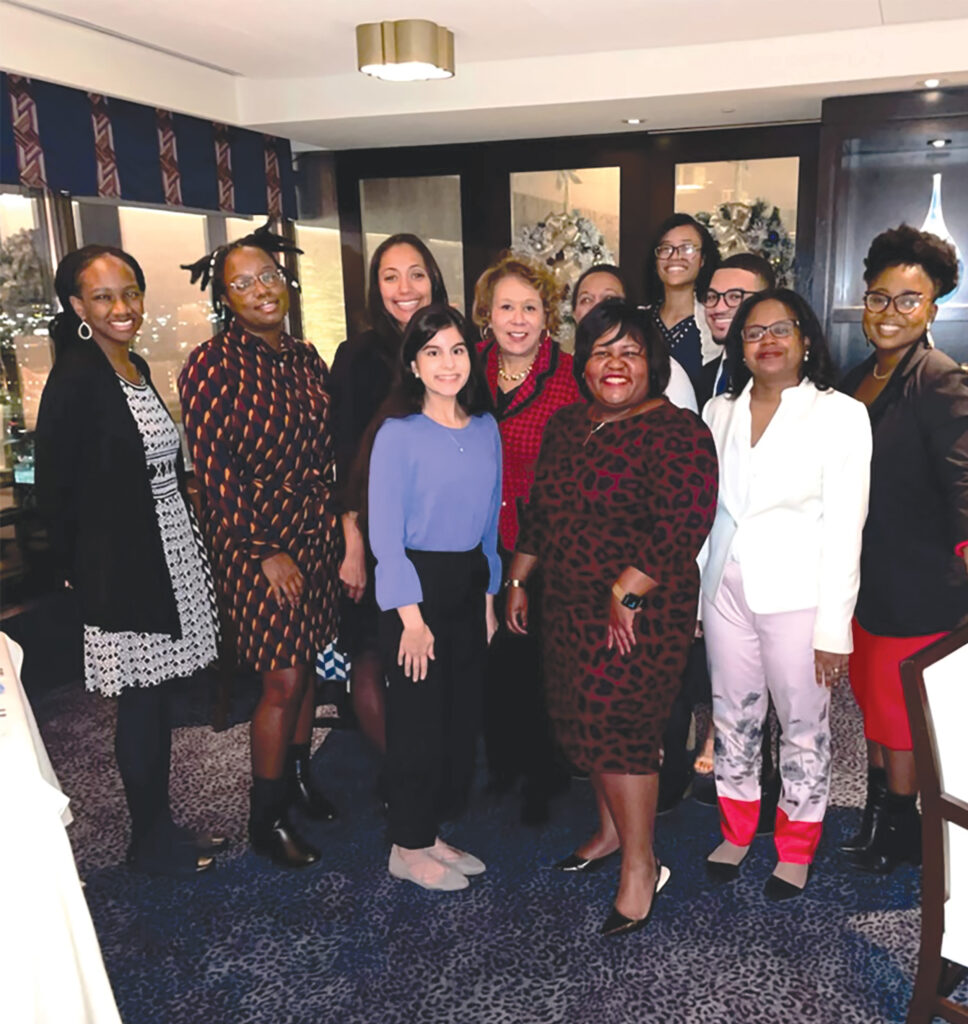 One of Hrabowski's mentees, Nia Hampton '13, media and communications studies, struggled with expectations at the internship that Hrabowski found for her. After Hampton's rough first day with the company, Hrabowski responded by buying Hampton clothes, getting her hair done, and counseling her on professional behavior.
Now a freelance journalist, multimedia artist, and still a self-proclaimed "rebel," Hampton recently texted Hrabowski, thanking her for her support.
"Mrs. Hrabowski was really good at connecting me with people who could see me and understand me. I kinda knew I would be something she may not know what to do with," Hampton said, but Hrabowski didn't give up, instead connecting Hampton to UMBC Vice Provost and mentor Yvette Mozie-Ross '88, healthy science and policy. To help mentees toward success, Hampton said, "sometimes it takes all kinds of people."
Thomas Southerland '22, economics, met Hrabowski at the scholarship recipients' cohort dinner she gave at Baltimore's Center Club.
"She was very supportive and very wise," he said, and he and many of the scholars took notes while they chatted with their mentor. The connections he made will serve him well in his career in finance after graduation, he said.
You Can't Be What You Can't See
Hrabowski excelled at math, even beating her future husband Freeman on their calculus test scores. But she majored in psychology at Hampton University, because a role model, a Fisk University graduate who taught Sunday School at her church, was also a psychology major.
She often quotes the saying posted in her husband's office: "You Can't Be What You Can't See."
"Role modeling means having to see actual images of what it looks like to be what you want to be," said Hrabowski, who taught educational psychology and early childhood education at UMBC in the 1980s. "You can sit and talk until you're blue in the face about what you need to do and how you need to behave. Words alone aren't enough. They've got to see it."
Alicia Wilson '04, political science, Hrabowski's first mentee, agrees.
"Jackie was one of the first Black women I'd ever met in corporate America at the highest level," said Wilson, now the vice president for economic development at Johns Hopkins University and Health System. "She's a wonderful mentor—she imparts her knowledge and her experience in a spirit of love and caring and support."
Now Wilson is mentoring seven Retrievers, making sure she "meets students where they are," at the UMBC dining hall or outside their dorms.
Wilson, and so many others, clearly learned lessons from Hrabowski.
"You use the talents that you have, not so much for your own purpose, but to make life better for others," Hrabowski said. "Because when you do that, your universe expands in a positive way as well."
Read more about the Hrabowskis' philosophy of mentorship in the Equation of Change.
Tags: donors, Jackie Hrabowski, Spring 2022