New Tricks
The stories on the sidelines of a college basketball game aren't just huddled strategy sessions or fevered debates with referees. Often, they involve relationships nurtured over years in play as well.
One such story is that of UMBC men's head basketball coach Aki Thomas, and his assistant coach Frankie Allen – whose relationship spans 15 years. Thomas, 36, played for Allen, 66, at Howard University from 2001 to 2002, after transferring from the University of Colorado. After a two-year stint in professional ball in Venezuela, Thomas took his first coaching job as a member of Allen's staff at Howard. The pair also coached together as assistants at UMBC during their run to the men's NCAA tournament in 2007–2008.
Allen was then head coach of the University of Maryland, Eastern Shore for seven years. When his contract was not renewed after the 2014 season, Allen contemplated retirement – until his former player called.
"I thought it would be unusual, but it's not," Thomas says. "The dynamic of it is: he's my coach. In the sports world, your coach is your everything, and coach Allen is that to me. It's the same type of chemistry we had as coach/player, co-workers as assistants, and now as coworkers again."
Allen agrees: "If I can serve him in any capacity, to take what he's doing, tweak it and make it better, and be a fresh set of old eyes, that's [good]. I think it's been one of those things where I've just been really proud, almost like a father watching his son."
— Jeff Seidel '85
Wearing Well
UMBC senior Turrel David cares about what you wear. His company, Blue Marble, specializes in environmentally-friendly clothing that features characters from the worlds of videos, comic books, and movies.
David is working on a double major (American studies and media and communication studies) with a minor in entrepreneurship and innovation. His studies have had a direct impact on his business.
"I came across a research study by the [Environmental Protection Agency] about the wastefulness of clothing," David says. "I was shocked that the average American throws away 70 pounds of clothing per year, so I really wanted to look at how we can do things in a more eco-friendly way."
Blue Marble's clothing is made from polyester and spandex – synthetic fibers which are more durable than cotton – and use water-based ink for the art because the inks are less harmful to the environment. Blue Marble packaging is made from 100% recycled materials.
David sells his clothing line through eBay, Etsy, and the company's website. Recently, Blue Marble partnered with Capcom, a Japanese video game company, to produce t-shirts for the Street Fighter video game franchise.
UMBC support has bolstered Blue Marble. The company receives support from the Alex. Brown Center for Entrepreneurship. Mentorship from Gib Mason '95, economics, director of the UMBC Training Center's Center for Leadership and Innovation, has also been a key to his success, he says. Plus, David is already hiring from UMBC, including two students and one recent alumnus.
Blue Marble seems to be wearing well already – on the climate as well as on its customers.
— Cait James '99
Rhino View

What's it like to see the world the way a rhinoceros might see it? Katie Feild '05, visual arts, took up the task of imagining that view as the illustrator of Land Beast, a new book written by Kate Wyer.
Feild and Wyer met in the graduate program in creative writing and publishing arts at the University of Baltimore. They had worked together on another Wyer novel, Black Krim, but Land Beast took the collaboration to a new level.
"This was the first time I had done something that was so heavily illustrated," she says, ruffling through a black leather case filled with drawings, storyboards, and concepts. The pictures are done entirely in grayscale gouache, pen and ink and depict the world through the eyes of Land Beast's narrator, a female rhinoceros who's been poached for her horn and taken from her home.
The text never explicitly reveals that its protagonist is a rhino, but Feild's concept for the artwork helps lead the reader into the imaginative world that Wyer has created.
Rhinoceri don't see very well, Feild explains, so the images are specific sensory details rather than lush scenescapes: a close-up of another rhino's ear, a dark moon radiating shades of gray onto the white page.
Feild and Wyer published Land Beast themselves under the imprint Ceros Press. "Ceros" is Greek for "horn," and their book was released on International Rhino Day in September.
— Julia Celtnieks '13
Creating Colors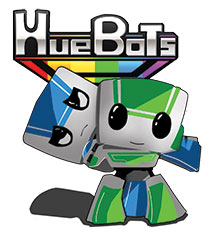 Soccer and chess aren't the only competitions in which UMBC students have excelled. A team of Retriever developers recently took their game to San Francisco for the "final four" of game development at the Microsoft Imagine Cup – and now you can play their game online.
UMBC's student team flew to San Francisco to compete against the Rochester Institute of Technology, University of Houston, and University of Southern California. Their game, called HueBots, features vibrant, friendly robots of different colors. Players solve a series of increasingly challenging puzzles in a maze revolving around the bots' affinity for color-matched objects.
Visual arts students Erika Schumacher '17 and Jasmine Martin '15 tackled the task of designing and animating the robots. Game concept, programming, and music are the work of Tad Cordle '16, with assistance from Michael Leung '16, who led the team's efforts.
"Even people who don't like puzzle games like HueBots," says Leung.
The teammates met through UMBC's Game Developer's Club, mentored by Marc Olano, a computer science professor who founded and oversees UMBC's game development track in the computer science and electrical engineering department.
HueBots is now available on the Steam platform. Olano notes that it is the first game to go for sale to the larger public from the university's Game Developers Club. "With this kind of a puzzle game, it's hard to get it just right — not too easy and not too hard," he says. "I think they did it."
— Bess Keller