BLADE RUNNERS
On a Thursday night at the Retriever Activities Center, amidst a hard-fought pickup game of basketball  and  wrestling practice on large mats, a group clad in loose-fitting, traditional Japanese-style garments clashes with wooden training swords called shinai.
These warriors are members of the UMBC Kendo Club, students of the samurai tradition of kendo, or "The Way of the Sword." Over a 90-minute training session, they engage with head-and-body-armored instructors from a group called Baltimore-Annapolis Kendo in controlled exercises and watch demonstrations of the sort of action group members might expect in kendo competitions.
The club was founded in 2010, when club president and co-founder Christopher Nam '13, biology, transferred to UMBC from Virginia Tech, where he'd taken up kendo as a way of dealing with ADHD. "When I thought about all the clubs UMBC had to offer, I felt that kendo was a better alternative to many," says Nam, who observes that kendo disciplines not only the body, but also the mind.
Instructor Phil Van Den Berghe '09, computer science, agrees. "On the surface, it looks like just a lot of fighting and hitting with sticks, but it's a lot deeper than that," he says. "The real purpose of kendo isn't to learn how to fight, but to learn how to be a better person."
The club initially held its sessions off campus due to lack of space, but full recognition as a club sport last year has spurred interest and membership. Kendo club vice president Mirsaid Parmanov '13, biology says: "I can definitely see the club being here for a long time."
 – Nathan Glover '12
POWER PLAY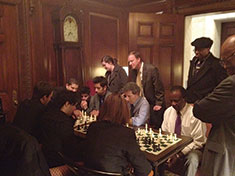 UMBC's chess team is a regular contender at the annual President's Cup, also known as the "Final Four" of chess. But UMBC's elite chess players recently sought out a game in a different venue: the state capitol building in Annapolis.
During this year's session of the Maryland General Assembly, UMBC's chess team was formally recognized on the floor of both the state's Senate and its House of Delegates with a citation from Speaker Pro Tem and UMBC alumna Adrienne Jones '76, psychology.
Members of the team also stayed to play a series of friendly chess matches with the members of the Maryland General Assembly Chess Challenge, including Senators Jamie Raskin, Bryan Simonaire and Ulysses Currie. (Currie co-sponsored the Senate recognition of the team with Senate President Thomas V. Mike Miller, Jr.)
"We ended up playing for about two hours games with some of the senators," said Sabina Foisor '12, modern languages and linguistics, a team member who is currently a graduate student at UMBC.  "We all had a good time and hope to be able to do it again."
Collin Wojciechowski '13, political science and media & communication studies, who also serves as UMBC's government relations assistant, observed that the event was not set up as tournament-style play, but rather a sort of round-robin in which each student played a legislator multiple times.
"From what I saw," says Wojciechowski, "a legislator never won a game."
–  Nicole Ruediger
WORD POWER
For most people, Scrabble is just a word game. For Linda Oliva, it's a ticket to the world.
Oliva, an assistant professor of secondary education at UMBC, plays in three local clubs, including one on campus, and teaches the game at school Scrabble clubs. She has played on the national competitive circuit for 12 years, attended the national tournament six times and even competed in Italian.
This summer, in fact, she's going on a three-week Adriatic cruise, "playing Scrabble when we're not visiting amazing places." It's her fourth Scrabble cruise.
The game got her started, but fellow players keep her interested. "You play with such diverse people," she said. She's met musicians and mathematicians, retired librarians and a man determined to visit every Starbucks. "They're a colorful group," she said.
Dr. Oliva usually travels with her friend, Dave Engelhart, to two tournaments a month.  They've taken their boards — hers is custom-made — to tournaments in South America, New Zealand and Southeast Asia.
"The good thing about scrabble is anybody can play," she said.
And, in fact, Oliva is such a believer she has spread the Scrabble obsession to several Baltimore area schools, including Mount Pleasant Christian School, her first club, and Arbutus Middle School, where she has led their club to regional and national tournaments for three years.
She teaches strategies for winning — rules about words and keeping an eye on those double- and triple-word scores.
"There's always the first play. And then there's the best play," she said.
Her students have learned.
"And then they beat me," she said.
"Coaching kids when they make a great move and get all these points, it's really joyful," Oliva explains. "They really enjoy playing and learning,"
Oliva got hooked on the game playing with her family in Silver Spring. They not only played Scrabble, they finished each game by using all the words on the board to tell a story.
Eventually Oliva discovered study is the key to winning and she started beating her older sister, Debbie, who is now a teacher.
Important words good players know:
All the two-letter words. "You shouldn't even step foot in the club if you don't know your two letter words," she warned.
Unusual words such as "howf." "They are all good Scrabble words," she said.
Seven-letter words. (Remember "retinas." It's a high-frequency bingo word.)
Oliva has a curiosity about words — from their meanings to working out anagrams – to the point where she's worn out a dictionary. "I love it because I keep learning," she said.
–  Mary K. Tilghman '79
UMBC's Scrabble Club meets Mondays in the Administration Building lobby, 7-11 p.m.
A SIDELINE VIEW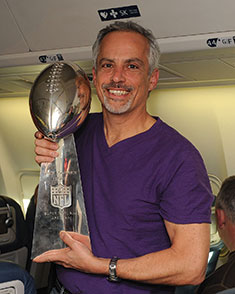 It doesn't get much better than watching your favorite team win the Super Bowl – especially if you work closely with them and get to be there in person.
Alan Sokoloff '82, health science and policy, headed to New Orleans earlier this year as one of the team chiropractors for the Baltimore Ravens. Sokoloff helps tend to player injuries, but he also assists healthy Ravens in getting their joints functioning as efficiently as possible in order to gain a competitive edge.
"At the NFL level, that one one-hundredth of a second makes a huge difference between getting tackled and scoring a touchdown," he says.
A back injury in college from carrying disc jockey equipment was what first prompted Sokoloff to see a chiropractor. He grew so fascinated by the profession that he ended up studying it.
After attending chiropractic school in Iowa, Sokoloff returned to Baltimore to open his own practice. He interned with the United States Olympic Training Center, earning a spot on the medical team for the 1998 Goodwill Games and 1999 Pan Am games. Those experiences led him directly to a spot with the Ravens, with whom he has worked for 13 years.
Sokoloff says that being able to make a difference when it comes to a player's performance is the real motivation for his football work. "It's not all glamour," he says, "but there's so much satisfaction in knowing you're one of the thousands of doctors who have actually gotten that far."
And it doesn't hurt, of course, to get to see the Ravens win it all in the Superdome.
"There's just something about all that confetti falling," Sokoloff says.
 – Laura Lefavor '13
Tags: Summer 2013