Road Warriors
The entire UMBC campus – and a Retriever Nation of alumni and fans – was excited by the men's soccer team's splendid run to the Final Four of college soccer. The team startled long-time observers of the sport with its dazzling series of victories, and its players created memories that will live on in the annals of Retrievers athletics.
The highlights if that run were numerous: Senior forward Kay Banjo's amazing back heel goal against Vermont in the America East conference semifinal – a goal that went viral on the Internet. Redshirt freshman midfielder Gregg Hauck's wonder goal that sealed the championship victory. A gritty penalty kick victory over Wake Forest in the first round of the
NCAA Tournament. The coolly-taken goal by junior midfielder Malcolm Harris that sealed a historic tournament win over College Park. Senior midfielder Mamadou Kansaye's conversion of a crucial spot kick to sink the University of Louisville – and the amazing one-handed save by sophomore goalie Billy Heavner that preserved the victory. Banjo's penalty kick that defeated Creighton to earn the Retrievers a trip to the Final Four.
Above all, a sterling Retrievers defense paved the way – led by senior defender Oumar Ballo (who was picked by the Houston Dynamo in this year's Major League Soccer draft). The team did not surrender a single goal in open play during the entire run to the College Cup semifinal.
UMBC's "Road Warriors" travelled to four different stadiums and won four straight games against nationally ranked opponents to earn their place in the Final Four. They showed that same true grit in the classroom, embodying a vision shared by the university and its athletics department for UMBC's student-athletes to be winners in all aspects of college life.
The NCAA released statistics on the academic achievement of the four teams who reached this year's Final Four of men's soccer. UMBC and UCLA both topped the group with graduation success rates (GSR) of 88 percent, and the Retrievers edged the Bruins by 2 points (963 to 961) in academic progress rate (APR), which measures student-athletes' eligibility and retention.
Heavner also took home The Elite 89 – an NCAA award presented to the student-athlete with the highest cumulative grade-point average participating at the finals site for each NCAA's championship. Heavner maintains a 4.0 GPA as a major in financial economics, and achievement that also earned him this season's inaugural America East Elite 18 award, which recognizes student-athletes competing in conference championship matches who possess high academic and athletic achievements.
The UMBC men's and women's soccer teams also earned National Soccer Coaches Association of America (NSCAA) Team Academic Awards for the 2013-14 academic year for posting cumulative team grade point averages of 3.0 or better.
Though the season ended with a tough 1-0 semifinal loss to the University of Virginia, the 2014 men's soccer squad created one of the great seasons in UMBC athletics history – and they aim to sustain that excellence.
– Richard Byrne '86
Notes of Distinction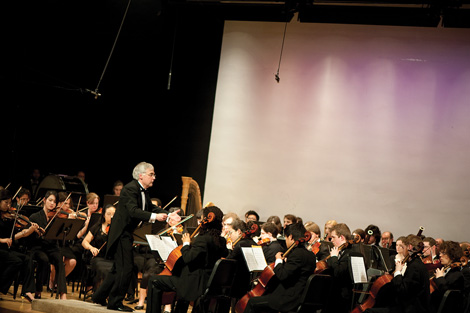 Music brings people together. And for more than four decades, the UMBC Orchestra – under the direction of E. Michael Richards, a professor and chair of the university's music department – has brought campus musicians and players from the surrounding community into harmony.
Richards says playing in the orchestra's new home – the concert hall of UMBC's Performing Arts and Humanities Building – is a major boost to its efforts.
"It's acoustically fantastic, and a huge upgrade from the Fine Arts concert hall," he observes. "It's a place where professional musicians will want to play, and where students will have an opportunity to hear each other better onstage."
The symphony draws a number of students to its ranks, including Linehan Artist Scholars, Honors College students, and Meyerhoff Scholars, as well as UMBC alumni and musicians from the region.
Another appealing element of the UMBC Symphony is that its performances balance well-known works of the classical repertoire with newer or less-familiar works. The upcoming program for May, for instance, features works by Finnish composer Jean Sibelius and Hector Berlioz's Romantic masterpiece, Symphonie fantastique.
"We like to have a program that shows the strength of the people we have in our symphony," says Richards. "But also feature pieces that challenge them as well."
The UMBC Orchestra will perform on Sunday, May 3, at the Earl and Darielle Linehan Concert Hall in the Performing Arts and Humanities Building.
– Richard Byrne '86
The Right Tune
When Brian Reed's son Aaron died suddenly in January 2014, the family looked for a way to honor his life and his passion for music.
"We wanted to ask for some type of donation in lieu of flowers," says Reed, a professor and chair of UMBC's chemical, biochemical and environmental engineering department. "I realized I had never heard of anyone doing a musical instrument drive."
The result was the Pick Me Up (PMU) Foundation, created in Aaron's memory to provide musical instruments to underprivileged children, and named after a song Aaron was working on when he died.
After a strong response to a request for financial donations, Reed, his wife, Esther, and daughter Julia organized a drive to collect instruments. They ended up with over 250.
The foundation gives both donations and instruments to two highly respected music organizations (Hungry for Music and Music is Art) which recondition the instruments and choose the recipients. To date, over 200 instruments have been given to children and school programs.
The family plans a live music fundraiser as well as a charity bike ride from Baltimore to Buffalo, where Reed grew up and Aaron lived at the time of his death.
"Some of the musicians Aaron hung out with didn't have the opportunities he had," says Reed. "Our hope is that every time a child has the chance to learn and appreciate music, Aaron's spirit will live on as well."
– Eleanor Lewis
For more information on the PMU Foundation and Aaron's music, visit www.thepickmeupfoundation.com To donate, contact Reed at reedb@umbc.edu.