WORDS AND MUSIC
Open the door to Annapolis' Rams Head Tavern and the sounds of upbeat banjo and guitar fly out into the warm night air, followed by closely by the gruff voice of Adam Trice '04, English – who's in the middle of a 45-minute set with his band, Red Sammy.
"It ain't you, it ain't her," Trice growls tunefully in a song called "It Ain't You (Carolina Road Anthem)." "I'm heading south, but I'm not sure. You got me high, it's kind of funny. I'm playing bars for gas money."
Trice dubs Red Sammy's music as "graveyard country" because he likes the verbal interplay of the phrase. "I feel like it brings up a lot of different connotations that are associated with those two words," explains Trice. The band has released a few records, including A Cheap Kind of Love Song and Dog Hang Low, both of which are available online or at the band's shows.
Studying literature at UMBC had a hand in his musical direction. "My music's more lyric driven, and I think it really banks off my English degree," he explains. "A lot of electives in the creative writing track. They are the strong focus from which I draw."
While Trice also pursues a day job as director of foundation relations and grant writing and development at Capitol College in Laurel, he enjoys playing for tips in a Jeremiah Weed bucket and is going to keep playing for the foreseeable future. "My plan is to continue pushing the art and seeing where that goes," he says.
— Derek Roper '11
Photo: Tedd Henn
LIGHTS, CAMERA, ACTION!
The UMBC men's soccer team's 2010 campaign was a season to remember – and the 2011 squad will have a chance to shine on national television during UMBC's Homecoming weekend as a result.
The America East conference announced that the Retrievers' October 14 match against the University of New Hampshire will be televised nationally at 7 p.m. on Fox Soccer Channel as part of the network's National Soccer Coaches Association of America Game of the Week package.
A traditional part of UMBC Homecoming, the men's soccer game moved last year from its customary slot on Saturday afternoon to a new slot under the lights as a linchpin of Friday night's festivities. The new tradition was a big hit: last year's game against Boston University drew almost 3,000 spectators to Retriever Soccer Park.
This year's game against New Hampshire is a rematch of a bitterly fought America East championship game last November at Retriever Soccer Park, which saw UMBC triumph after double overtime and a series of penalty kicks. The victory sent the Retrievers to the NCAA Men's Soccer Tournament, where they won a thrilling come-from-behind victory against Princeton University before bowing to the College of William and Mary (also on penalty kicks) to end their season.
The national television audience won't only get a glimpse of this year's team and UMBC's Homecoming spirit on October 14; they will also see a revamped Retriever Soccer Park that has added even more seats and more lights to one of the best soccer facilities in the region.
— Richard Byrne '86
PLASTIC FANTASTIC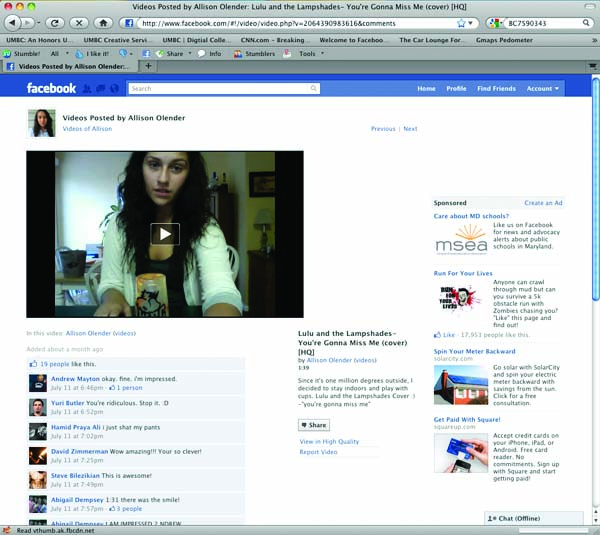 Plastic cups with UMBC's logo and wild orange and yellow splashes were a hit at the university's New Student Day. But incoming UMBC freshman Allison Olender decided to make a hit of her own – a sprightly video cover version of "You're Gonna Miss Me" by Lulu and the Lampshades – in which she used the funky giveaway cup as percussion.
Olender posted her video on UMBC's Class of 2015 Meet and Greet site – a Facebook group where incoming freshmen can find out who might be in their classes or dorm room, get a head start on making new friends and have their questions answered by fellow classmates.
The video made a splash with Olender's fellow classmates, which isn't surprising. The recent Bel Air High School grad with "an affinity for jazz" says that she has "been singing for the majority of my life" – in musicals, on the web and in a new band called "Prison Music."
"When I posted the video," Olender says, "I did not expect to generate such a warm and positive response." She says she was attracted to UMBC by "the terrific atmosphere…. I knew that I wanted to attend a school that had excitement and integrity rooted in the system, and when I visited UMBC, my expectations were met."
Look for UMBC's new viral video star in person when she starts attending class in Spring 2012. "It means the world to me that the others were so responsive," Olender says, "and I hope to share my music on campus."
(You can check out more of Allison Olender's music at her website: www.allisonolender.com)
— Richard Byrne '86
CLIMBING THE LADDER
In 2008, former UMBC Retriever pitcher Zach Clark '06, psychology, was with the Frederick Keys – a Class A affiliate of the Baltimore Orioles – when he got the news that he was needed at Class AAA Norfolk Tides for a spot starting assignment.
The good news traveled fast, but Clark didn't. It was only after a long bus trip with the Keys from Kinston, NC, to Myrtle Beach, SC, and an early morning flight to Syracuse, NY, that Clark finally joined his new club. He pitched for the Tides that same night.
"I slept at the hotel during the day, went to the field and pitched," recalls Clark, who has played in the Orioles farm system since 2006. "That was pretty crazy. I didn't know anybody. That was my first time at Triple A."
Signed by Orioles' scout Dean Albany as a non-drafted free agent after leaving UMBC in 2006, Clark started this season pitching for the Class AA Bowie Baysox. He began 2011 with a minor league record of 24-28 and an ERA of 3.61 in 119 games.
Clark knows life as a pitcher on-call is part of the path to the big leagues. He once battled heavy traffic from Bowie to Norfolk, VA to take the mound for Tides in a night game.
In games through Aug. 4 of this season Clark was 6-7 with an ERA of 5.14 in 18 games (with 17 starts) for Bowie in the Eastern League. Clark was named the Eastern League pitcher of the week on May 2 of this season.
— David Driver