Artist retrospectives have been a significant part of the history of the Center for Art, Design and Visual Culture. Since opening on the UMBC campus more than 30 years ago, the CADVC has delivered retrospectives of visionary artists like Fred Wilson, Adrian Piper, Kate Millett, and more.
This fall, multidisciplinary artist Oletha DeVane joins these esteemed ranks with a new retrospective of her work, Oletha DeVane: Spectrum of Light and Spirit, now on view at the CADVC through December 17. It's an exciting show for DeVane, a prolific artist and educator who has been a staple of Maryland's cultural landscape for more than 50 years.  
"I'm honored, and I don't think it was expected," says DeVane. "There was a real sense of commitment [by the CADVC] to do the work, and, that's what I felt was important — the commitment to to take on a project like this. It's not simple when you have so many variables and mediums happening in a space."
The myriad artworks in Spectrum of Light and Spirit span DeVane's prolific career, including paintings, works on paper, video artworks, and interactive sculpture. Curator Lowery Stokes Sims worked closely with the CADVC to bring all the pieces together into a cohesive whole, and to develop the interactive elements allow visitors to participate directly in the development of some of the artworks – and occasionally with DeVane herself.
"Lowery is a curator who's worked extensively with African American subjects and artists, and she's a good friend as well," says DeVane. "I'm so glad I asked her to curate, because she was able to carry the through line of what the work itself has been about over the last 50 years, and that was good for me."
Sims' curatorial perspective makes powerful connections between DeVane's works in the gallery space.
"Oletha DeVane is a way finder and a storyteller," Sims says. "Over the last five decades as she has traveled in Asia, Africa, and the Caribbean, she has been inspired by the stories and characters she encounters, bringing the unexpected to light, while finding new nuances in the old and familiar, and unexpected correlations among those varied cultures."
Art and outreach
Spectrum of Light and Spirit marks the first exhibition at the CADVC under the guidance of newly-appointed director Rebecca Uchill, who took over after the retirement of long-time director Symmes Gardner.
"It is a true honor for me to have joined CADVC as this important exhibition came into being," Uchill says. "Oletha DeVane is an artist of incredible vision and artistic range, and a key figure in art and education in our region. We have much to look forward to in the robust exhibition programming, which will include a series of activations of Nkisi Woman-Universal Nkisi, a community-engaged sculptural project by DeVane on view in the CADVC amphitheater."
A nkisi is a power figure rooted in Congolese culture, imbued with sacred energy by the community where it is created. Over the course of the exhibition, visitors to DeVane's large-scale nkisi sculpture will be invited to add beads to its surface. DeVane herself will periodically participate in these activations, including hour-long sessions slated for October 6, 8, and 29.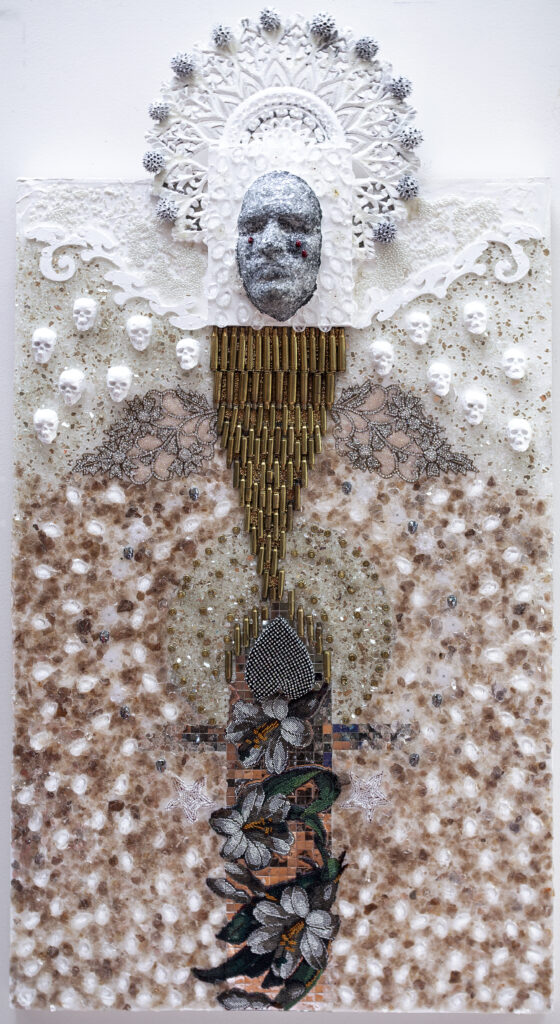 "The concept of nkisi to me is about power figures, and a female power figure is sometimes unusual," says DeVane. "The idea is that they are oriented towards community, you know, in terms of how one begins this whole process of healing. How do you achieve justice in a community? How do you approach nature? What is it that we value? All those questions to me were a part of the nkisi spirit."
In addition to the sculptural and painting works in the exhibit, DeVane's video works, Beyond Bars: Prison Women Speak, created in collaboration with writer and media personality Tadia Rice, have been updated for this exhibition. The videos make for a profound dialogue with Prison Nation, the photography show on view across campus at the Albin O. Kuhn Library Gallery through October 14.
"[Prison Nation] is pretty phenomenal. I was really impressed because the black and white photos are just beautiful," says DeVane. "Ours is a little different. I chose to set up the photographs and the videos with the idea that the women would be interviewed from the past, the present and the future. It's really about setting up an opportunity for people to understand that these women are in situations where they're incarcerated, and happen to have had lives prior, and would like to go back to those lives. Just as our society begins to grapple with the issues around how our prison system works, we have to continue this work."
* * * * *
Spectrum of Light and Spirit is on view at the CADVC through December 17. For more information about the exhibit and associated events, visit the CADVC website at https://cadvc.umbc.edu/oletha-devane/
Tags: CADVC, VisualArts