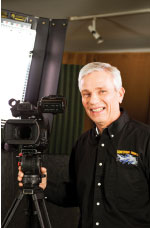 George Stover '73, interdisciplinary studies, answers the door at his production studio, Adventure Productions, looking like he's on location in the wild. A tall man with a full head of silver hair and a boyish frame, Stover is clad in blue jeans, rugged boots, and a black canvas shirt emblazoned with his company's emblem, a hammerhead shark.
Stover's North Baltimore basement studio is far from the exotic underwater locations where he shoots his kid-friendly weekly television show, Aqua Kids. But the décor of his cavernous subterranean studio illustrates just how seamlessly Stover blends his dual passions for film and aquatics: fish tanks accessorize every room, a string of coral hangs from Stover's office door, and replicas of manatees and starfish dangle from the ceiling.
Stover grew up in Perry Hall, but always was drawn to the water. His family spent summers on their 30-foot sailboat docked in Middle River. "I was always fishing or crabbing, always had an earache from swimming," he chuckles.
So how did a middle-class kid end up swimming in the company of sharks and other aquatic animals in exotic locales such as the Bahamas and the Caribbean with a camera hoisted over his shoulder?
Stover developed his love of film at UMBC, where the would-be veterinarian found himself in a film animation class. "I got an A. I loved it," he says. Even the fact that UMBC didn't offer a film major didn't deter Stover, who became one of the first students at the university to take what was then known as "Option II" and design his own film major.
Read the full story in the Winter 2012 issue of UMBC Magazine.