Senior year ended with a surprising turn of events for Dominique Ross '21 and Yianni Karabatis '21. Both received prestigious Fulbright U.S. Student Program awards for 2021 – 2022. But, like many Fulbright recipients, their Fulbright experiences were initially stalled due to COVID-19. Now, with immunization and continued mask requirements, international travel is once again possible for Fulbright recipients. Karabatis has safely arrived in Greece and Ross will head to Brazil shortly after graduating in December.
Joining them in UMBC's Fulbright class of 2021 – 2022 are Elijah Claggett '21, computer science, Japan, research award; Elliott Eig, M.A. '21, TESOL, Panama, English teaching assistant; and Bryce Moore '19, modern languages, linguistics, and intercultural communication, Turkey, English teaching assistant.
The Fulbright Program is the U.S. government's flagship international exchange program. UMBC was named a Fulbright Top Producing Institution in 2019 – 2020. In the last decade, UMBC has received over 60 Fulbright U.S. Student Program awards for research and teaching placements in Africa, Asia and the Pacific, South America, and Europe.
Answering big questions
Yianni Karabatis loves applying math to answer big questions and saw a natural fit in a computer science major. He found that the most difficult questions needed interdisciplinary answers, leading him to explore the design of neural and sensory systems, which draw from biology, mathematics, and computer science.
As a scholar in UMBC's Louis Stokes Alliance for Minority Participation program, he learned about computer vision (a field of artificial intelligence) and its potential to help provide faster and more accurate information. In computer vision, computers are trained to recognize and analyze specific objects quickly and precisely.
Karabatis found himself inspired by the intersection of computer vision and robotics due to the fields' collaborative potential to have a public impact, addressing large-scale, long-standing global problems.
Saving olive groves through AI
These interests came together a year ago when Karabatis heard concerning news from Greece. "I read in the news that there is a tree-killing bacterial outbreak disrupting the vascular system of olive trees, and causing them to become dehydrated—first in Southern Italy, then Spain—and it is expected to spread to Greece," he says.
Having traveled to Greece many times to visit family, Karabatis knew that olive trees are an important part of Greece's economy. Working with researchers at the Technical University of Crete in Chania, Greece, Karabatis is conducting a pilot study to test the ability of drone-based cameras to detect diseased olive groves using advanced computer imagery.
"Using computer vision techniques, I will create a set of convolutional neural networks to autonomously predict if certain olive trees from aerial images are healthy or unhealthy," says Karabatis.
He will compare the accuracy of this information to farmers' observations. The goal is to create a set of high-accuracy models that farmers all over Greece can use for free to determine the health of their groves from above.
"In some cases, all you can do is cut down the infected tree and the surrounding trees," explains Karabatis. "Olive trees grow slowly, making it a very expensive solution. We can avoid this with early detection and demystify the use of robotics and computer vision in agriculture, benefiting farmers."
Expanding access to quality healthcare
Dominique Ross has dreamed of living and working in Brazil most of her life. Before transferring to UMBC, she studied abroad in Rio de Janeiro, Brazil, and Cape Town, South Africa. In Cape Town, she shadowed doctors at a local clinic in a racially segregated township. In Rio, she worked with Brazilidade, a social impact business in the Santa Marta favela that seeks to deconstruct favela stereotypes through promoting favela culture and pride. These informally developed, underserved neighborhoods offer low-cost housing to predominantly Afro-Brazilian communities that do not have adequate access to public municipal services.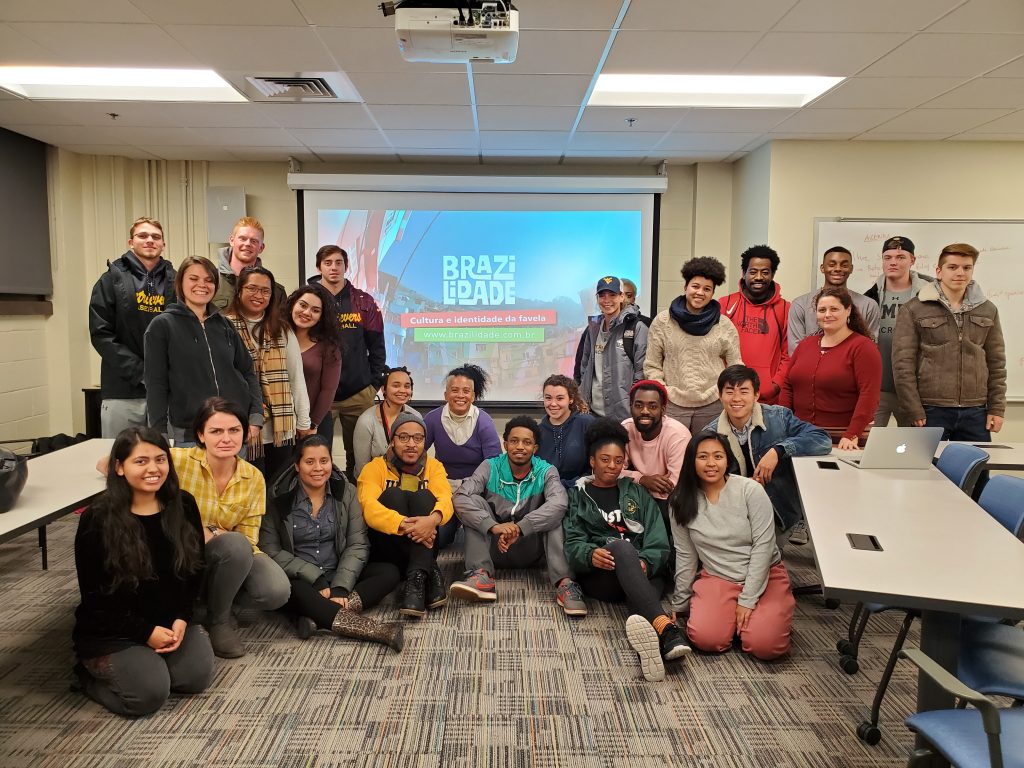 "In both of these cities I noticed the connection between race, health, and power," says Ross. "I realized how health could be a way to measure and understand the effects of oppression on a community and the body."
Ross empathized. She shares that, as a Black person, she has also been dismissed by doctors. And she's seen her grandparents, Haitian refugees who came to the U.S. in the 1960s, face the challenges of navigating the U.S. healthcare system.
"I became acutely aware that health was not just a person's biology, but also psychosocial wellbeing, impacted by the places where people lived, learned, and worked," says Ross. "I decided not to study biomedicine because I wanted to be able to impact larger groups of people. Instead, UMBC made it possible for me to design a global health degree plan through the Individualized Study Program."
Connecting with communities
When Felipe Filomeno, associate professor of political science and global studies and associate director of the Center for Social Science Research, met Dominique she was already fluent in Portuguese and had experience working in Rio. Filomeno helped Dominique stay fluent by holding their meetings in Portuguese to prepare her to join a research team he helped coordinate.
"I am a Fulbright alumnus," says Filomeno, "and supporting Dominique has been a way for me to give back to Brazil, my home country, which will surely benefit from her research and community service."
Ross will return to work in the favelas later this winter before her Fulbright experience begins in the spring in the northern border state of Roraima, Brazil. There Ross will continue a research project she began at UMBC. Her work will focus on the healthcare access, pre- and post-COVID, of Venezuelan migrants who fled to Brazil due to economic and political crisis.
"I want to do this work for my family, my community, and anyone who has ever been prevented from living the healthy life they deserve," says Ross.
Faculty Fulbright in human-centered computing
Numerous UMBC faculty have also received Fulbright awards to pursue international research and teaching in recent years. Helena Mentis, professor of information systems and director of the Bodies in Motion Lab, received a 2021 Fulbright U.S. Scholar Award to work in Denmark with the University of Copenhagen's Human-Centered Computing research group.
Mentis arrived in Denmark earlier this fall. She is examining how the profound differences in the public health systems of Denmark and the U.S. shape people's privacy expectations in using telehealth, including government use of their personal health data. Mentis is working to understand the factors involved in ethical design of communication technology in healthcare. Research data from a very different healthcare system and culture will make her work more generalizable.
"My time in Denmark has been priceless in being able to think about my research in a new cultural context and forge relationships that will be extended to UMBC students in the future," says Mentis. "This year is also the 75th anniversary of the Fulbright program and 70th anniversary of the program in Denmark. I feel honored to be here during this celebratory time and to reflect on the impact Fulbrighters can have in an intricately connected world."
Banner image: An aerial photo of an olive grove in Crete, Greece processed to show olive tree health on a red to green scale. Photo courtesy of Yianni Karabatis.
Tags: CAHSS, cahssresearch, COEIT, CS3, CSEE, Education, INDS, IS, MLLI, PoliticalScience