The UMBC campus unites on Founders Day to take stock of the past and look boldly into the future.
September 19, 2016 was the official anniversary of UMBC's founding in 1966, and the university held a ceremony including students, faculty, staff, and alumni that celebrated a number of qualities that had helped it grow over five decades into a major public research university: talented students, shared governance of the campus, and visionary leadership.
Among the highlights of the ceremony included an address to the campus by UMBC President Freeman A. Hrabowski, III, and a letter from UMBC's first graduate, Robin Mayne '69, American Studies, to the UMBC students of 2066. (The letter will be placed in a time capsule celebrating campus life in 2016.) Plus: Lots of black and gold pride, including balloons.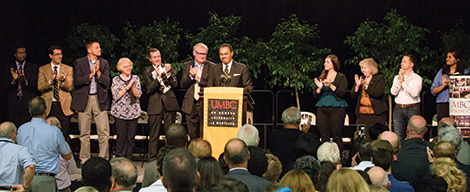 Founders Day Speech
by UMBC President Freeman A. Hrabowski, III
Good Afternoon!
Welcome to all – alumni, students, faculty, staff, and friends! This is such a special moment for UMBC – one of twelve institutions in the University System of Maryland, led by Chancellor Robert Caret and the Board of Regents, chaired by James Brady.
The Maryland General Assembly authorized a new campus for Baltimore County in 1963, and it was 50 years ago today that UMBC opened in 1966 on what had recently been 432 acres of farmland. That day, we had 750 students, 45 faculty members, 35 support staff, 3 new buildings, and 500 parking spaces. Staff had literally been sweeping floors and assembling desks the night before students arrived.
Albin O. Kuhn – the University of Maryland's VP for Baltimore Campuses and later appointed UMBC's first Chancellor – called opening day his most personally satisfying experience. "We opened on the day we were supposed to, right on schedule," said. "Buildings were ready to be occupied; sidewalks were installed; the faculty was here. There were blackboards and even chalk."
This is a moment that allows us to consider what our aspirations have been over the years; reflect on 50 years of growth, grit and greatness; celebrate all that we have achieved together; and aspire yet again – as success is never final.
UMBC in the National Context
We can better understand UMBC's growth over the last halfcentury if we consider the national context in which our campus was founded and subsequently grew.
Most people today are surprised when they learn that in 1940, on the brink of World War II, just five percent of whites and only 1 percent of blacks in America had earned a college degree. Many people would also be astonished to learn that, at that time, most of the prestigious universities in the world were in Europe. Only a handful of American universities could be called "research universities."
After World War II, all of this changed, quite dramatically. The GI Bill provided the opportunity for many young people—mainly white men—to go to college. Spurred to action by launch of the Sputnik satellite by the Soviet Union in 1957, Congress passed the National Defense Education Act of 1958 – which provided the federal funding for students in the sciences, area studies, and foreign languages. The Higher Education Act of 1965, a key piece of Great Society legislation, was passed under President Lyndon B. Johnson, further expanded federal postsecondary support. The Pell Grant program, which today provides extensive need-based federal student aid, was created in the Higher Education Act Amendments of 1972 under
President Richard Nixon.
And it worked. The percentage of Americans with a college degree increased to six percent in 1950, and then to about 10 percent by the mid-1960s, when UMBC was founded.
Other forces also created positive change in society and in higher education. Together, the landmark 1954 Supreme Court case of Brown vs. Board of Education of Topeka, and the passage of the Civil Rights Act of 1964, ensured that the expansion of access to higher education could be inclusive, extending beyond just whites to African Americans, and to other minorities.
So UMBC was founded at a time of great expansion in access to higher education. We were created to play a key role in facilitating that growth in Maryland, and we had a special place in this expansion. We were the first university in Maryland that welcomed students of all races and backgrounds from the moment we opened our doors.
And look at us now. From our modest beginnings, we have built a foundation for excellence, and solidified our place as Doctoral University with Higher Research Activity, as designated by the current Carnegie Classification.
We have attracted national attention for what we have done well in our first 50 years. Our academic strengths in research and teaching have been celebrated in the New York Times, and in U.S. News and World Report, and featured on 60 Minutes. We've also been acknowledged for providing excellence for value by publications including the Princeton Review and Kiplinger's. And The Chronicle of Higher Education has ranked us as a "Great Place to Work" seven years in a row.
Yet as we reach this milestone, it is imperative that we acknowledge the important work UMBC and other institutions of higher education must still do. Just 56 percent of students who start a bachelor's degree nationally complete within six years. Raising that number is a task made more challenging by income inequality. More than half of students from families in the highest income quartile earn a bachelor's degree by age 24, while only about one in 10 of those from the lowest income quartile do so.
America is failing these lower-income students. We must continue to elevate not just college readiness, but push forward on the work we do on campuses to ensure these students succeed when they get here.
The good news is that more people of every race, ethnic group, and gender are educated today than ever before. And UMBC has played a significant role in its first 50 years by becoming a national model for inclusive excellence in a research university that others now look to emulate.
Our Aspirations
At UMBC's opening in 1966, Albin Kuhn said, "Just like a youngster, we don't have all the answers, but we do want to develop our own personality and become part of the Baltimore metropolitan area."
Over the next 20 years, after Dr. Kuhn had laid our solid foundation, the campus was steered through a challenging period of growth by Calvin Lee, UMBC's second chancellor; Louis Kaplan, interim chancellor; and John Dorsey, our third chancellor.
Our fourth chancellor (and first president) Michael Hooker inspired UMBC to dream of reaching new heights.
At his installation in 1986, he said, "My [vision] …is for UMBC to be a model university for the 21st Century, and to be the best public university of its size in the country."
Hooker argued that UMBC could capitalize on its potential and make this vision a reality by adopting four key principles:
Be progressive — forward looking
Be responsive — embracing our community and its needs
Be selective — find key areas in which UMBC could grow to become excellent
Be metropolitan — be a partner for the region, a force for addressing both its social problems and its economic development needs.
At my own installation as UMBC's president in 1993, I remarked that at the founding of Stanford University – or even at its 25th anniversary – no one could have envisioned what it would one day become. The growth at Stanford – spurred on by the Second World War, the Cold War, and the rise of Silicon Valley – was still in its future.
At UMBC's founding, no one could then have fully envisioned what the university might become. My point back then was that we needed to set our sights high:
"We are a university on the move. We know what we want to become and how to get there. We will work to become one of the best research universities of our size in the world, and we are determined that our dream will not be deferred."
We still embrace this goal. Along with such great universities as Stanford, MIT, Carnegie-Mellon, Arizona State, Georgia Tech, and the University of Michigan, we rank highly on a nationally-recognized list of the most innovative national universities in the nation!
Our Growth
Our emergence as a model research university can be traced to many factors. We have an inclusive notion of leadership and shared governance. Many of our administrators today were once leaders in our faculty and professional senates. Our community is based on shared values. And, most of all, we believe in hard, sustained work for student success.
It has taken grit – and vision of what we could become – to achieve our goals. For our first 20 years, UMBC played its original allotted role as an institution whose students were primarily commuters. It was a wise bargain for a new university: commuters saved their money by living at home; the state saved money by forgoing the cost of residence halls. Only a small number of students lived on campus.
Yet this role did not give us the distinct identity we sought as a research university. Until the 1980s, the diplomas of our graduates did not yet say "University of Maryland, Baltimore County," but simply "University of Maryland." The omission reflected a particular mindset about who we were.
But as our campus matured, it was clear that we could become an even more valuable asset to the State of Maryland and the nation. Since the mid-1980s, we have grown into something else – an inclusive, student-focused, residential, research university.
We've had tremendous help from the State of Maryland and other sources, who have generously provided almost three quarters of a billion dollars in developing and building state-of-the-art facilities for instruction, research, and student life over a 20-year period from 2000 to 2020.
We have taken those investments in our physical campus and grown in all the ways that a public research university must grow to survive and thrive.
In 1976, we had less than $1 million in research and development expenditures. When UMBC reached its 25th anniversary in 1991, we had reached $6.8 million. Today, we have reached over $80 million. UMBC now ranks #151 in federal research and development expenditures – out of more than 3,000 four-year colleges or universities. And we have 25 major research centers on our campus to propel our efforts.
We have developed strengths in key research areas that are well-aligned with state and national priorities: environment, health, national security, education, and public policy. We are particularly strong in translational and applied research areas, ensuring that our work has direct impact on scientific and engineering fields, on our students, and on the many communities that we touch.
We also have a strong national reputation for integrating undergraduates in mentored research. And our most successful research efforts are frequently interdisciplinary and based on successful collaborations across the campus, with other academic institutions, and with external partners. These partnerships – including those with federal agencies and major corporations – have deepened and matured over the decades.
We have also found the resources to grow. This year, we have our largest budget ever, $440 million – a net increase of $10 million over last year. Of that $440 million, almost $250 million comes from the State of Maryland or tuition and fees.
We're also developing the resources that will help us grow into our future. In the early 1990s, UMBC's endowment stood at $1 million. Today, it has grown to more than $77 million – with almost $14 million raised this past year.
The results of all this growth are clear – not only in the impact our research has on our communities and our nation, but in the lives of our alumni and the contributions they make to our society.
We now have more than 70,000 alumni who are working in Maryland and beyond as artists, social workers, policy analysts, doctors, dentists, healthcare workers, teachers, lawyers, engineers, and computer scientists. We have educated more than one-quarter of the information technology graduates in Maryland. We have 2,000 alumni working for the Navy and another 1,000 at NSA. We have just launched the first Naval ROTC program in Maryland, with special support from Senator Mikulski. Our alumni have a strong impact.
We are sending our students to the most prestigious graduate and professional programs in the country and our doctoral graduates hold faculty positions at research and comprehensive universities across the nation. Our alumni also lead institutions such as the Johns Hopkins Applied Physics Laboratory and Clemson University.
Looking to the Future: Imagine What's Next
This anniversary has coincided with intensive processes of strategic planning and self-assessment via our pursuit of Middle States Accreditation. This confluence of events has given us a chance to reflect on our growth and plot out a course to reach our aspirations for the future as a campus. We are not yet done. Success is never final. However good you are, you can always improve. We are now building on the foundation laid by our founding generation.
As we move forward as a university, we must ask ourselves:
What are our challenges? What are our goals? How can we address the great issues of our day?
We have shown a willingness as a campus to be honest with ourselves. For example, we know we must continue our work to develop a more diverse faculty and staff – particularly African Americans, Hispanics, and women – in selected areas.
Despite our growth, accolades, and achievements, we face other important challenges as a campus. We grapple with adequate funding per student given the higher costs associated with fields in the sciences and engineering that many of our students major in. We have had uneven progress across all disciplines in improving teaching and learning – a key component of our ongoing effort to improve student success. And another problem of our growing stature is reflected in other universities' attempts to recruit away our excellent faculty.
We also have important strategic questions related to our goals: supporting students, expanding research and creative achievements, enriching the life of our campus, and extending our engagement with our surrounding communities.
How far can we extend the university's enrollment – and with what resources? How can we better ensure degree completion? How can we extend the benefits of the practices pioneered in our scholars programs to all students? How can we deepen our innovation in teaching and learning, as we improve advising and mentoring, and more fully capitalize on student analytics and assessment? How do we better invest in faculty and staff as they pursue multidisciplinary research, scholarship, and creative activity?
We also must ask how our campus will grow in the future. Can we imagine a mixed use development on campus, with residential, commercial, entertainment, and other amenities? How can we develop closer connections with Catonsville and Arbutus and create a college town atmosphere? What opportunities are presented by potential development of the neighboring Spring Grove campus?
We must also examine our larger role in the region, state, and nation. How can we strengthen our position as an anchor institution for the region, building relationships from Baltimore to Washington? How do we advance our role and reputation as a vital stakeholder in Maryland's innovation economy?
How can we continue to build our partnerships with other research universities within the system and beyond?
As we look ahead, we are inspired in two essential ways.
First, we seek to expand our work as a national model for others on approaches to helping students succeed, in not just a few disciplines but across the board, and to do so in ways that will impact the real world. We will continue to innovate in the classroom and on campus generally. We are providing academic initiatives, student affiliation opportunities, transfer student support, assistance for near-completers, and opportunities for real-world connections.
Second, using our research capacity we will intensify our efforts to tackle critical challenges faced by society and all of humanity in general. UMBC researchers have undertaken important work on AIDS, anti-cancer strategies, refinement of the aquaculture industry, environmental research, cybersecurity, climate change, the digital humanities, imaging and digital arts, and public policy.
America still faces major social challenges from economic inequality and the issues that divide us – race, ethnicity, religion, and sexuality – to criminal justice reform and heath disparities. Following the tragic death of Freddie Gray last year, we looked in the mirror to assess what we as a campus could do to reach out to Baltimore City. We have now created more than 140 programs, initiatives, partnerships, and organizations in which our students, faculty, and staff connect to the city and its residents. We
celebrate this energy and are working to support and expand it.
Across the university—across all of our colleges—we seek to educate our students and advance research in areas that meet national and global needs.
We continue to build an entrepreneurial climate for economic development. We continue to work with children and find ways to close the achievement gap among students of different racial and ethnic groups.
Conclusion
UMBC has been a 50-year experiment in higher education here in Catonsville. We have become an inclusive, selective, highly residential research university. We are forward-looking and responsive. We have a strong focus on inclusive excellence – teaching students how to live and work with people different from themselves.
We believe in high expectations and a passion for learning. We are seeking ways to advance knowledge and educate our students to make a difference in our society and our world. And, most of all, we still believe in hard work.
I continue to quote Aristotle: "Excellence is never an accident. It is always the result of high intentions, sincere effort, and intelligent execution. It represents the wisest choice of many alternatives—choice not chance, determines your destiny."
It takes grit to achieve greatness!
Excerpts From a Letter
by Robin Mayne '69
To UMBC Freshman Class of 2016
Back in 1966, the campus was a pretty wild and woolly place. On the first day of classes in September, new students were greeted with acres of pasture for parking, much of it muddy, and miles of wooden walkways. Workers rushed to put the finishing touches on the new campus, even as the students were rushing to avoid them on the way to class. The aura of excitement was palpable.
Birthed during the turbulent era of the 1960s, UMBC struggled, as many schools did, to redefine what education really meant. At its core was engagement, both of students and faculty, in studies, in creativity, in community, in political action, and in social awareness and responsibility.
In the fifty years since those beginnings, these commitments have not diminished, but only expanded and intensified. Like many of you, I came to UMBC with only the goal of a degree. But along the way, I developed new skills in critical thinking, and analytical problem solving, within the context of a liberal arts education. I have become a lifelong learner, and use those skills daily to meet the challenges our complex and shifting world.
In looking back over the years, UMBC has gloriously fulfilled its promise of becoming a world-class university. Its esteemed leaders have created a place where students from all backgrounds can come together and find inspiration and vision to craft their own educational experience. And so today I want to remind that you are joining this institution's firmly established traditions of academic excellence, exceptional creativity, social commitment, community involvement, diversity, and inspiration. Be good stewards of those traditions, and of this campus, your home. They are in your hands to protect and cultivate. Embrace your time here, stay passionate, and I am confident you will discover your own unique path into an ever-brightening future.
Tags: 50th Anniversary, Fall 2016, Founders Day, Robin Mayne