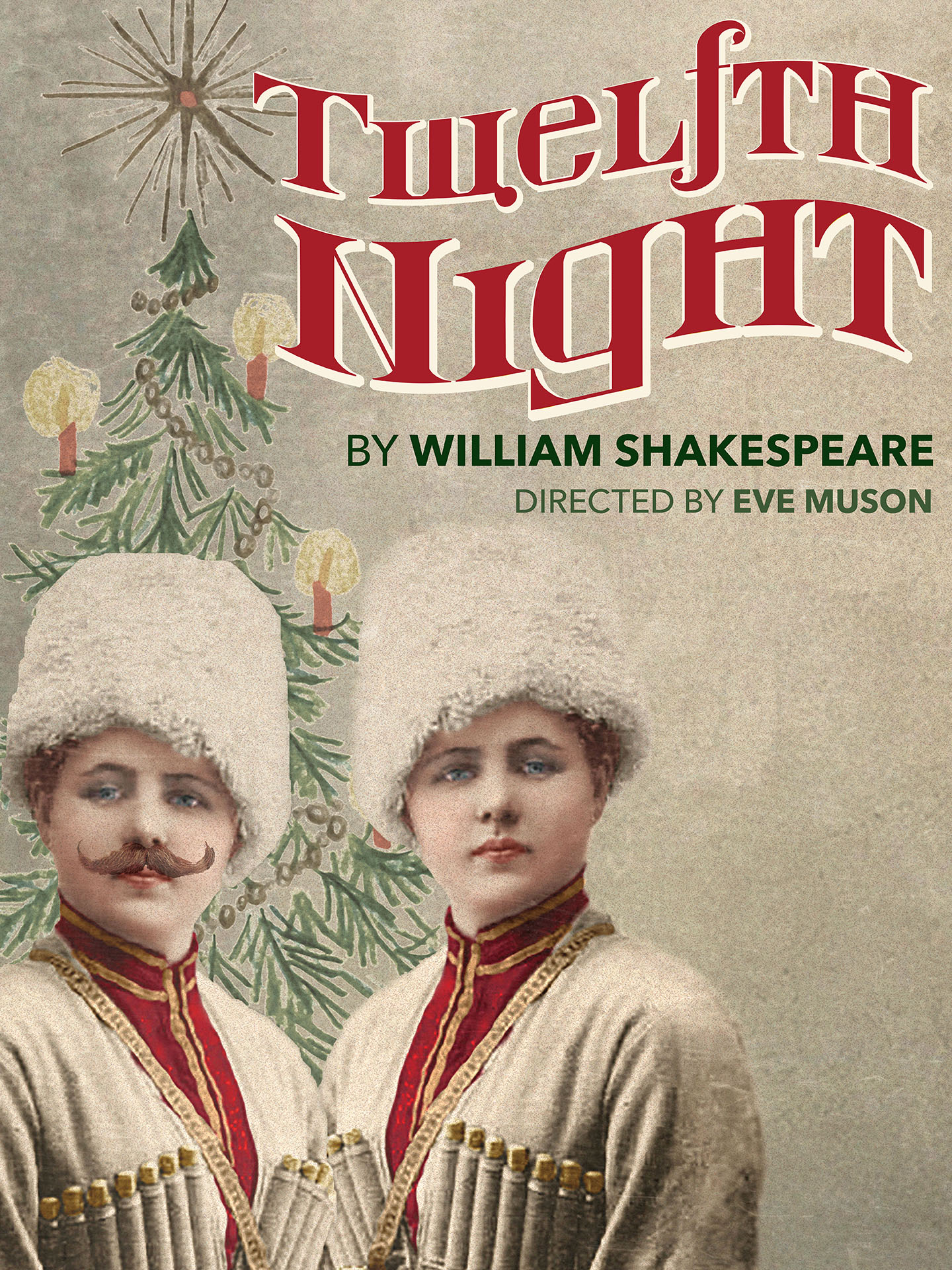 For most of us, a trip to the theatre means relaxing in a plush auditorium chair for a couple of hours while performers share their finely honed skills for our amusement. We laugh, we cry, and we clap wildly as the stars bow before the falling curtain.
But, what do we miss when we forget about what happens backstage? For the upcoming production of William Shakespeare's comedy Twelfth Night, directed by Eve Muson, (running Nov. 9 – 19) students and theatre faculty worked diligently for weeks to design and build sets, sew costumes, install lighting and sound plots, and develop characters that will transport their audiences to Christmas in 19th century Russia.
UMBC theatre students experience a bit of every piece of it behind the scenes in the Performing Arts and Humanities Building, no matter what their area of focus. Actors build props. Stage managers work on lighting. Everyone uses a sewing machine at some point. For a production as lovingly detailed as Twelfth Night, there's simply no such thing as a small part. 

 – Jenny O'Grady
Photos by Marlayna Demond '11 except where noted.
Student props master Andrew Morgan (L) discusses his plans for constructing a cross for a priest's costume with theatre faculty member Gregg Schraven '97, theatre. Morgan works closely with other members of the crew to figure out who needs what, and how it will be used on stage.
A close-up of the prop master's work.
Students and faculty work to create a stage set based on this small model built by set designer and theatre faculty member Nate Sinnott.
Student Jaimie Greene pulls large stencils created with a computer numerical control (CNC) router, from a dolly to help decorate Twelfth Night's winter-themed set.
Student builders discuss one of the most complicated props constructed for Twelfth Night – a baby grand piano that has been gutted to make room for a digital piano so it can be played on stage through the house sound system.

Far above the Proscenium Theatre's stage, students install a lighting plot to match the festive nature of this comedic script.

You can't beat the view of stage from the catwalk, 32 feet from the ground. It's not for the faint of heart!

From beyond the work being done on set, assistant light designer Dante Fields prepares the lighting console for tech.

Students also learn how to design and sew costumes for the performers, both by hand and with the aid of sewing machines.

The costume shop offers tools and notions of every type and color. You never know what you're going to need for a show at UMBC!
This colorful, riotous production of Twelfth Night requires costumes of the same level, including these dresses, designed by faculty member Eric Abele and produced by students in the costume shop. You can see some of Abele's other sketches behind the dresses on the wall.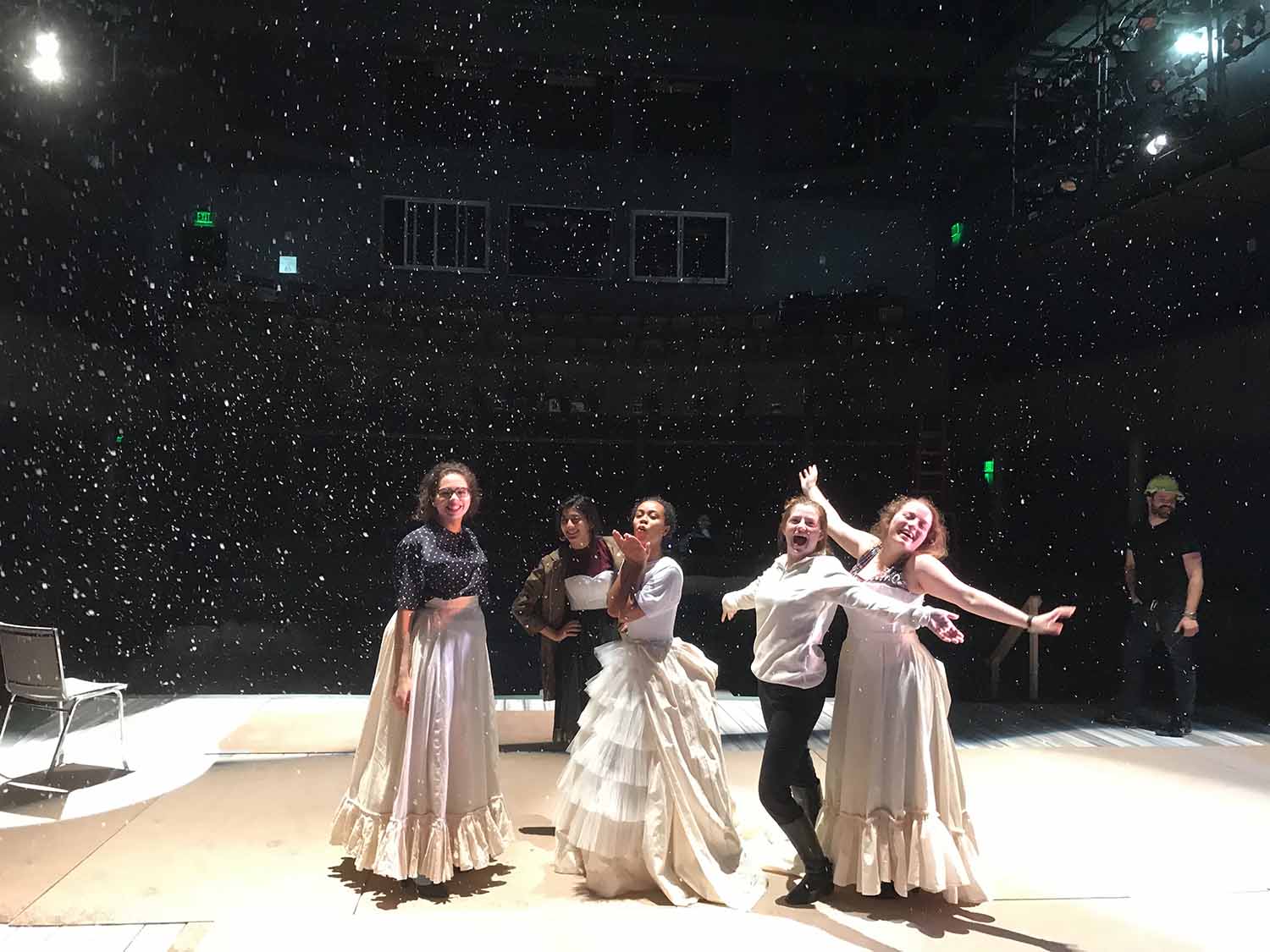 Members of the cast of Twelfth Night practice amid a test of an indoor "snow" shower. Break a leg, everyone!  Photo by Greggory Schraven '97.
* * * * *
The UMBC Department of Theatre presents Twelfth Night by William Shakespeare, directed by Eve Muson, November 9 – 19, in the Proscenium Theatre of UMBC's Performing Arts and Humanities Building. For more information and to purchase tickets, visit UMBC Theatre online.