SPARK: New Light
Date:
August 13, 2022

-

September 25, 2022
Location: The Peale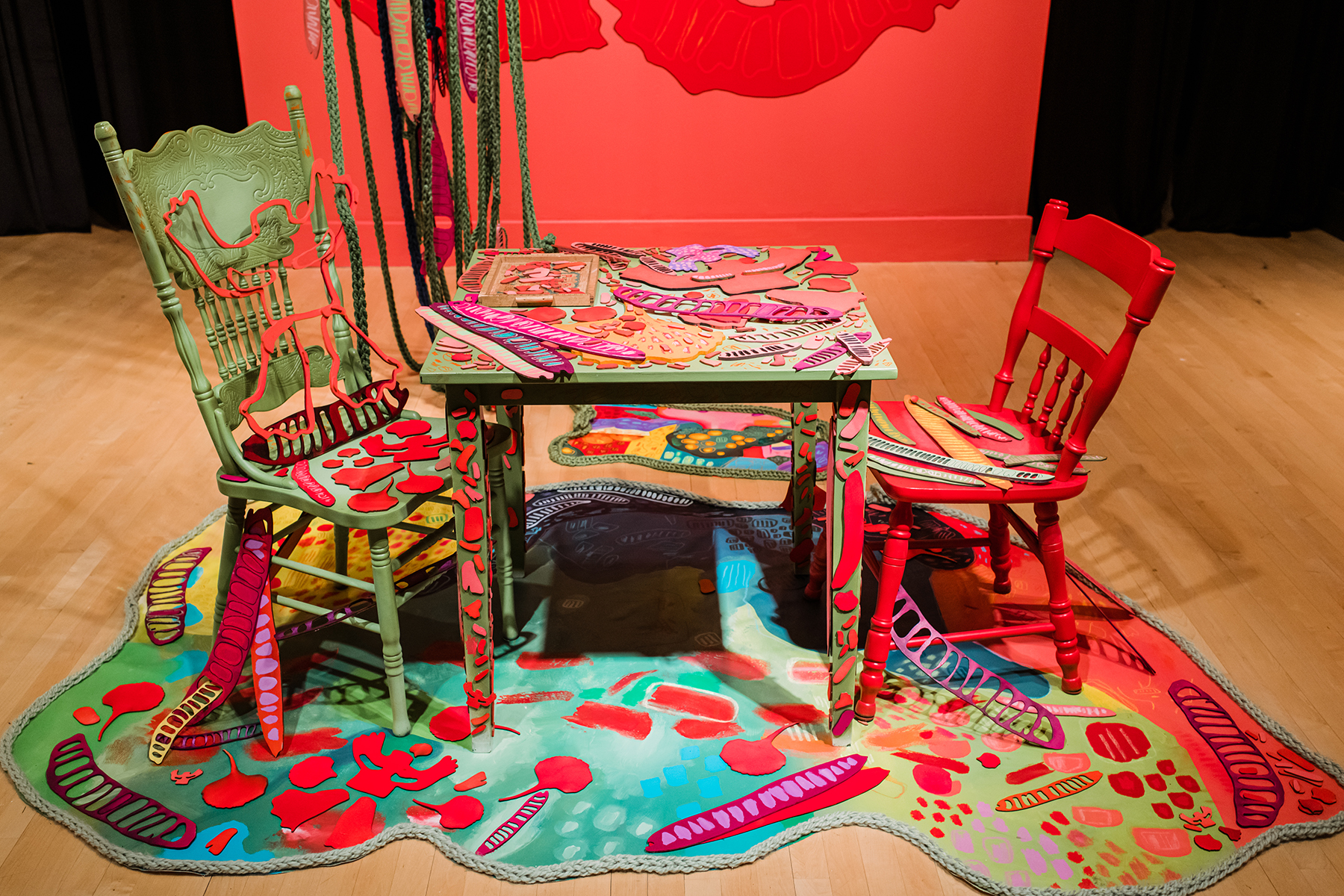 Explore the creative vision of 24 artists at SPARK: New Light, presented by UMBC, Towson University, and PNC Bank, August 13 through September 25 at The Peale.
SPARK: New Light will ignite your imagination. Discover photographic time capsules and microscopic organisms that glow in the dark, investigate delicate bamboo paper sculptures and a post-apocalyptic future, learn about a Chinese-American who fought in the Civil War and the disappearance of Holland Island, and enjoy room after room of additional artworks.
UMBC artists featured in this fifth annual family-friendly SPARK exhibition include Lynn Cazabon, Irene Chan, Adam Droneberg, Fahmida Hossain, Ahlam Khamis, Kathy Marmor (with Penny Rheingans), Lisa Moren (with Tsvetan Bachvaroff, Dan Deacon, and Woody Lissauer), Timothy Nohe, Corrie Francis Parks, Chris Peregoy, Foster Reynolds-Santiago.
Participating artists from Towson University include Mark Burchick, Grace Doyle, Carrie Fucile, Alexandra Garove, Danielle Hawk, Jinyoung Koh, Diane Kuthy, Jenee Mateer, Kat Navarro, Sookkyung Park, Lynn Tomlinson, and J. Yablonsky.
SPARK: New Light is curated by Catherine Borg.
SPARK: New Light is made possible by a generous grant from PNC Bank.
---
Read more about SPARK in UMBC Magazine!
---
Special Events
The Peale — Grand Reopening and Founder's Day — Saturday, August 13, 1–4 p.m.
The first museum building in the United States, The Peale was established by artist Rembrandt Peale in 1814. Over the past several years, The Peale has been engaged in a substantial renovation, and the opening day of Spark will coincide with The Peale's Grand Reopening: Founder's Day 2022 celebration. (Free tickets to this event are now available.)
Artist Reception — Wednesday, September 7, 5–8 p.m.
Join us for a reception to celebrate the work of SPARK artists. Admission is free, and tickets may be reserved here.
Lumenbox & Solargraphy Camera Workshops — Sunday, September 11, 1–2:30 p.m. and 2:30–4 p.m.
Chris Peregoy will share his love of the magic of photography in two hands-on Lumenbox & Solargraphy workshops
Wanted: Your Memories About Winter!
Artist Lynn Cazabon will be in the gallery ready to record your winter memories to be added into the project Losing Winter, featured in SPARK and also on display at the Maryland Center for History and Culture. Sessions will be held on September 11, 17, 23, and 25.
Illumination of The Peale — Friday and Saturday, September 23 and 24, 8 p.m. until dawn the next morning.
Artist Kelley Bell presents Window 26, a projection event that will illuminate the second floor galleries of The Peale.
Percussion Ensembles — Sunday, September 25, 1 p.m.
The Towson Percussion Ensemble, the UMBC Percussion Ensemble, and the Umbilicus percussion ensemble (with UMBC and Towson affiliated players) present a free performance. (Program to be announced.)
---
Plan your visit
Admission to SPARK: New Light is free.
The Peale is open Thursdays and Friday from 3 p.m. to 7 p.m., and Saturdays and Sundays from 10 a.m. to 4 p.m. COVID protocols are in place when visiting The Peale, and proof of vaccination and masking required. Please visit here for current information on visiting The Peale.
The Peale is located at 225 Holliday Street, in downtown Baltimore between Zion Church and the Real News Network, and across the street from the Abel Wolman Municipal Building.
The Peale is well served by public transportation and is near stops for City Hall, the War Memorial, and Farmers' Market on the Purple, Orange, Red, Blue, Yellow CityLink lines and the free Green Charm City Circulator Route, as well as LocalLink routes 54, 56, 154, 67, 78, 80 and Express BusLink routes 105, 115, 160, 154, 164. The Peale is a short walk from the Charles Center and Shot Tower Stations. Ample on-street and lot parking is also available.
Related Events