When a swimmer is good—really good—the sound of their stroke is smooth and quiet. The athlete plunges neatly into the water as if into another layer of air. Gentle ripples of movement belie the engine propelling it powerfully beneath the surface.
For years, the UMBC swimming and diving team has been quietly winning its way into university history. Since 1999, they have amassed 32 championship trophies, not to mention consistent accolades for athletic prowess and coaching. And they've done this largely without the fanfare received by more popular sports.
So, what's the secret to this powerhouse squad's success? What keeps them coming to the pool again and again?
It's simple: They don't do it for the splash.
By Jeff Seidel '85
Beneath the surface
The UMBC men's basketball team shocked many and generated a huge amount of publicity when they beat Virginia 74-54 in the first round of the NCAA basketball tournament in March 2018. By now, the story is well-known because it was the first time in the history of that tournament when a No. 16 seed beat a No. 1.
The basketball program and school received a deluge of publicity from all around the country after that. Places like the New York Times, Washington Post, and ESPN suddenly wanted to know not just what the letters "UMBC" meant, but everything about the basketball program and school. The attention seemed endless— and that was all for just one game.
The UMBC men's and women's swimming and diving programs have won plenty in their own right—even if most people don't realize it. They swept the America East championships this past winter, claiming the 31st and 32nd titles for the Retrievers—26 of which have come since Chad Cradock '97, psychology, became the head swimming and diving coach in 2001.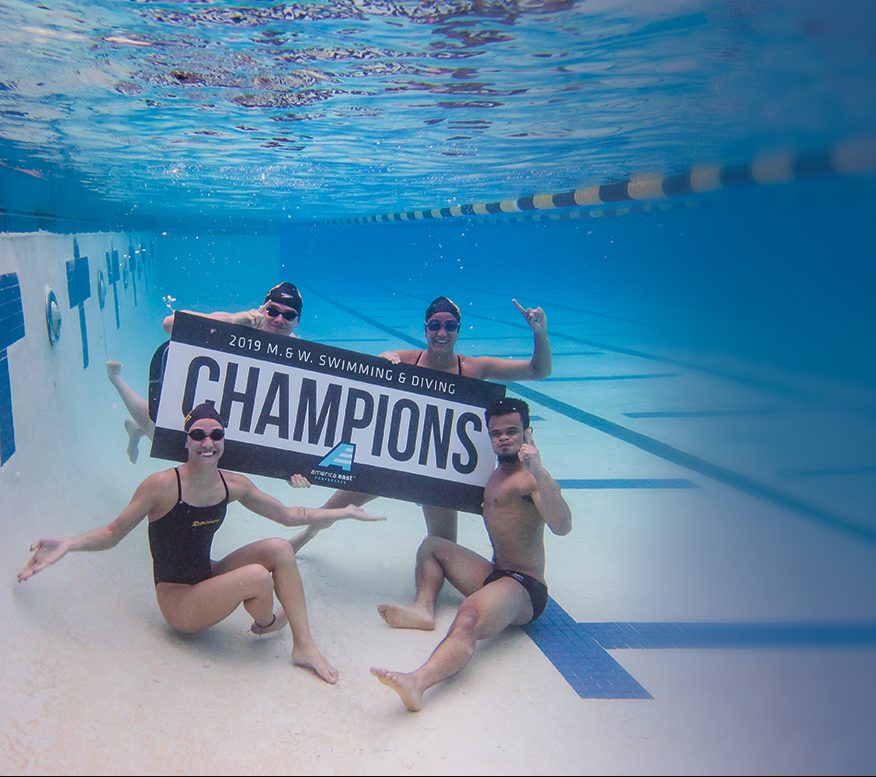 Those are staggering numbers, but since swimming gets less attention than basketball and other big college sports in this country, the men and women on this team know the score. Even Cradock understands the deal and shrugs it off. What can they do?
"It's not seen as popular of a sport, and that's the way America looks at it," Cradock says. "If we were in Australia, swimming would be the number one. Even in Hungary, it's very popular. It's the most-watched sport in the Olympic Games."
But every day, the swimmers and divers head to the pool anyway. And year after year, the program broadens its family of alumni. It's a connection that goes far beyond the pennants and tailgating of other sports. It's a culture all its own.
"We do it because we love it," Cradock says.
The daily grind
What many don't realize is the grind the Retrievers endure to find all of their success, Cradock says. This is a year-round gig for the coaches, who often arrive on campus at 6 a.m. and stay until 7:30 p.m., with six to eight more hours on Saturday, plus other work on Sunday.
The workouts are long and laborious. On Monday, Wednesday, and Friday, they do weights from 6:15 to 7 a.m., then swimming drills, kicking technique, and recovery (7 to 7:45 a.m.). Later in the day, they work out on land (1:15 to 1:45 p.m.) and then it's back in the pool from 1:45 to 3:45 p.m. On Tuesday and Thursday, practices stretch from 1:30 to 1:45 p.m., with a two-hour swim right after that. It all continues into Saturday, a fact the swimmers understand and accept. It's all part of the game.
"We enjoy the sport…and we're not doing it to be famous or anything," says Hania Moro, a senior financial economics major from Egypt. Hania—who has fallen in love with bagels while at UMBC and wants to open a bagel store when she goes back to her home country—just set the school record in the 1650 free at the America East 2018 title meet. "We love to be here, and we love to be with each other, and we love to enjoy our time. This is about swimming."
Elijah Wright , a diver from Baltimore, says the Retriever swimmers and divers put in the foundational hard work to find their success. For example, Wright wakes up at 5:30 a.m. Monday through Saturday and goes to practice from 6 to 8 a.m. from early September through February. Plus, he lifts weights on Monday, Wednesday, and Friday.
The swimmers and divers work through a long and tough regimen all season to earn those championship banners, something they all take pride in.
"When you walk into the pool area, you see all the banners, and you would think that's just decoration if you didn't see all the hard work we put in each and every day," Wright says.
Team as family
Cradock swam at UMBC from 1993 to 1997, lettering all four years and earning the Matt Skalsky Outstanding Scholar-Athlete award as a senior. He became head coach in 2001, bringing with him a philosophy that emphasized the coaches working with the student-athletes and not dictating to them.
Growing up at UMBC, so to speak, the team has become a second family for Cradock. Coaching with Cradock now are Chris Gibeau '93, biological science; Nikola Trajkovic '18, financial economics; and Elyse Gibson-Clegg '06, sociology, along with diving coach Petar Trifonov, all of whom work to create an environment where the swimmers and divers feel at home and are comfortable throughout the daunting schedule swimming requires. That means team shout-outs on birthdays and creating spaces where athletes can talk with coaches on a regular basis about problems in swimming, classes, and life. These personal touches help draw the swimmers closer as a group.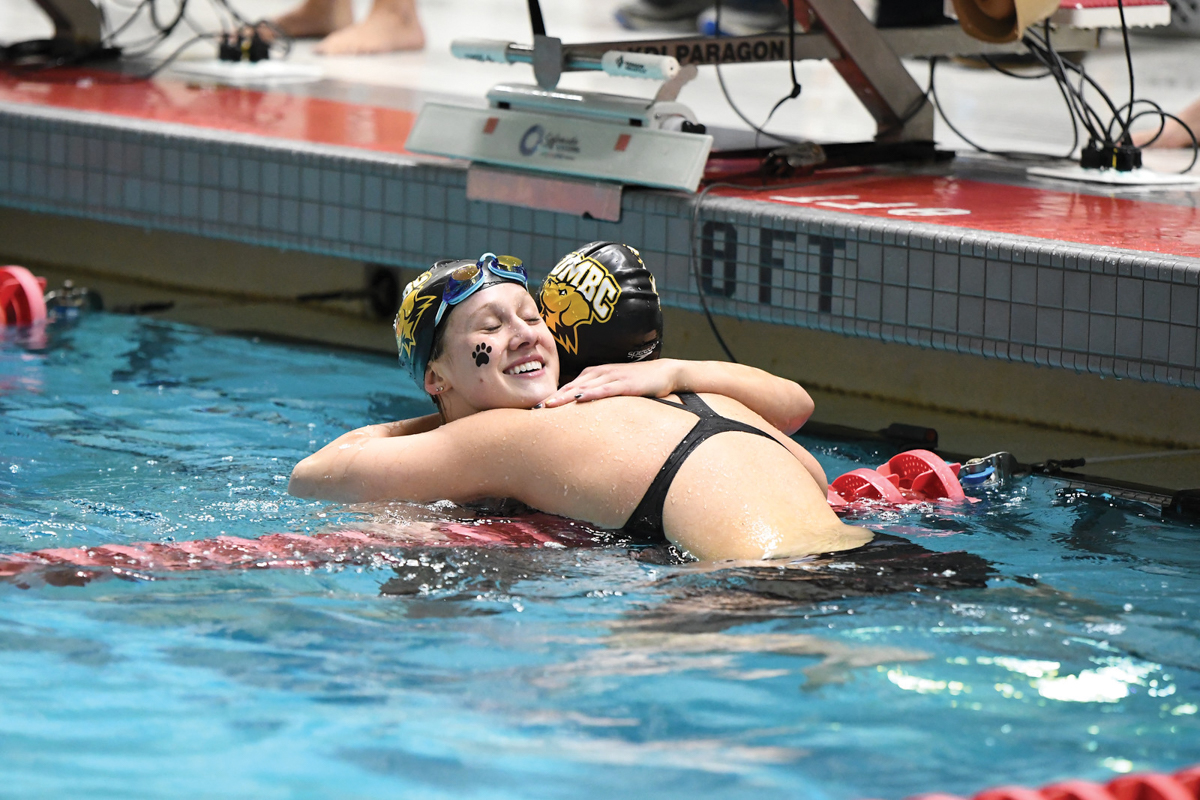 For junior economics major Sotia Neophytou, who came to UMBC this year from Cyprus (a 30-hour trek to Catonsville), the family spirit shined especially bright around the holidays.
"I didn't go home for Christmas, but Chad invited me to his house, and I spent an amazing Christmas there," she says. "Chad is amazing, and he knows what he's doing. I trust him so much. You need to communicate with your coach, and Chad and I have that."
Cradock, who has three children of his own, certainly understands the parents' feelings when they turn their swimmers over to him for four years. UMBC has about 65 swimmers total on this year's championship teams, and it's a very diverse group with athletes from around the globe.
And family membership doesn't end at graduation. Many of Cradock's swimmers stay in touch long after commencement, often giving back to the program as a way of showing their commitment.
David Miller '96, economics, is now a corporate lawyer in New York. He swam with UMBC from 1993 to 1996 and still keeps in touch with some from the program, especially when he makes it back to campus. He also ran into other former Retriever swimmers recently at an event that UMBC hosted in New York City at the One World Observatory. Miller still holds the record for the 1,000-yard freestyle in the UMBC pool and was delighted to learn that the younger folks were aware of him.
"They knew who I was, and it was definitely really cool to know that after all these years, that I still hold some sort of presence there…I was still on the record books…so that sort of helped," he says with a laugh.
Miller says that he remembers his swimming days at UMBC where there were just about a dozen swimmers on the team. There are now more than five times that many, but Cradock has worked to keep the big group close, as he believes that helps with the overall success of the teams.
"[Being a student athlete is] hard in general, but what I've tried to do have the swim team become part of my family so that nobody kind of resents each other," Cradock says. "We treat them the way we would want our kids to be treated wherever they went."
Olympic aspirations
Another thing that might surprise those new to the sport is the level of international competition the Retriever swimmers and divers engage in throughout the year—including the most watched competition of all, the Olympics.  
Neophytou swam for her home country at the Olympics in Rio three years ago and said it was an amazing experience. When she competed in the 100 butterfly on August 6—she still remembers the date—she said, with a smile, "my dad came to see me, [and when] I found him, he was still crying. I made him proud."
Neophytou, the third Retriever to make the Olympics, said her UMBC teammates often pick her brain about what it was like to swim there, and getting that rare opportunity improved her self-confidence. That, combined with the transfer to UMBC and her respect for Cradock and his coaches, has made her a better swimmer.
"There's a lot of respect out there for our program [world-wide]," Cradock said. "We are well-respected internationally. It took a lot of time."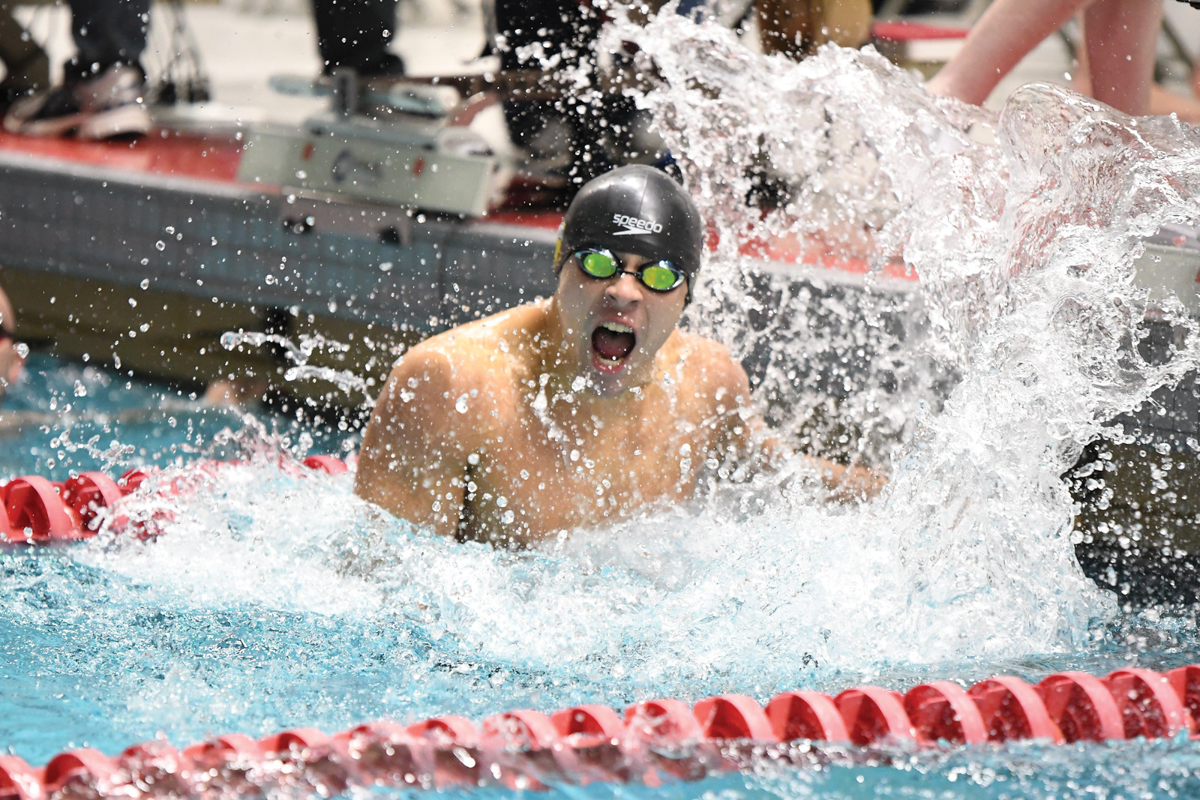 UMBC also has a chance for two others to earn spots in the 2020 Tokyo Olympics. Moro is trying to represent Egypt there while senior mechanical engineering major and Meyerhoff Scholar Alexander Gliese hopes to make it with Denmark, the country he was born in before growing up in nearby Howard County. Both are within range to qualify and will be spending plenty of time this year focusing on that goal.
Gliese is a two-time captain at UMBC and the Danish national record holder in the 200-meter backstroke. He also mentioned that the family atmosphere Cradock and his coaches created gives him help in many ways in and out of the pool.
"It motivates you every single day; you have somebody there who's pushing you or you have somebody who's there when you're not having the greatest day," Gliese said. "Somebody says 'hey, it's OK to have a bad day.' I'm still [getting better]. I don't know if I would have seen the same success or not [somewhere else]."
Making their mark
Cradock said one moment that they all enjoyed recently came after winning the America East championship and the team returned to campus. They were honored during a media timeout of a basketball game at the UMBC Event Center and received a large ovation from the crowd that night, something that the swimmers just loved.
It was a moment in the sun on their own campus, one that doesn't happen often with this sport.
"We went up there to do our job and we did," Cradock said. "The theme this year was Love It, Live It, Enjoy It, and we did just that."
The Retrievers certainly did what they planned for when taking the men's and women's team titles in the February 2019 America East championships in Worcester, Massachusetts. Moro broke the school record in the 1650 freestyle and won a gold medal in that event. Gliese set a school and conference record for the 200 backstroke (1 minute, 42.56 seconds in a preliminary race) and later took home a gold medal in the event.
Moro also earned the Dave Alexander Coaches' Award, for the senior who gets the most points during the meet. Gliese received the same honor on the men's side and was named Most Outstanding Swimmer. He also broke the America East record in the 100 backstroke. Wright won gold in 1 meter and 3 meter dives and was named Most Outstanding Diver of the Meet, while Cradock and his coaches were named the men's and women's Coaching Staff of the Year.
Cradock and the team are enjoying their successes and the extra attention that comes with it.
"I think it has a lot of effect, and it starts with name recognition," Cradock said. "It's become a lot easier that we're more respected in the athletic world because of what they did. It's probably tripled in one year the amount of people that reached out to the swimming program. [UMBC was] the big story last year."
The publicity that follows the athletic success of some teams, well, that's for other sports. Building a solid environment to compete, that's for this program, and it's why they've been so successful.
"Sustained success is one of the most difficult things to accomplish on the Division I level," said Tim Hall, director of athletics, physical education, and recreation. "This is what UMBC Swimming and Diving programs have achieved under the leadership of Chad and his staff. The student-athletes are wonderful representatives of the university and the alumni stay very connected. All of Retriever Nation should be extremely proud of this model program."
*****
Header image by Marlayna Demond '11.
WEB EXTRA: Our photographer, Marlayna Demond '11, will do almost anything to get her shot — even submerse herself and her camera. Visit umbc.edu/swimming for a first-hand look at what it took to do our DIY underwater photo shoot.