UMBC Chess has continued its strong performance with another high-ranking finish at the leading intercollegiate team championship in the Americas. The Retrievers placed ninth out of 63 teams at the 2019 Pan-American Intercollegiate Team Chess Championship, held in Charlotte, North Carolina, December 27 – 30.
To reach this ranking, the UMBC Chess A team earned victories over the A team from the University of Pennsylvania as well as the B teams from the University of Toronto, University of Texas at Austin, and University of Pennsylvania. After tying Harvard in round five, UMBC had its sights on a spot in the Final Four, but didn't quite reach that coveted status this year. UMBC finished ahead of Harvard, Princeton, and MIT. The Texas Tech University A team won the competition overall.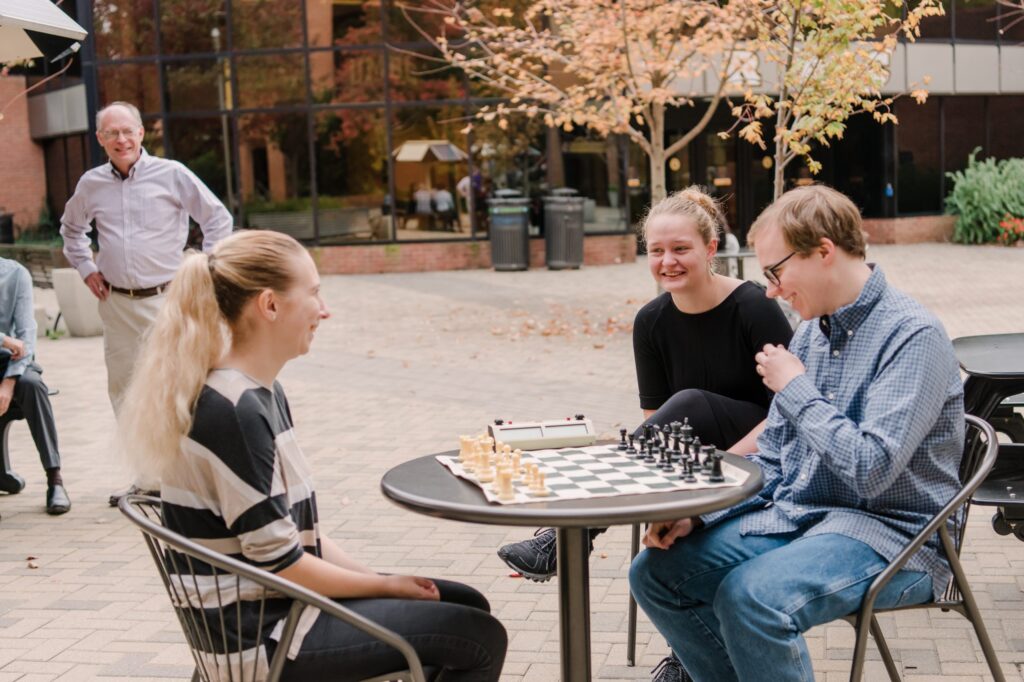 Tanguy Ringoir '18, financial economics, M.A. '22, economic policy analysis, the captain of UMBC's A team, ranked 29th in individual competitor performance.
The UMBC Chess B team finished in 29th place overall, and earned victories over Western Washington University, UCLA, and the University of Texas Rio Grande Valley D team.
"While we didn't quite make it into the Final Four, we are happy with our overall performance," says Ringoir. He shared that the team enjoyed preparing for the competition by recently participating in a tournament closer to home, in Rockville, Maryland.
UMBC's 2019 A team includes grandmaster Ringoir; international master Rohan Ahuja '21, computer science; woman international master Mai Narva '22, psychology; international master Matyas Marek '22, computer science; and woman international master Ewa Harazinska '20, chemistry, as an alternate.
The UMBC Chess B team includes Maor Leker Locker '20, biological sciences; Nathan Sukhyun Janus '20, mathematics; Danielle Sharp '22, mechanical engineering; and Douglas Malcolm '23, computer science.
Alan Sherman, professor of computer science and electrical engineering, serves as director for UMBC Chess. Joel DeWyer, associate director for campus life operations, is the team's business manager, and Igor Epshteyn coaches UMBC's Chess B team.
For the past 28 years, UMBC has participated in the Pan-American Intercollegiate Team Chess Championship, and has won or tied for first place at the championship ten times. UMBC Chess has also advanced to the President's Cup, known as the Final Four, each year between 2001 – 2015, winning six times.
Banner image: Members of the UMBC Chess team. Photo by Marlayna Demond '11 for UMBC.
Tags: Biology, campus, ChemBiochem, Chess, CSEE, Economics, MathStat, MechE, Psychology