UMBC Chess finished tenth overall at the 2018 Pan-American Intercollegiate Team Chess Championship, held in San Francisco, California, December 27 – 30.
The UMBC Chess A team finished in 10th place, with victories over the University of Texas at Dallas A team (second-place winner), University of Texas Rio Grande Valley (fifth-place winner), University of Minnesota B team, Hart House Chess Club, Carnegie Mellon University, and UC Berkeley A team. This ranking landed UMBC ahead of other high-profile competitors, including Princeton, MIT, and UCLA. UMBC's Tanguy Ringoir '19, economics, ranked fifth in individual competitor performance (see full results).
The UMBC Chess B team earned wins over the University of Texas at Austin B team, University of Washington, Arizona State University, UC Berkeley B team, and Northwest University, and finished 45th overall.
"The Pan-Am tournament was great for all of the players on the team. It was a way of gaining experience, especially when playing against very good teams," says team member Ewa Harazinska '20, chemistry. "We take a great pride in representing UMBC in a national competition, and we were delighted to place in the top 10 chess teams."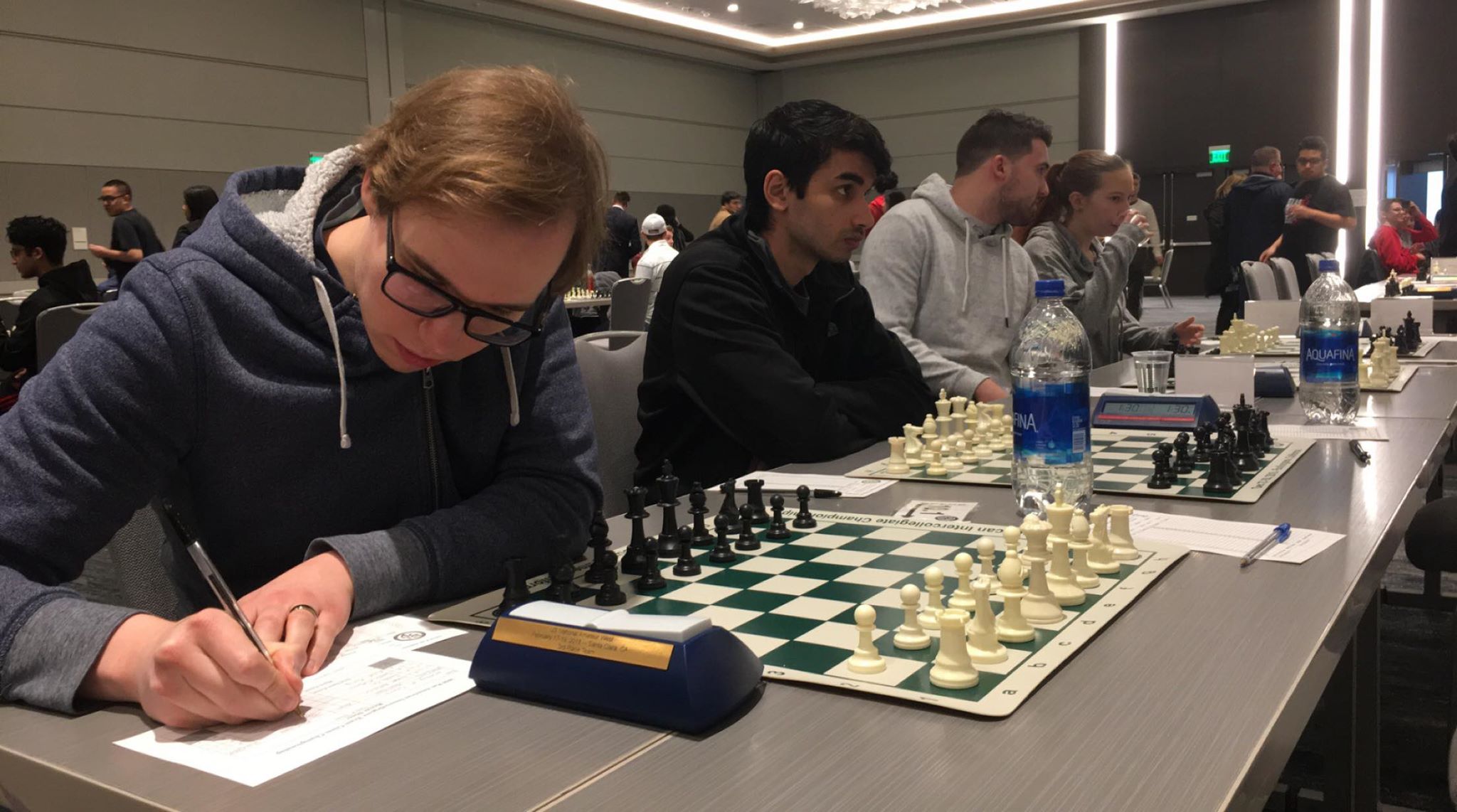 UMBC's 2018 A team includes grandmaster Tanguy Ringoir; international master Rohan Ahuja '21, computer science; woman international master Mai Narva '22, psychology; Matyas Marek '22, computer science; and woman international master Ewa Harazinska, as an alternate. The UMBC Chess B team includes Maor Leker Locker '20, biological sciences; Nathan Sukhyun Janus '20, mathematics; Danielle Sharp '22, engineering; and Kabindra Shahi '22, biochemistry.
Alan Sherman, professor of computer science and electrical engineering, serves as director for UMBC Chess and Joel DeWyer, associate director for campus life operations, is business manager.
UMBC has participated in the Pan-American Intercollegiate Team Chess Championship for the past 28 years, and has won or tied for first place at the Pan-Am Championship ten times. UMBC Chess has also continued on to the President's Cup—known as the Final Four of College Chess—numerous times in the past two and a half decades.
Banner image: Members of the UMBC Chess team. Photo by Marlayna Demond '11 for UMBC.
Tags: Biology, ChemBiochem, Chess, CSEE, Economics, MathStat, Psychology