Temperatures may have been cold, but the Chesapeake Employers Insurance Arena was warmed by the cheers of congratulations for this year's graduates. More than 800 undergraduate and graduate students turned their tassels this week during UMBC's 79th Commencement Ceremonies.
This was a week of firsts, with President Sheares Ashby presiding over her first commencement and alumni speakers returning for the first time to offer words of wisdom during winter exercises.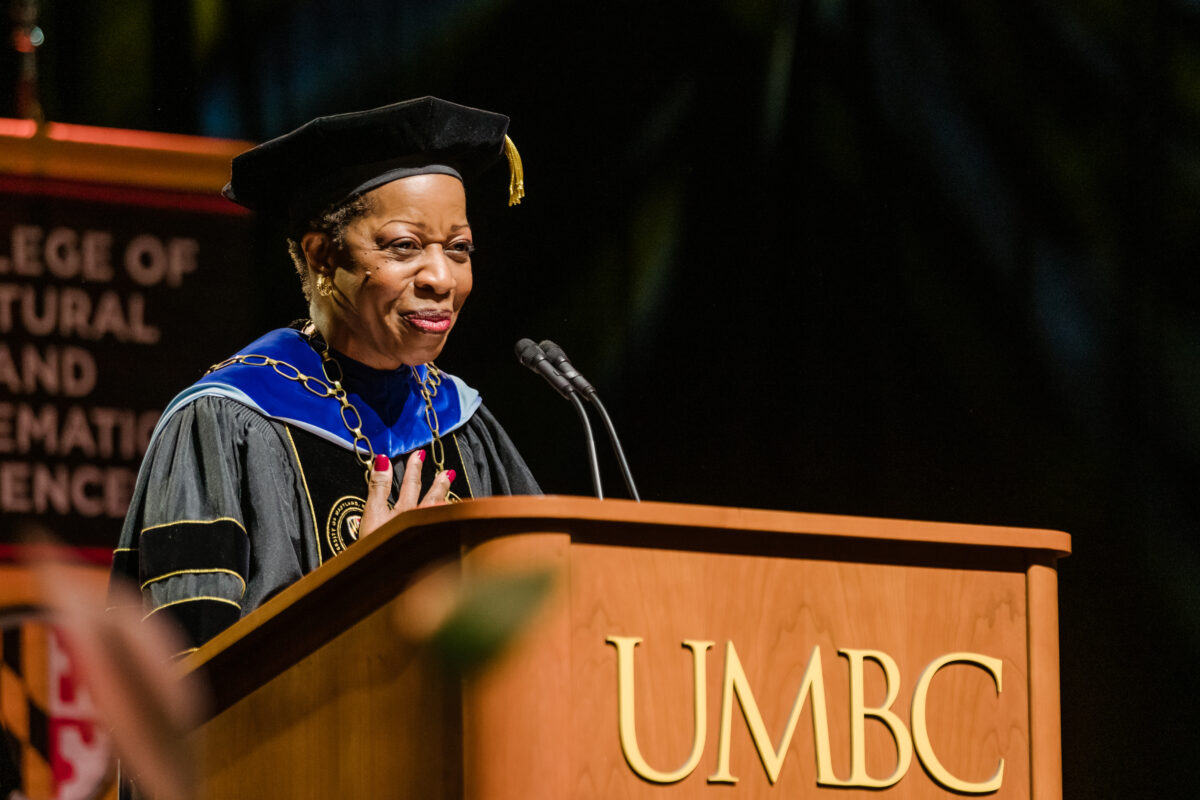 While some elements are new, this year's ceremonies still had all the trappings that make UMBC's commencement so special – hugs between classmates, whispered words of gratitude to mentors and colleagues, and misty eyes turned upwards as confetti made the Arena into a verifiable snow globe.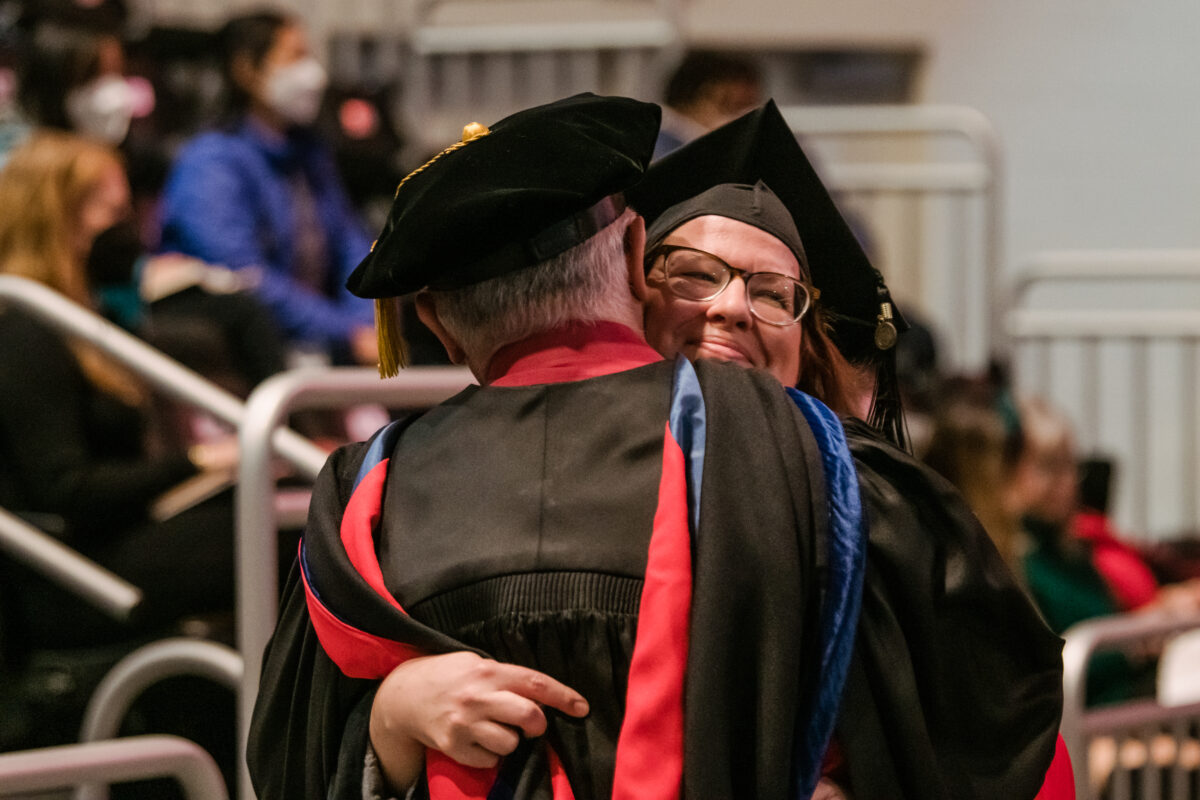 Sheares Ashby acknowledged the milestone and underscored the importance of those who got our Retrievers across the finish line, such as parents, families, and others.
"This is an extraordinary moment and we owe a lot of gratitude to those of you who are sitting here in the audience," says Sheares Ashby.
Tales from the heart
Stories, more than anything, were at the heart of this year's commencement. Graduate commencement speaker Mustafa Al-Adhami, M.S. '15, Ph.D. '20, mechanical engineering, accomplished remarkable things during his master's and doctoral journey at UMBC. But he took care in his speech to share how his background foundation helped forge his future.
"Growing up in Baghdad, my life was a series of changes that I could do little to control," he said. "Following the 2003 war, we no longer had reliable access to meat, electricity, or entertainment. I had to find new ways to pass my time and earn some pocket money, and I found the answer in fixing radios."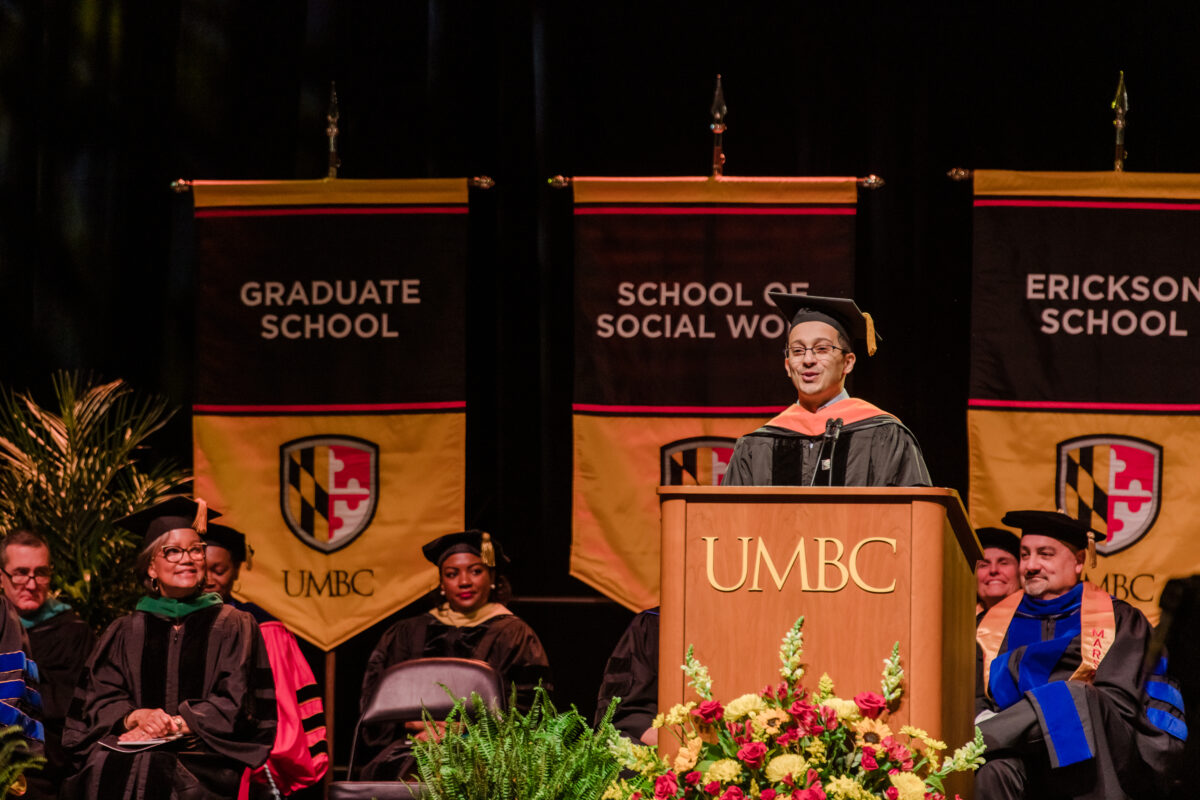 Al-Adhami's early penchant for problem solving led him to his position of Chief Executive Officer of Astek Diagnostics, a company he founded, dedicated to developing low-cost solutions for global public health problems.
Undergraduate speaker Stefanie Mavronis '12, political science and media and communication studies, shared that growing up in a working class neighborhood, she didn't have much exposure to the world of higher education. But through support from mentors, she was given opportunities that allowed her to envision a career and a future.
"Being a Sondheim [Public Affairs Scholar] introduced me to public service, a field I never knew existed, and changed the trajectory of my life," said Mavronis, who serves as chief of staff in the Mayor's Office of Neighborhood Safety and Engagement. "As a junior, I was selected to attend the Public Policy and International Affairs Junior Summer Institute at Princeton University, where I would later return to earn my Master's in Public Affairs. I interned in the Maryland General Assembly and in radio – two roles that would later turn into careers in politics and radio, respectively."
And sometimes just when you think one chapter of your story has been written, another one begins. Peter Engel, history, already lives a full and fulfilling life. He graduated from the University of Maryland, College Park in 1975 with a law degree and went on to work for Chesapeake Employers Insurance until his retirement in 2020. But he always knew he wasn't done yet.
Through UMBC's Golden ID program, Engel endeavored to earn his bachelor's in history at the age of 72. On Thursday, he walked across the stage in an arena named for his former employer and accepted his diploma on his 49th wedding anniversary, proving that education is timeless. 
Lessons ahead
What did every speaker want for this year's graduates? To look ahead to a future they can be proud of, knowing UMBC has given them the tools to be successful.
"As you look to the future, I believe that your fulfillment will derive from making the most of whatever talents have been bestowed upon each of you," says Provost Philip Rous.
Mavronis reflected on the encouragement that UMBC provides to make graduates leaders in their own right.
"So let me say, as a former student, thank you, UMBC, for encouraging us to be human first, to forge our own paths, to see our unique stories as our strengths, and to lead with authenticity."
And Al-Adhami charged our newest alumni to, "Find your cause, fall in love with the challenge, have all-in commitment, be optimistic, and most importantly believe in your value. You have the power."
Congratulations, Retrievers! No matter what comes next, we hope you'll always consider UMBC home.
The full Graduate Commencement Ceremony and Undergraduate Commencement Ceremony can be found on YouTube. Photos can still be uploaded to our virtual photo booth until December 31, 2022. Share yours using #UMBCgrad.