The White House has announced the nomination of Jerome Adams '97, M4, biochemistry and molecular biology, for the position of U.S. surgeon general. If confirmed, he'll replace Rear Admiral Sylvia Trent-Adams Ph.D. '06, public policy, who has been serving as acting U.S. surgeon general since late April. Both UMBC alumni have prioritized serving vulnerable populations and maintaining connections to local communities throughout their accomplished careers.
Sylvia Trent-Adams has worked within the U.S. Public Health Service since 1992, after attending college on a Reserve Officer Training Corps scholarship and serving as an Army nurse officer. She has spent her years in the Health and Human Services Department "working to improve access to care for poor and underserved communities," her biography reads. The Office of the Surgeon General further notes, "As a clinician and administrator, she has had a direct impact on building systems of care to improve public health for marginalized populations domestically and internationally."
Trent-Adams' accomplishments include managing the Ryan White HIV/AIDS Treatment Extension Act of 2009, which had a $2.3 billion budget. She has also advocated for the important role nurses can play in medicine. "We can be involved in many ways: clinically, with creating policy, at the bedside, and creating innovative strategies," she told the American Journal of Nursing in 2014. "Nurses bring common sense to solving problems."
Jerome Adams will also bring a patient-focused mindset to the surgeon general role. In October 2014, then-Governor Mike Pence appointed him as the state health commissioner of Indiana. "He has his hands on the pulse of what's going on in communities," Virginia Caine, director of the Marin County Health Department, told the Indy Star. "He gets right out there at the grass roots level and really identifies with the folks he needs to serve."
A few months into his Indiana appointment, Adams found himself dealing with an HIV outbreak driven by intravenous drug use. He advocated for a needle exchange program that Pence approved, first for a 30-day trial period and later in legislation legalizing broader use of such programs in the state. The expansion responded to the program's demonstrated effectiveness with curbing the HIV outbreak.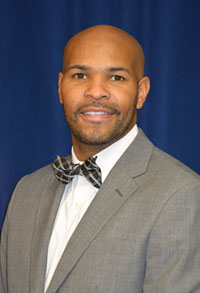 During his time as Indiana state health commissioner, Adams advocated for legislation that would give the family members of people struggling with opioid addiction access to Naloxone, a drug that can reverse the effects of opioid overdose. Once confirmed as surgeon general, he hopes to expand on that work to address the rising national opioid crisis.
Adams' supporters believe his experience working with Pence will serve Americans well as he takes the surgeon general position. As Beth Meyerson of the Rural Center for AIDS/STD Prevention shared with WFYI Public Radio, "He will navigate [Washington] I suspect the same way that he did in Indiana, which is to listen to communities, work with several partners across the arena, and bring public health evidence to the table again as an advocate for community health."
Reflecting on his time at UMBC as a Meyerhoff scholar, Adams shared with UMBC, "one of my biggest mentors was Dr. Hrabowski, and I still stay in touch with many of my Meyerhoff colleagues and rely on them as a professional support network." He also pays that support forward, according to Joey Fox, Adams' legislative director during Indiana's HIV outbreak. "He was always willing to have his door open," Fox told the Indy Star. "I got to see the side of him that was a compassionate leader."
Image: Hubert H. Humphrey Building, home of the U.S. Health and Human Services Department, in Washington, DC. Photo by Tim Evanson, used under CC BY-SA 2.0
.
Tags: Alumni, CAHSS, ChemBiochem, CNMS, majoraward, PublicPolicy