How challenging and timely internships changed the career trajectories of four UMBC alumni.
By Meredith Purvis, Derek Roper '11, and Erika Shernoff
Photos by Howard Korn
Mastering an academic discipline is an important step in preparing for a successful career. Yet for many UMBC students, internships have been another key element in career success.
Internships can confirm a career direction and provide some early connections in a chosen field. Sometimes, however, the right internship is more than that. It can help a student take a giant first step in his or her career, or encourage a radical change in direction.
For the four alumni we've chosen to spotlight here, internships have made a big difference. One alumna is forging a path in the challenging world of journalism. Another alumnus is making our highways safer. A third alumna went from returning student to coveted programming superstar. And our last alumnus finds his work is helping others play.
What do they have in common? All four alumni point to their internships – whether organized by UMBC's Shriver Center (which helps place over 1,300 UMBC students in internships every year), or obtained through the help of a professor – as life-changing experiences.
THE RIGHT NOTES
Amy Coveyou '07, computer science, was a stay-at-home mother of three when she decided she wanted to re-enter the workplace. Taking stock of her bachelor's degree in music and her years out of the work force raising her family, she wondered just what she needed to do to obtain skills useful for the contemporary job market. Her solution? A new degree in computer science.
"Most people don't have an opportunity for a do-over on their bachelor's degree," she says.
Coveyou knew the challenges involved in re-entering the job market. So she first took classes at Anne Arundel Community College before making the leap to UMBC's computer science program in 2005. Her goal was a career in programming.
What is it about coding and programming that delights this former music major? Coveyou explains that there is a closer connection than simply a keyboard. "Lots of programmers are gifted musically," she says. The attention to detail, the counting, the use of numbers, the rhythms – music and math can be both technical and beautiful.
Part of Coveyou's plan of study at UMBC was to land hands-on experience that would help her advance in the profession. The Shriver Center helped her find one at the Maryland Department of Business and Economic Development (DBED) in the summer between her junior and senior years in 2006.
The experience was a success. Working full-time throughout the summer at DBED, Coveyou generated state reports and trained people on a Customer Relationship Management (CRM) system, a tool used to manage customer relationships, sales and marketing.
Coveyou quickly rose to a position where she was enforcing database protocols and developing policies to prevent improper entries. By the time she left in March 2007, she was reporting directly to the department head and managing all of the other interns. However, she knew exactly the career she was heading towards and needed to move on. "I didn't want to be on the administrative track. I wanted to program," she says.
Coveyou's next internship proved even more invaluable. In June 2007, she found a programming internship at USinternetworking, Inc (USI) in Annapolis – a chance to show off skills in her chosen subfield. By the time she was ready to graduate in December 2007, Booz Allen Hamilton came calling with an offer that USI wanted to match – with Lockheed Martin and the U.S. Census Bureau also waiting in the wings.
Coveyou knew that Booz Allen Hamilton would be a fierce commute and long work hours, but they were offering the programming job that she dreamed about. And as a Senior Consultant at Booz Allen Hamilton, Coveyou now programs all day long to her heart's content.
Looking back as an adult making a career change later in life, Coveyou acknowledges that "I thought I was in less of a bargaining position versus younger kids." But, she adds, "employers saw the value-add of an adult with experience."
Part of what they valued was Coveyou's commitment to remaking her education at UMBC as an adult. To others who might be thinking about going back to school long after their babies are tying their own shoelaces, she says: "Stick to it". She certainly did.
SAFETY FIRST
Many kids only think they know what they want to be when they grow up. But others are certain from a very early age – and then follow through.
Take Gamunu Wijetunge '01, emergency health services, for instance. When he was only four years old, Wijetunge knew he would grow up to be a paramedic. "You have an immediate impact," he explains. "Your patients are right in front of you, maybe in the worst moment of their lives. But you get to make an impact on the spot."
Wijetunge was already well along pursuing that path as a student at Montgomery Blair High School. Already, he had become a volunteer emergency medical technician (EMT). He followed that dream to UMBC and enrolled in the university's emergency health services program.
But Wijetunge's path took a precipitous and unexpected turn. In his junior year, with an eye toward earning some money over the summer, he signed up for an internship with Maryland Department of Transportation (MDOT). The internship included 30-day stints at both the Maryland Transit Administration (MTA) and the state's Motor Vehicle Administration (MVA).
Wijetunge's summer internships taught him a lot about how each organization worked. Employees also took him under their wing. One mentor at the MVA took a special interest in his career, encouraging Wijetunge to get involved with basic research and act as a fresh set of eyes for ongoing projects.
"He took me seriously," Wijetunge recalls, "and didn't make any assumptions about me."
In the fall semester, Wijetunge continued exploring the administrative path through an internship at the Maryland State Highway Administration's Office of Traffic Safety. His inside knowledge of the MVA came in handy at OTS when Wijetunge was assigned the seemingly mundane task of sorting through old crash fatality data from the MVA.
His bosses told him a crucial chunk of data from the MVA had been missing for several years, but Wijetunge knew where to look. He drove to his former workplace and returned later that day with the missing data. His new supervisors were impressed with the initiative he'd taken, and he played an important role in completing the project.
The internships led Wijetunge to consider a career in safety administration. "My internships were short," he says, "but they exposed me to how the government can work and all that it can do," he says.
Today, Wijetunge works as a highway safety specialist for the National Highway Traffic Safety Administration's (NHTSA) Office of Emergency Medical Services, where he focuses on issues such as disaster preparedness and emergency medical services workforce development. He builds strategic plans that make it possible for paramedics in the field to do their jobs better.
And he has not forgotten his first love. On weekends, Wijetunge leaves his suit and tie behind and volunteers as a paramedic. It's a unique perspective that most administrators don't get.
"I get to enjoy two dynamics," he observes. "During the week, I'm operating at the 10,000-foot level, working on things that may take years 'til we see the impact. But working in the field, I get to see the impact of my office work. It keeps me motivated."
THE REAL DEAL
When a raffle of a $1.6 million house in Baltimore County falls through or Maryland homeowners find their homes underwater, Baltimore Sun business reporter Jamie Smith Hopkins '98, English, has the scoop.
The real estate beat is an important one for any local paper. And Hopkins credits her investment in several internships as a key to building a career out of her passion for writing. Hopkins spent most of her high school years in home schooling before enrolling at Howard Community College. After submitting a comic strip to the college's newspaper, she found herself pulled even deeper into the enterprise.
The community college newspaper also gave Hopkins a chance at her first internship, working for Patuxent Publishing Company. The pieces that she wrote for Columbia Magazine's advertising section required leg work on her part. "They sent interns out to cover themes like camps, and you would have to go around to these summer camps and get ideas to formulate themes," she recalls.
Once she arrived at UMBC, Hopkins found a mentor in Christopher Corbett, a professor of the practice in the university's English Department. "Corbett is excellent at his job and promotes the importance of getting internships," she says. Eventually, Corbett helped her land an internship at a place where she knew she wanted to work: The Baltimore Sun.
When she entered The Sun's newsroom on her very first day, Hopkins says that it reminded her of the busy hum and clatter of the Washington Post newsroom in the film, All the President's Men. "It was more than I expected," she says. As an intern, she wrote news briefs and obituaries. "It is a great way to learn how to get information correctly and how to interact with people since it is a difficult time for people to be talking about the recently deceased." She also managed to place a feature about Baltimore's embattled Bromo Seltzer tower in the paper.
"The Sun was an excellent place to intern," she says. "The people there are just helpful. They want people to succeed and help young reporters to be able to improve." In December of 1998, the budding reporter graduated and landed a job at the Ames Tribune in Iowa with help from Sun's editor, Bill Marimow. "I agonized about leaving and talked it over with friends and family."
In the midwest, Hopkins covered the education beat. "They had us writing constantly, which was great for a writer's experience," she recalls. After a brief stint at the Tribune, the reporter returned to Maryland after Halloween to The Sun as a full-time employee.
These days, Hopkins is a reporter working in old media (writing stories for the paper) and new media, tackling "buying, selling and renting in the Baltimore area" on her blog: The Real Estate Wonk.
Hopkins says that practicing the craft of journalism – either on an internship or at the student paper – is a key to success. But internships, she adds, give you that feel for the profession and the give-and-take of a real newsroom. "There's nothing better than to be edited by a good editor," she says.
GAME FOR ANYTHING
Video games are a way to play. But what if you could make that play pay off as a career?
For Elliot Pace, '08, mathematics, it was an internship in the gaming world four years ago that eventually won him a job at a video game company.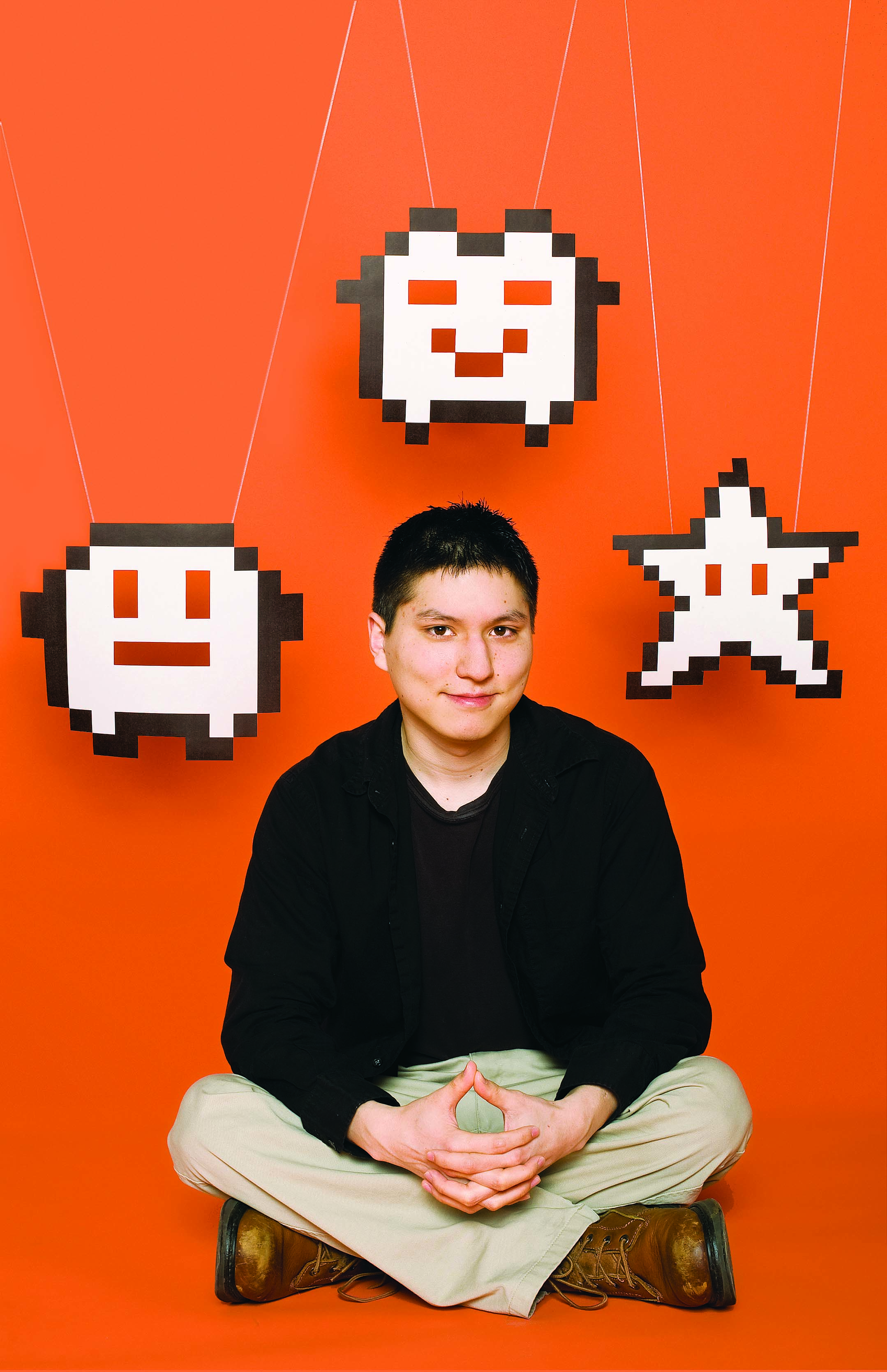 In high school, Pace played a lot of video games. But that wasn't the limit of his curiosity. "I was equally curious about how they worked and how they were made," he explains. Pace pursued that interest by investigating pick-up tips and strategies for writing programming code for games. "By the end of my senior year in high school, I learned how to write software capable of drawing triangles on the computer screen." He had also learned how to make sound effects.
At UMBC, the aspiring programmer spent what he calls an "endless" amount of time honing his programming skills, creating small 3-D games to showcase all his work. "College is the best time to learn as much as possible," Pace observes. But that effort made him ready to seize an opportunity he saw in 2006.
As Pace walked across campus one day, his brother pointed out fliers advertising a Firaxis Games event at UMBC. The event had been set up by Casey Miller, the Shriver Center's assistant director of internships.
Pace and 30 other students attended the gaming presentation by the staff of Firaxis Games, which was hosted by the UMBC game development club. The budding UMBC gamer even got a chance to talk one-on-one with the company's director of technology – and an opportunity to share the video game side projects that he had spent so much time working on.
Pace exited that interview with an appointment for a formal internship interview. By spring 2007, he was working part-time as a paid intern at Firaxis on some of the company's bigger projects – including a role as a support graphics programmer for one of the artists on the game Sid Meier's Civilization Revolution (2008). He also received an offer to return full-time after graduation, and he has worked as a graphics programmer at Firaxis ever since.
"The internship changed my life and had absolutely zero drawbacks," Elliot said.
These days, Pace's typical day begins at 10 a.m. with his uniform usually being a t-shirt and blue jeans. His lunch hours are unorthodox as well: he takes his lunch at noon and for an hour he plays online games with co-workers. By 6 p.m. it's usually time to clock out.
And if he is working late on a deadline, the company usually orders up dinner from local restaurants.
Pace says he has no doubt that he would be writing software somewhere, perhaps for business or math applications. But his turn into gaming turned into a joyride.
"It would have been much less exciting, so I would have continued to try and get a job in the game industry," says Pace. "It is where I belong."