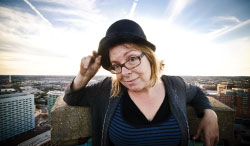 Picture this: It's a cool, crisp night and you're cruising north up Interstate 95, with the city of Baltimore rising up before you. The image of a metropolis can rise and fall with its skyline and its immense iconic representation of the city's civic aspirations.
Much of Baltimore's story is written in its skyline. There's the urban renewal that spawned the National Aquarium and the twin stadiums of South Baltimore, for instance. The city's history is also etched there in places such as the famous and distinctive Emerson Bromo-Seltzer Tower, which was built in 1911 at the corner of Eutaw and Lombard Streets.
Kelley Bell '06, M.F.A., a graphic designer and professor at UMBC, was recently given an opportunity to transform the city's skyline by creating art within the tower's distinctive clock faces. Her exhibit is based on the renowned astronomical clock in Prague, and features the sun, the moon, and planets and stars circling in orbit around the tower. Bell even did careful calculations to ensure that her representations of heavenly bodies synched up with their celestial counterparts.
Bell moved to Baltimore in 2002, and quickly fell in love with the local art scene. "People are willing to share ideas and collaborate, and that's an integral part of the work I do," she explains.
Read the full story in the Winter 2012 issue of UMBC Magazine.