The only things faster than David and Caitlyn Bobb themselves, perhaps, are the zingers they toss at one another.
As Caitlyn, a rookie running star now in her sophomore year, describes what it's like to have a father as head coach of track and field at UMBC, her dad dryly turns it into a bit.
"My dad has many sides to him, okay?" Caitlyn laughs as Coach Bobb literally acts out everything she's saying while seated beside her.
"There's the coach side, where he's stern, and he's got the stopwatch in his hand, arms crossed, hat on, and 'GO!'…And then there's the dad side, who comes to practice all excited, and says 'Woo, I'm hyped, let's go!'"
It's not surprising that Caitlyn is poised for another amazing season. She's a very hard worker, of course, and also the product of phenomenal athlete parents. Her mom, Dawnnette, represented Bermuda in the 1992 Olympics in the 100-meter dash, and Coach Bobb '97, information systems, still holds six separate records for indoor and outdoor events at UMBC.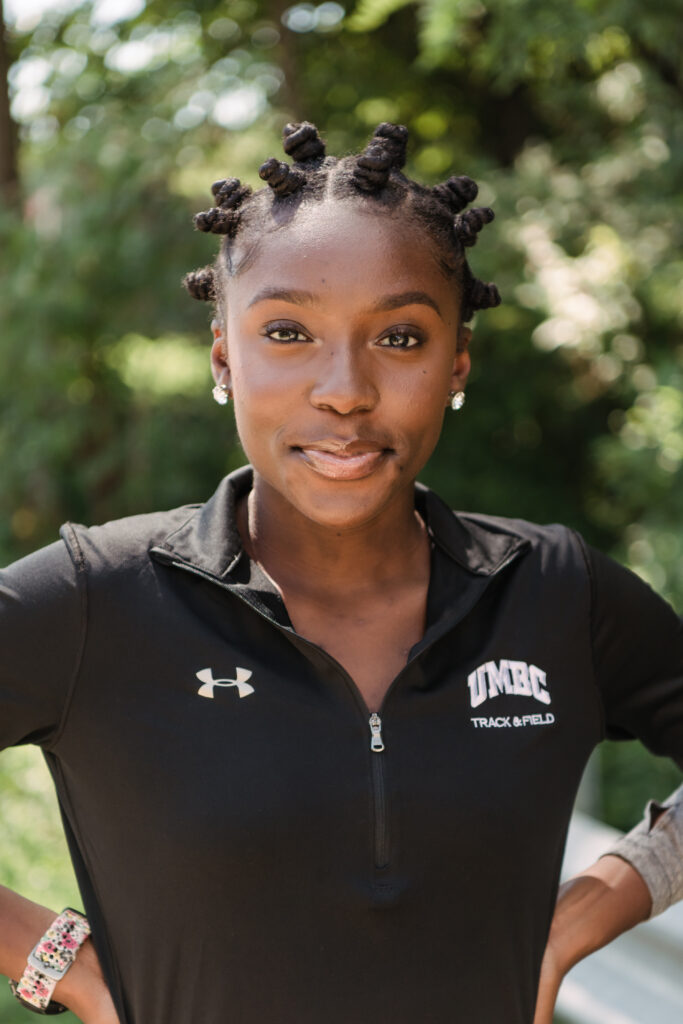 "My mom, she was like, 'Okay, I saw that coming.' I'm pretty sure my dad did, too. It's in my genes. I didn't have a choice," Caitlyn says.
Caitlyn wowed the competition in her rookie season, earning several "most outstanding" titles at the America East Championships and placing 17th in the 400-meter dash at the NCAA Championships with a school record-breaking time of 51.84 seconds. And as she continues to learn from her dad and other coaches—like paying attention to the way she pumps her arms, for instance—she's on course to make improvements each season.
"We're doing what we've been doing for years—the only difference is we're now doing it at UMBC," says Coach Bobb. "Hearing my experiences and her mom's experiences helps her prepare for situations she's going to encounter herself."
Although bubbly off the track, Caitlyn is extremely serious in her training—pushing thoughts out of her head in order to focus on breathing above all else. She often runs and studies with her friend Ibra Khairat, a sophomore biological sciences major.
"I would describe Caitlyn and Coach's relationship as one that's balanced just right," he says. "Although she is the coach's daughter, Coach Bobb gives her room to grow as an athlete and doesn't give any type of special treatment, which is why it works so well. They are both able to balance that father/daughter and coach/athlete dynamic."
Coach Bobb is big on building relationships and trust and making sure his runners feel supported, both as athletes and students, he says. As father and daughter gently rib each other, it's clear the one-upping is grounded in love.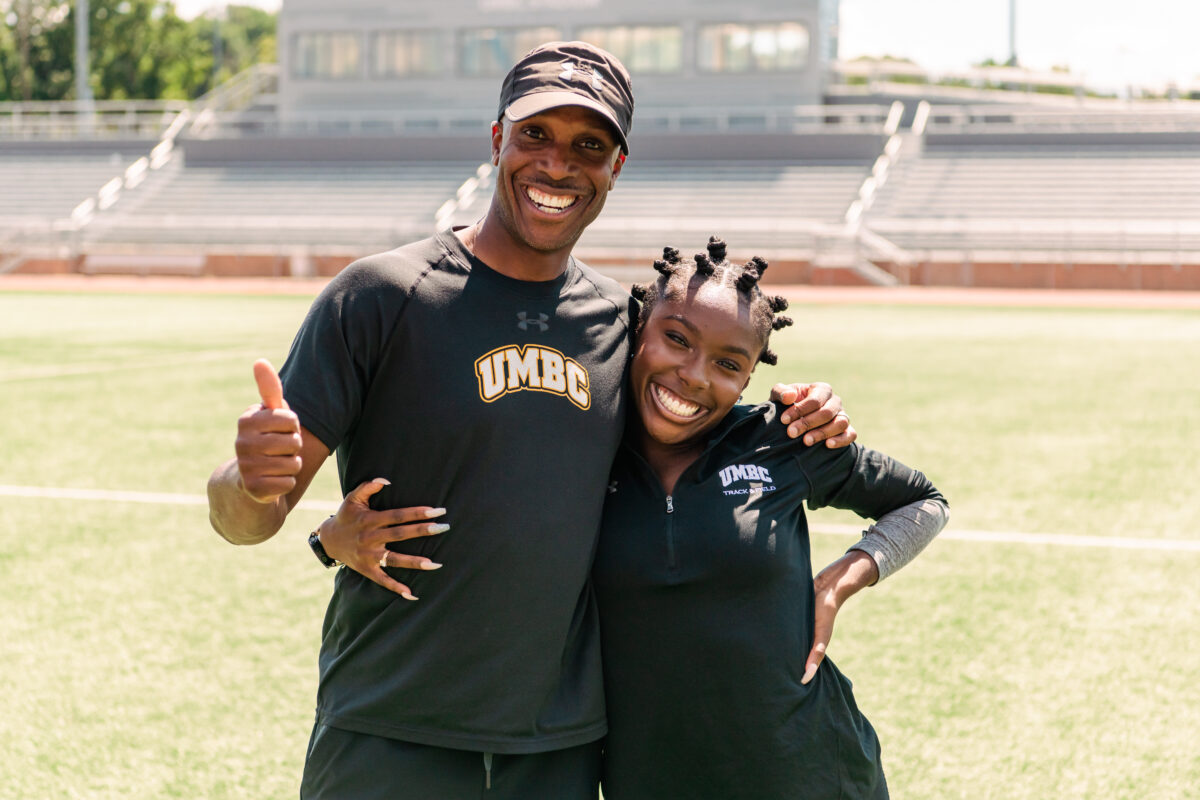 "I know what it takes to be successful in this sport, so I just sit back and look at the execution of her race. Is she doing what she's been trained to do?" Beyond that, he says, it's about seizing the moment and improving wherever you can. "As a parent, I'm just making sure that I'm supportive. Track and field is only going to be X years of her life. I'm always going to be her dad."
It's true: Nobody runs track forever. Caitlyn is studying biological sciences with a minor in entrepreneurship and innovation with hopes of someday being a biology teacher—and possibly a coach herself.
She has a great model right next to her, even if she doesn't always get his Karate Kid training jokes. (Don't worry, they can watch it together later.)
"He cares about his students' well-being, and he makes it a warm, welcoming environment. He cares a lot," she says, getting serious for a moment. "Good job, Dad."
Tags: Athletics, biologicalsciences, Fall 2022, Track & Field