Over the course of seven seasons, the Netflix series Orange Is The New Black (OITNB) has taken viewers—and its characters—on a roller coaster ride within the confines of a fictional minimum security women's prison. The series has become a favorite of fans and critics alike, garnering numerous award wins while pushing the boundaries of television storytelling, casting, and directing. As the series wraps up its final season, April Householder '95, Director of Undergraduate Research and Prestigious Scholarships, and co-editor of Feminist Perspectives on Orange is the New Black, shares some thoughts on the lasting impact of this groundbreaking show.
What was it about OITNB that made you want to pursue a book about it?
In 2013 when the show premiered, I was teaching courses in the UMBC's Gender and Women's Studies department such as Gender, Race, and Media, and Queer Representations in Film and Television, and students were excited to discuss the show, so it started showing up on my syllabus. The problem was that there were no academic texts to assign for students to read, so I decided to write a book myself!  I had just published a chapter about the HBO show, Girls, in a book on feminist theory and popular culture, so I reached out to my colleague, Adrienne Trier-Bieniek, who was the editor of that book, and we sent out a call for papers for a feminist collection on OITNB.  We got an overwhelming response, with writers addressing everything from the prison industrial complex to the meaning of the character Pennsatucky's teeth as they relate to race and class issues.  It was exciting to see that the show struck a nerve with so many pertinent cultural issues, and that it continues to do so today.
What questions and themes does the series bring up that most excite you as a researcher?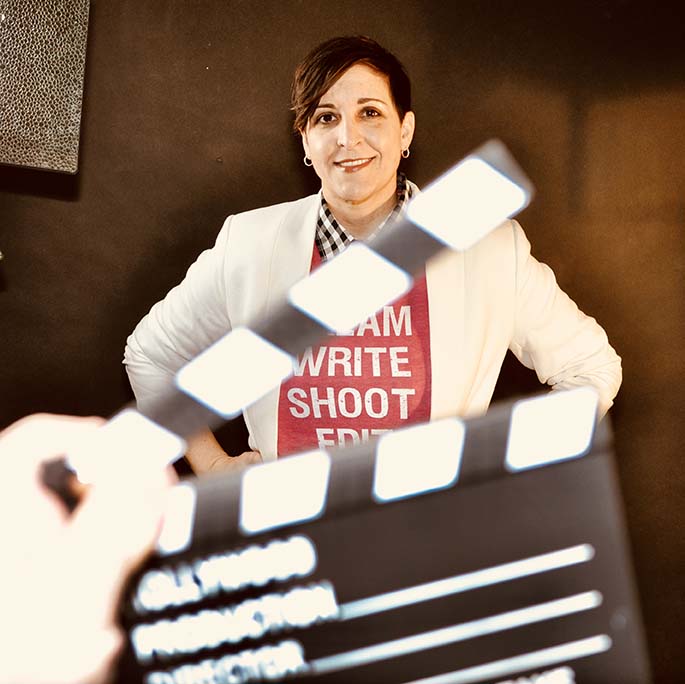 I am very interested in the ways in which media and popular culture both reflect and construct ideas, identities, and politics. As a feminist researcher, this show touches on so many important intersectional issues—race, class, gender, sexuality, power and privilege, abuses of the criminal justice system, disability and ableism, queer and transgender representations, immigration/ICE, mental illness, motherhood, rape, drug addiction… The show was nominated for twelve Emmy awards in its first season because it pushed the boundaries of how women have traditionally been represented on television. It develops complex characters, with emotional backstories and narrative arcs that show them as full human beings whose lives intersect with patriarchal institutions in unjust ways. They aren't just one-dimensional characters who serve as a backdrop for male protagonists, and they don't fit neatly into stereotypes. The show isn't without its compromises (the problematic women-in-prison genre has been around for a long time), but in general it challenges mainstream depictions of gender and humanizes female prisoners in a way that is very subversive when it comes to the televisual format. And that's just in front of the camera!  There is another story to be told about the showrunner, Jenji Kohan, and the mostly female writers (including Piper Kerman, who wrote the memoir on which the show is based, and serves as an executive consultant on the show) and female crew behind the scenes. The show has given a voice (and jobs) to women and proven that there are both critical and popular audiences for these stories. 
How do you feel OITNB has changed the landscape of television most? And the media landscape in general? Why is this sort of storytelling possible now?
It may seem very natural now, but OITNB was one of the first shows to usher in the phenomenon of "binge-watching." The show has a long list of TV "firsts" but this new way of watching was very ground-breaking. The show is arguably made by, about, and for women—and the binge format shares an addictive quality that ties back to the women's soap opera and the Victorian novel (cliffhangers, sprawling cast of characters, multiple overlapping serial plots, and high melodrama). So it centralizes women even in its reception practices. Netflix is one of the online formats that has challenged network television and has been able to experiment with their content because they are not beholden to advertisers who could pull their funding if they feel that the show doesn't align with their company's image. Pay services like Netflix have opened up the narrative possibilities of televisual programming, and now we see that trickling back into mainstream TV, with shows like Black-ish, Will and Grace, Modern Family, Empire, and the TV domination of Shonda Rhimes. Lots of shows are following in its footsteps, such as Killing Eve, The Handmaid's Tale, and the reboot of The L Word.
Every sentence has led to this. The final season of Orange is the New Black is now streaming. #OrangeForever pic.twitter.com/mSP0jFUz6Z

— Orange Is the New Black (@OITNB) July 26, 2019
For someone who hasn't seen OITNB, is there a particular episode you'd recommend as particularly groundbreaking?
Watch the first episode and you will be hooked! The characters are infectious and real. You have to kind of go on the journey with them to fully appreciate the show. The season 3 finale is particularly moving. The inmates spot a hole in a fence and escape to a nearby lake for a symbolic baptism. It's one of the few moments we see them breaking free and existing outside, in nature. The season 1 episode 9 story is also one of my favorites because it features lesbian sexuality in the prison as a way for characters to feel alive and to buck the system that is essentially trying to slowly kill their humanity. And the series finale will have you in tears!
Your book covers seasons 1-3. Are there topics that have emerged in more recent seasons that you would like to explore?
It amazes me how forward-thinking the writing on this show has been. Season 7 concludes with storylines around the treatment of immigrants at detention facilities, something that was written and filmed before we were having a national conversation about the Trump administration's border crisis. Episode 3 of the final season is entitled "Brown is the New Orange," and it highlights the similarities between U.S. immigration facilities and the injustices of the corporate-owned prison industrial complex ("PolyCon Detention Center" in the show.) We see the character Maritza picked up at a nightclub during a raid for not having her ID, and sent back, this time to Litchfield's ICE facility. Blanca is also there as an undocumented immigrant, and her boyfriend gets deported when he visits her for not having his green card. This is a new definition of "recidivism"—one where incarceration for people of color has nothing to do with their criminality, but rather the policies that target them. We see the struggles of Latinx characters to find legal representation, connect to the outside world, and to live in humane conditions.  At one point, they remark that the detention facility is worse than the prison. This is one narrative arc that shows Kohan's commitment to making the show more than just about entertainment. She is changing public consciousness in her work.
Any thoughts on the final season?
Look for some cameos from beloved characters, expect some heartbreak, but also know that the show ends with a lot of hope and love. After seven years, the show is still as relevant as ever. 
Check out Householder's book, Feminist Perspectives on Orange Is The New Black: 13 Critical Essays (McFarland, 2016), here.