By Johanna Alonso '20 and Kennedy Lamb '20, UMBC Magazine's 2019 editorial interns
In the era of expensive ride-share apps, it can be easy to forget that UMBC offers a shuttle system that is completely free to all students and staff, with buses that can take you to the Arundel Mills Mall, downtown Baltimore, Catonsville, and beyond. Riding the shuttle is easy; simply use the schedules on the UMBC Transit website to figure out when and from which stop your shuttle is leaving, and show your ID card to the driver when you step onto the bus.
What's a little more challenging is figuring out where you want to take the shuttle in the first place. So, we traveled along different shuttle lines to find out which spots were must-visits for any UMBC student.
A CUP OF CATONSVILLE
We spent our first day exploring the Catonsville Line, getting on the bus at the Poplar Avenue stop (right across the street from True Grits) precisely at 12 p.m. The ride to our first stop, Mellor Ave. and Frederick Rd., took only 10 minutes, and was less than half a block away from our destination: Atwater's Cafe. Even among the many enticing eateries on Frederick Rd., Atwater's sticks out as one of the only coffee shops in the area, making it the go-to off-campus spot for students looking for their daily caffeine fix.

After we finished our coffees, we decided we needed something to eat. Though Atwater's does offer an extensive menu, we thought it might be fun to check out another lunch spot, one that's a favorite of UMBC students since its opening in 2010: Grilled Cheese and Co.
Grilled Cheese and Co.'s signature sandwich, the Crabby Melt—a crispy, toasted sandwich stuffed with crab dip and topped with Monterey Jack cheese—is particularly popular. And best of all, it's right on the shuttle line; the bus stop at Harlem Lane and Edmondson Ave. is literally only feet from the restaurant's front door. This is especially important considering there aren't always enough spots in the restaurant's small parking lot to accommodate their usual lunch rush.
TAKE A HIKE
After we ate, we wanted to take a short afternoon hike. So, we returned to campus to switch to the Arbutus Line, getting on once again at the Poplar Ave. stop, which we took to Sulphur Spring Rd. and Selford Rd. From there, we followed Sulphur Spring Rd. and South Rolling Rd. on foot about half a mile northwest until we reached the Patapsco State Park Soapstone Trailhead.

With over 200 miles of trails, Patapsco State Park is one of Maryland's greatest natural landmarks. And it's located less than three miles from UMBC! Soapstone, a 1.7 mile long hiking trail, is one of the most accessible to UMBC students thanks to its proximity to campus. The hike itself was so beautiful that it easily made up for the fact that there wasn't a shuttle stop directly at the trailhead.
CHARGE INTO CHARM CITY
The second day, we decided to venture into downtown Baltimore where (perhaps it goes without saying) there's no shortage of things to do. Though this shuttle line makes fewer stops then some of the others, the stops it does make are in prime areas of the city, full of museums, theatres, stores, and restaurants, as well as jumping off points to connect with Baltimore's other transportation systems.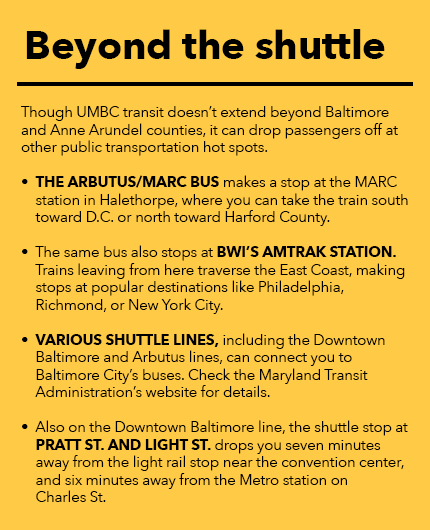 Camden Yards is one of the most recognizable attractions you can get to on the Downtown Line. Just get off at Pratt St. and Howard St., and you'll be only about four blocks away from the park's entrance. Camden Yards is best known as the Orioles' stadium, but as of Billy Joel's concert this July, it's also a concert venue! Just keep in mind that the last shuttle leaves Baltimore at 10:55 p.m., so if you're planning to attend an event that may run later than that, the shuttle won't be able to take you back to campus.
If you're looking for something to do prior to an Orioles game—or you just want a way to spend your Saturday—there's always something to do at the Inner Harbor, located immediately adjacent to the shuttle stop at Pratt St. and Light St. Most Marylanders have been to the Inner Harbor, but in case you need a refresher, the area includes The National Aquarium, the Maryland Science Center, andseveral shopping options, including The Gallery Mall, located across Pratt Street from the Harbor. You can also spend the day on the Harbor itself, riding around on an iconic Chessie pedal boat or taking a sightseeing cruise.
LOCAL FLAVORS
After spending most of our day at the Inner Harbor, we headed back to campus, switched once again to the Arbutus line, and went out for dessert! Ice Cream Cottage is the go-to spot for any UMBC student looking for a sweet treat on a hot day.
Ice Cream Cottage can be found less than a block away from the shuttle stop at Linden Ave. and East Dr. Located in the heart of Arbutus, it's the perfect place to stop on your way back to campus after grabbing a bite from nearby eateries like Cactus Silvestre or Oak Creek Café, or after catching a flick at Hollywood Cinema 4.

On the same street as Ice Cream Cottage is OCA Mocha, an upcoming coffee shop that was conceptualized by UMBC students as a way to bring UMBC spirit to the surrounding Arbutus area! OCA Mocha (the "OCA" stands for "Opportunities for Community Alliances") is more than just a typical café—itis also slated to feature conference spaces, live performances, and other exciting ventures. This is sure to be the newest off-campus hotspot, so keep an ear out for the date of its grand opening; the UMBC Shuttle will be sure to stop there often!
After our whirlwind week of transit, we were excited to gain familiarity with the free shuttles UMBC offers. Many of us are pro-alternative transportation in theory, but rarely practice what we preach. We think we're lucky that our university provides students and staff with a sustainable travel options, but the system will only get better the more people use the shuttle. If more UMBC students and staff take transit, the more incentive Transit will have to add more stops, times, and destinations!