From time to time, UMBC Magazine will highlight interesting research being done by Undergraduate Research Award (URA)-winning students. Today, we hear from Jolee Cohen, a Linehan Artists Scholar pursuing a BFA in Acting, who will graduate this spring. Her research involved participating in a Summer Shakespearean Study in London, England.
This post originally appeared on the URA myUMBC page.
Describe your project: Over the summer, I studied at the London Academy of Music and Dramatic Art in London, UK, where I was introduced to classical acting and research techniques for working with and performing Shakespeare. Now, I take what I learned and hone the craft, implementing it into my own work and using it to help others.
Who is your mentor(s) for your project? My mentor is Professor Eve Muson of the Theatre Department and Head of the BFA Acting program. She is my adviser and also a professor I had worked with many times before in classes and in theatrical productions. After working with her so many times, and having her mentorship in finding the program, working with her seemed so obvious to me.
How did you become interested in this project? I had worked extensively with Shakespeare once before while here in the U.S., but I felt like I wanted more. The department here is lovely but the classical acting training is minimal, and I knew I'd be able to get that in London. With the nudging of my parents, friends, and advisers, I applied for the Shakespeare Short Course program.
How has being a URA scholar helped you to carry out this project? Mostly, I was able to afford to go do the program, along with the assistance of the Linehan Artist Scholars Summer Award. Without any of that help, I never would have been able to study with some of the best teachers in London and experience Shakespeare the way it was always meant to be experienced.
What has been the hardest part about your research/what was the most unexpected thing about being a researcher? I've so often thought of research as something strictly for STEM, and for a larger community instead of for an individual. Part of the challenge was understanding and articulating how my research has been impactful in a personal way, and physically recording what I was learning as it was happening, since theatrical/performance research is so focused on the physical and emotional experience.
What has been the most rewarding part? The most rewarding part was seeing how the classes and performances were impacting my peers in the program with me, because I knew it was also a reflection of how I was growing. Getting to use this as personal research but to also experience it with others was very exciting and fulfilling.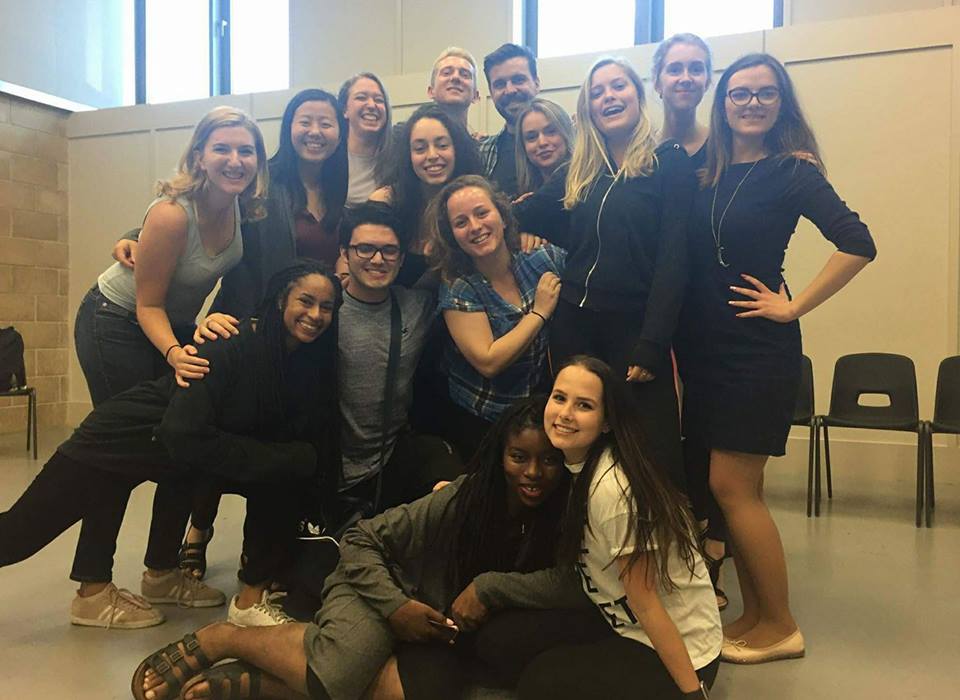 How will you disseminate your research? I will be doing a performance at URCAD on April 25, to reflect my experiences during the time I was in London, and afterwards. Also, I was able to incorporate some of the techniques I learned this summer at LAMDA in the UMBC Theatre Department's recent production of Twelfth Night.
What is your advice to other students about getting involved in research? Don't be afraid to ask questions. Do what seems the scariest. Write things down. Have an open heart and an open mind. And have fun.
What are your career goals? Simply, I want to be happy doing what I love. I want to make art that questions, confuses, and excites. And I hope to get work, no matter how long it takes for it to be something worthwhile.
Header photo: Jolee performing in the UMBC theatre department's production of Twelfth Night by Marlayna Demond '11 for UMBC. Inset photo and video provided by Jolee.